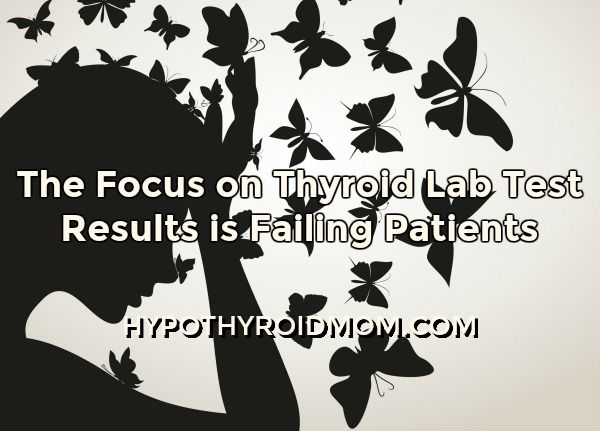 Feeling sick and tired but your thyroid lab test results are normal?
Written by Paul Robinson
The Way Thyroid Used to Work – 1960s & Earlier
I am sixty years of age now. When I was very young, if I ever got ill, my mother would take me to our family doctor. We sometimes had to wait a while to see him because some patients would be in his consultation room much longer than others. He would listen to what my symptoms were and then examine me. During the whole time his attention was on what my mother was saying to him and on me, the young patient in front of him. It always felt like we had his undivided attention. It felt reassuring. I still remember this very clearly.
Our family doctor very occasionally ran some lab tests, but this was a very rare occurrence. Lab tests were less frequently used then and they took far longer to return from a laboratory. The reader may think that this was a big negative but I actually do not. The focus back then was on symptoms of the patient; it was on clinical assessment of the possible conditions or illnesses that the patient might have. This is how doctors worked. Simply because laboratory tests were not so easy to do, the doctors worked hard on understanding the clinical presentation of the patient. The skills of doctors were honed through diagnostic work – because that was the only practical way to do it.
It is in quite stark contrast to what happens these days, when you often only have five or ten minute consultations and sometimes the doctor is spending at least half of this time looking at a computer screen and typing notes or looking things up. Rarely do you get asked a lot of other questions about your health and how you are feeling.
Thyroid diagnosis and treatment was significantly different back in the 1950s and earlier. Doctors had to look at the symptoms of the patient. They had to listen hard to what the patient was saying and they had to ask enough questions to see if the patient had other symptoms that they may not have realized that they actually had.
Doctors also had to examine the patient and look for indications of low thyroid levels:
The presence of myxedema (thickening of the skin).
Dry skin.
Cool or clammy hands and feet.
Nails that were yellowed or had ridges.
Dry hair.
Thinning of eyebrows or loss of outer eyebrow hair.
Delayed ankle reflexes.
Tender points on muscles.
Lower than normal body temperature.
Other common symptoms were also looked for.
It took time to do this properly, but diagnosis was usually very effective. It was not reliant on having some laboratory tests that fell inside or outside of a reference range.
Synthetic T4 (Synthroid, Levothyroxine) was not introduced until the 1950s. Current thyroid lab tests (TSH, and the other thyroid labs) were invented in the 1970s. Before these events, all doctors had available was good clinical judgement, based on the symptoms and signs (body temperature etc. and possibly basal metabolic rate) of the patient, and the option to use natural desiccated thyroid (NDT).
If low thyroid hormone was suspected, the patient was given a trial of the only treatment available – natural desiccated thyroid (NDT). If there were improvements in symptoms and signs, this confirmed the original diagnosis of the doctor. The NDT would be adjusted (titrated) to a higher or lower dose if needed. This titration process would continue based on the presenting symptoms and signs of the patient. This meant that the doctor would have to work with the patient and listen to what they were saying about how they were feeling in response to treatment. Some signs were also assessed like body temperature, ankle reflexes, the presence of myxedema etc.
This approach worked pretty well a lot of the time. It ought to have moved forward from there, taking advantage of modern lab testing (but not being a slave to it), and having all the other thyroid medications available.
A Bit of Background on Thyroid Hormones
In a healthy person, the thyroid gland produces thyroxine (T4) and some triiodothyronine (T3). T3 is the active thyroid hormone that does the majority of the work in the body, in order to keep our metabolism running at the right rate. T4 is relatively inactive, but is produced in far greater amounts by the thyroid gland. Researchers believe that the thyroid production of T4 and T3 is in about an 8:1 ratio. However, some of the T4 produced is also converted to T3. Incidentally, the thyroid gland is the most important organ of T4 to T3 conversion (making around 25% of the T3 we require, mostly through conversion).
All is well if the person converts T4 to T3 very effectively. This of course happens in healthy people. Unfortunately, in people with thyroid problems, the thyroid gland might not make enough T4 and T3, and conversion might also not be as good as it should be. There are other reasons for poor conversion too – certain low nutrients, genetic defects that affect the enzymes that are used in the conversion process, etc.
One of the big takeaways is that T3 thyroid hormone has to be present in a high enough level for an individual in order for them to feel well. T4 alone is not ever going to be sufficient to make someone feel well, regardless of how high it is. T4 is fundamentally a storage hormone that has only weak effects in the body compared to T3. T3 is thought to be at least 10 times as powerful as T4, and is the biologically active thyroid hormone within our cells.
It is very important to know that NDT was the only treatment available once upon a time and that this medication contains a mixture of both T4 and T3 thyroid hormones. The relative mixture might vary between brands of NDT very slightly, but is typically around about a 4:1 ratio of T4 to T3.
The Way Thyroid Changed – 1970s & Beyond
During the 1970s the shift to a lab-test-centric model began, as the TSH laboratory test became available. The TSH test simply measures the Thyroid Stimulating Hormone (TSH) produced by the pituitary gland. TSH goes higher if there isn't enough thyroid hormone. It goes lower if there is enough. Well, that's the theory anyway.
Other tests also became available. Free T4 (FT4) measures the level of biologically free/available T4 thyroid hormone. Free T3 (FT3) measures the free T3 thyroid hormone.
During this time synthetic T4 medication also became widely available and it became the de-facto standard thyroid hormone replacement, superseding NDT. This synthetic T4 medication had no T3 hormone in it at all. It was not a direct replacement for NDT. It did not mimic what the thyroid gland produced, and it relied on good conversion from T4 to T3.
One of the arguments against NDT at that time was that the variation in T4 and T3 content was a problem for patients and maintaining a consistent dosage. This latter argument no longer applies as modern technology now ensures a very consistent content of both T4 and T3 within each NDT brand, e.g. Armour thyroid.
Doctors were trained during this time to use the laboratory tests as a primary tool in diagnosing thyroid problems. They also began to use the tests to assess whether someone was on enough synthetic T4 medication. In this significant transition period the endocrinologists and doctors had also been convinced that synthetic T4 medication was the only type of thyroid medication that was necessary. They were told it always converted to enough T3 (a bad assumption that I will come back to).
It became obvious that it was much easier and far faster for the doctors treating thyroid patients. Synthetic T4 was a cheap drug, which only needed to be taken once a day. They could also just look at the lab test results and decide if the person appeared to be treated properly. If the numbers were 'in range', the person was assumed to be on the correct dosage for them. Lab-test-centric treatment with synthetic T4 became 'an easy sell' to doctors, as it was all just so much easier and quicker to manage.
So began the days of fast, conveyor belt, thyroid treatment. The patients were in and out of the doctors' offices within 10 minutes or so. They no longer had to have their main focus on the patients' symptoms and on making them actually feel totally well again. However, we know that this approach leaves many patients under-medicated or improperly treated.
So, Where Are We Now?
Both doctors and patients are now highly focused on lab test results. In many cases, both groups (patients and doctors) are operating under the mistaken belief that by focusing mostly on trying to achieve some 'ideal' lab test results, that the patients will fully recover.
Note: Lab test results are extremely valuable during the diagnosis stage, prior to a patient being given any thyroid hormone – there is no question of this. My big issue is the way in which labs are being used during thyroid hormone treatment. My concern is for the vast numbers of thyroid patients who are being left with symptoms (sometimes many severe symptoms), because they are either not on enough thyroid medication or they are on the wrong type of thyroid medication. Many of these people end up with other health issues as a result, e.g. high cholesterol, cardio-vascular issues, diabetes, etc. Some are given anti-depressants even though they may not have depression as the central issue.
What Usually Happens During Thyroid Treatment?
Most doctors use the TSH test to assess their patient's thyroid medication dosage. The standard thyroid medication is synthetic T4. Some doctors also test Free T4 (FT4) and a few also test Free T3 (FT3).
Most of these doctors believe that their patient is well treated on T4 medication if the patient's TSH is in the reference range. Some prefer to see TSH low in the reference range. Most doctors get concerned if TSH is near zero.
TSH has become the de facto way of assessing the T4 medication dosage. Synthetic T4 has become the de facto treatment.
As for patients, they too are interested in their thyroid lab test results. Many believe that once the 'right' levels are reached that they will be well again.
The use of synthetic T4 instead of natural desiccated thyroid and the use of the TSH test and other thyroid lab tests have radically changed thyroid treatment and how its effectiveness is assessed. These changes vastly reduced the work of the doctors and endocrinologists. The reliance on the TSH test and the use of T4 medication also virtually guaranteed that no patient would ever be over-medicated. However, it was much more likely to result in the under-medication of the patient!
Why Current Thyroid Treatment is a Broken Paradigm
TSH can be totally suppressed when on thyroid treatment, i.e. near zero. This is fine and it does not mean the patient is hyperthyroid. So, keeping a patient to an in-range TSH may leave them under-medicated.
TSH does not track symptom improvement. So, a doctor cannot see a change in T4 medication and a lowering of TSH and assume that the patient is doing better.
FT4 does not track symptom improvement either. A higher level of FT4 does not mean that the patient will be feeling better.
FT3 does track symptom improvement – but this is not the main measure that most doctors focus on.
The reference ranges for FT4 and FT3 are population ranges – they are far too wide to conclude anything about whether a patient is treated properly or not. They are the size of a 'barn door' and of no use in assessing the correct level of treatment/dosage.
RT3 may or may not be an issue, and for sure there is no ideal FT3/rT3 ratio for all patients. Just as the lab ranges are wide population ranges, people all have their own individual requirements for their labs. No ratio or reference range can be applied to all people. Very high rT3 is usually an issue but that's about all you can say about it in isolation – symptoms and signs of the patient say more.
Synthetic T4 does not work for all patients. Some patients cannot get well using T4 medication alone.
Research has shown that the loss of conversion capability, and of the thyroid gland in thyroidectomy patients, causes the loss of the ability to achieve a balance of thyroid hormones and good conversion rate (homeostatic balance).
We also know that the thyroid gland itself is responsible for around 25% of our T3, mostly through conversion, so tissue damage through Hashimoto's, or through removal of the thyroid, loses a huge amount of ability to convert from T4 to T3. This can often not be compensated for with T4 alone.
We also know from research that some people have genetic defects that reduce the capability to convert from T4 to T3 (DIO1 and DIO2 gene defects).
We also know from an immense body of thyroid patients that many of them need different medications to get well: T4, NDT, T4/T3, or in some cases T3-Only.
So, the current paradigm of thyroid treatment is utterly broken.
The Consequences
This is the really sad aspect of all of this. Thyroid patients are being left improperly treated in many cases. They are either on the wrong medication for them or they are being left under-medicated.
Both doctors and thyroid patients are now incredibly focused on lab test results. This alone is liable to waste vast amounts of time, and not lead to a good treatment and outcome. Both thyroid patients and doctors are chasing some 'ideal' laboratory test results. We know from the research that it is virtually impossible to use just the lab test results to determine if someone is either on the right medication or the correct dosage of it.
The shift to this broken paradigm of lab-test-focused treatment and T4 medication has caused generations of doctors and patients to become fixated with lab test results. It has caused both doctors and patients to believe that these test results will reveal something amazing. It is sad, because the lab test-focused approach often fails.
What Ought To Happen?
The medical history of the patient and their history on thyroid treatment so far are critical. How the hypothyroidism symptoms and signs of the patient change during treatment should be the primary focus.
All the thyroid medication types need to be available as options. Synthetic T4, NDT, T4/T3 and T3-Only should all be available and if one does not help the patient get well, another should be tried.
Lab test results should only be used in a supporting role during treatment. You do need to have the lab test results. However, it is how TSH, FT3, FT4 and rT3 change in relation to each other, as symptoms change with different changes in thyroid medication that is the most important thing. Doctors should be prepared to offer a different type of thyroid medication if the patient is not improving or FT3 is not rising as TSH and FT4 adjust.
The focus should be improving how well the patient feels. Labs can only give some insight into how the choice of thyroid medication and dosing is adjusting thyroid hormone levels.
We need thyroid treatment to be patient-centric not lab-test-centric once again – like it used to be, but with all the available thyroid medications and the available lab tests to make things better. I am not suggesting we 'throw the baby out with the bath water'.
I think we do need the best things of both periods of time:
We have better lab testing now.
We have more thyroid medications available.
We have research findings that are informing how to do a better job of thyroid treatment.
We ought to have a much better and more successful paradigm for thyroid treatment. But we do not!
Wrapping Up
Doctors and thyroid patients are too focused on chasing some ideal idea of thyroid lab test results. This has been the road to nowhere for some time and it continues to lead there.
Just focusing on lab test results, and with only synthetic T4 on offer is not what doctors or patients should be doing. Just because thyroid lab results are in range does not imply that treatment has been successful.
The advent of thyroid lab tests for TSH, FT4 and FT3 ought to have made thyroid treatment far better and easier. However, in the process of using them, they have become the main focus. Synthetic T4 medication has become the main treatment. This is where it has all gone wrong.
The current approach has abandoned the good practices of the past and has replaced these with practices that leave many patients feeling unwell. The change in the way thyroid treatment is managed that occurred in the 1970s has been the biggest step backwards that we have ever seen with the treatment of this disease. Doctors and patients alike have been convinced that by repeating laboratory tests and changing T4 medication doses that good health will be regained. This approach is failing far too many thyroid patients.
However, we have all the necessary medication, testing and research to have far more successful thyroid treatment than we do today. I hope that there will be a change for the better at some point in the future. I hope that we can take the best of the past, the best of the present, together with recent research findings and have thyroid treatment practices that actually work for thyroid patients. It is really not that hard to achieve!
About Paul Robinson
Paul Robinson is a thyroid patient and advocate at Paul Robinson Thyroid who became ill with hypothyroidism in his late twenties. He was eventually able to recover using T3 replacement therapy. He is now sixty and has written 3 books – Recovering with T3, The CT3M Handbook, and The Thyroid Patient's Manual.