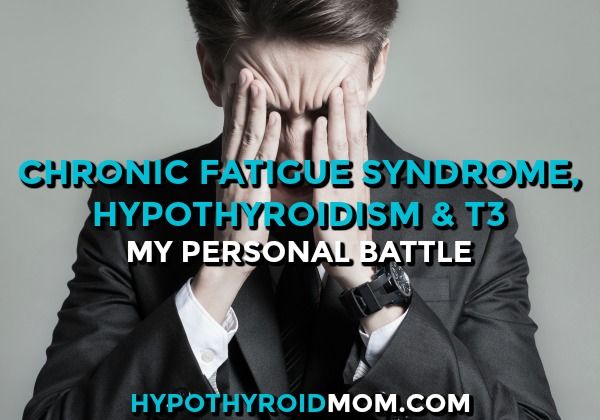 How many Chronic Fatigue Syndrome (CFS) patients actually have thyroid imbalance as the cause of their symptoms even when their thyroid lab tests are declared 'normal'? I've wondered this for some time.
Written by Paul Robinson
My Chronic Fatigue Syndrome 'label'
In the summer of 1993, I was thirty-four years of age. I had been diagnosed with Chronic Fatigue Syndrome (CFS) by at least one endocrinologist. They sometimes referred to what I had as ME (myalgic encephalitis). Whichever label they gave me, they clearly did not know what to do with me anymore. I was not convinced that I had CFS. Sure, I had a lot of the symptoms of CFS, but there were many reasons I did not believe it.
Feeling rubbish with 'normal' thyroid labs
For the past four years I had been on Synthroid (T4) for hypothyroidism due to Hashimoto's thyroiditis. My endocrinologists and family doctors had tried various different doses of Synthroid, and somewhere between 150 mcg and 200 mcg appeared to make them all extremely happy, as my thyroid lab test results were 'normal'. I still felt really ill though. I had been on a gluten-free, grain-free and dairy-free diet for a couple of years. I'd had anti-candida treatments for my digestive system, which caused pain after every meal. I'd had anti-parasite treatments. I'd been treated for heavy metals, had my amalgam fillings removed, seen kinesiologists. I'd even done the kinesiology training and was qualified to practice it. I'd seen a number of other complementary medicine specialists. I was desperate to get well. I would read something and think, "It might be this!" But none of these things helped at all.
At this stage, I had such fatigue that I could barely climb the stairs. My concentration was bad. I was weak. My cortisol was very low. But I had passed an ACTH Stimulation test, so the endocrinologist said I was Ok! I wasn't though. The low cortisol made my blood pressure so low that I passed out regularly. It also caused me to lose a lot of weight (I went from 170 pounds down to only 110!). Basically, I still had the majority of the symptoms of hypothyroidism that I had when I was first diagnosed. The low cortisol had come on during the past few years and added to the fun.
I pointed out to every doctor that I saw that I still had most of the original thyroid symptoms. They just said my labs were normal and that the symptoms must be from some other condition! Some other condition had arrived that completely masqueraded as hypothyroidism! Crazy! Anyway, that's why I was given the CFS diagnosis. They stuck a label on me and sent me on my way.
I honestly had lost a lot of respect for the medical professionals who had failed to get me well. The "just take this one little pill and you'll be well in no time at all" statement had been a big lie. I was frustrated with the doctors. They just did not seem to be at all logical in the way they looked at my problems. Every appointment I went to, I got nervous beforehand, as I expected to be ignored. All they offered me was the CFS 'label'.
I was scared about losing the career that I loved and concerned about the financial security for my family. My little kids did not have a proper Dad and home life was very tense and strained. I also began to believe that I was going to die. It was a total nightmare.
I did lose my career! My family life did deteriorate! Lots of relationship damage was done, much of which will never recover.
T3-Only thyroid treatment is a life saver
However, I did recover. I never gave up searching for answers – this is a vital part of recovering for some people. I read endocrinology textbooks and eventually realized that I needed to have a trial with T3 (liothyronine). I felt my body's ability to convert T4 thyroid hormone to T3 had worsened from when I was healthy and that, although my Free T3 was 'normal', it had probably once been higher. My doctor wanted me to try T4/T3 first, then natural desiccated thyroid. Even combined with hydrocortisone, nothing worked, and my symptoms remained. I argued to get T3, and eventually I got on T3-Only with no T4 in my medication at all.
Within a few days of T3-Only the lights went on! It was like I was back in a world of full color, compared with the black and white, washed out, living hell I had been in for the past seven years. Within three weeks all my digestive symptoms cleared up. I did not need to be on the special diets at all. I eat a more or less ketogenic diet now – not because I need to avoid some particular food, simply because I feel good on it.
It took three years to figure out a protocol for finding an optimal and safe dosage of T3, and to fix my remaining symptoms. T3 also fixed my cortisol issue and the symptoms that went along with it (for years I had been passing out regularly).
It worked. I got well and improved even more over time. My thyroid labs look screwy though. I had suppressed TSH, no FT4 and elevated FT3 – but I am well and am not hyperthyroid at all. There are good reasons for not being hyper even if FT3 is elevated in someone on T3-Only (but too complex to go into in this article). We're all different, of course, and what's right for me may not be for another person.
I use three doses of T3. This avoids any single dose needing to be too high, and it also means during the time before the next dose is due the levels don't fall too low. For me, two of these doses are in the daytime and one is in the night. I term this night dose the Circadian T3 Method (CT3M). It is a way of providing the pituitary gland with enough T3 to function and make ACTH (the hormone that drives the adrenals to make cortisol). Many people with low cortisol have hypothalamic-pituitary dysfunction. This can often be caused through low FT3 in the night, which can happen through using daytime-only thyroid medication. The CT3M protocol is only for those with low cortisol (most of my book is about daytime dosing of T3). Note: T3 is still the hardest thyroid medication to use as blood tests are of little help in the dosing. So, I always suggest that it is the last treatment people consider. NDT or T4/T3 are my preferred choices where they can be made to work well.
So, I got well, but I could not repair all the collateral damage. My life changed totally through my condition remaining improperly treated for so long. It was ten years before I eventually recovered. That is too long a time to remain so sick without consequences. This is why it is critical to recover quickly.
Chronic Fatigue Syndrome and thyroid connection
So, what can this tell us about Chronic Fatigue Syndrome? Well, CFS went into my medical records. That was the diagnosis. I was told I had CFS and that I had near perfect thyroid labs. I have come to believe that a good proportion of CFS patients could still have a thyroid hormone imbalance behind their CFS symptoms. These CFS patients may, or may not, be on thyroid hormone treatment. I also think that other complex conditions that are hard to diagnose properly, like B12 insufficiency, can also be behind many CFS cases. The problem is that it is often extremely difficult to find the cause(s) and so the label of CFS is the only thing that the poor patient is left with. I wish more doctors would consider trying T3 therapy or B12 injections if they have cases of CFS patients for whom they have no other clues.
DIO1 and DIO2 gene defects
In my own case, I have recently discovered that I have both copies of the gene defects DIO1 and DIO2. These defects impact the quality of the D1 and D2 deiodinase enzymes involved in converting T4 to T3. This issue and the loss of thyroid tissue due to Hashimoto's would have impacted my conversion capability dramatically. I now know that the thyroid gland contributes around 25% of the T3 in the body – most of this is through its conversion capability. The thyroid is the most important converter we have. When we lose thyroid tissue, this conversion capability is gone. In my case, if I try to take even small amounts of T4 medication with my T3, I crash within 5-7 days. I just cannot process it because my ability to convert it is so poor. However, at least I can finally explain what happened to me and why I cannot cope with any T4-based thyroid medication.
Sadly, my situation with poor diagnosis and treatment is not unique.
CFS and hypothyroidism can both be a total minefield for people. Many of us know how hard it can be to get out of it and claw our way back to good health. It isn't at all straightforward. I hope this article is helpful to some of you, and that it gives you some ideas to consider during your own health journey.
About Paul Robinson
Paul Robinson is a thyroid patient and advocate at Paul Robinson Thyroid who became ill with hypothyroidism in his late twenties. He was eventually able to recover using T3 replacement therapy. He is now sixty and has written 3 books – Recovering with T3, The CT3M Handbook, and The Thyroid Patient's Manual.