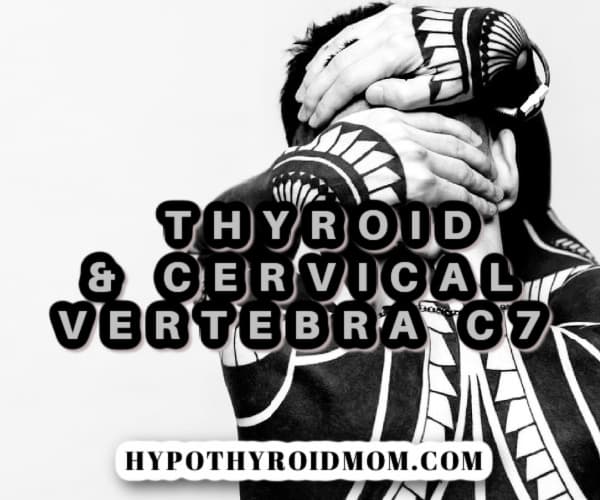 Did you know that thyroid disease may be connected to your cervical spine, your C7 vertebra specifically?
Over the near decade of Hypothyroid Mom, I've had the great fortune of meeting many health care professionals with fascinating and unexpected insights on thyroid disease. I'll never forget the first time a chiropractor mentioned C7. He explained that disruption of any kind to the last cervical vertebrae – C7 – at the base of the neck could mean the nerves and blood supply to the thyroid gland may be interrupted. At first, that name C7 sounded like some abstract term or the name of a robot or a self-driving car or something that didn't sound related to my body. I had no idea that first time how many times I would later hear C7 repeated out of the mouths of one health care professional after another and all the scientific studies that would later be published on this very topic.
Thyroid & Your Cervical Spine
Damage or misalignment of that vertebra C7 can come from all types of conditions including herniated disc, bulging disc, scoliosis, spondylosis, dehydrated disks, degenerative disk disease, bone spurs, spinal cord infection, stiff ligaments, spinal cord injury, neck sprain, whiplash, fracture, neck arthritis, osteoporosis, cervical spinal fusion surgery, dislocation.
In 2014, the Journal of Craniovertebral Junction & Spine published a case report of a 21-year-old girl admitted to the hospital for chronic neck pain lasting 6 months. She presented with clinical features of hyperthyroidism including tachycardia, anxiety, and poor mental function. Testing revealed tuberculosis infection of the spine, termed Koch's spine, that had damaged her cervical spine especially at C7. Following surgery that involved removal of C7, this young girl went into thyroid storm, a severe and potentially life-threatening complication of hyperthyroidism.[1]
And this topic invovles all forms of thyroid disease. At the annual meeting of the American College of Rheumatology in 2014, thousands of rheumatologists met to review the latest advances in research. One of the studies presented was titled Autoimmune Thyroid Disease Is Associated with a Higher Frequency of Spinal Degenerative Disc Disease.[2]
The C7 vertebra at the base of the neck is highly susceptible to degeneration, trauma, disc dysfunction, and misalignment because it bears the primary load from the weight of the head and neck. Run your hand down the back of your neck, do you feel your C7? It's the one that feels like a bony knob sticking out at the base of the neck. Have you ever experienced terrible neck pain and even pain right there at that bony knob? I have.
The cervical spine (neck region) consists of 7 bones, labeled C1 to C7, and C7 is the last one (the 7th). It's the one that sits at the base of your neck.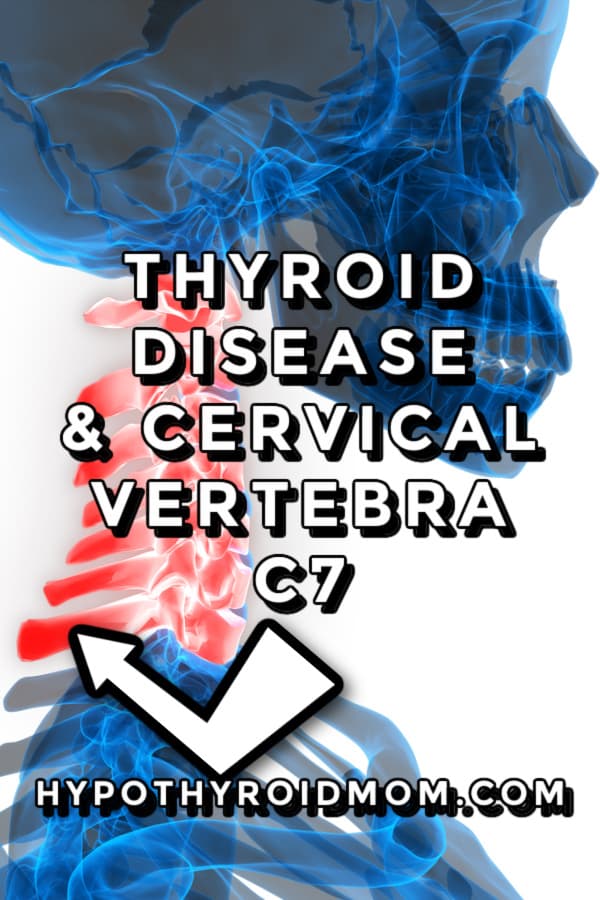 Nerves, Thyroid & Other Body Parts
You see, the nerves linked to the thyroid gland can be mapped down the spine specifically to, you guessed it, C7. And misalignment of C7 can cause pinching of the nerves to the thyroid gland. Look again at that image above and think about it for a moment. C7 is right at the base of the back of the neck and your thyroid gland is right at the base of the front of the neck. Pretty darn close, right.
In 2015, the Journal of the American Osteopathic Association published a case report of a 29-year-old woman brought to the emergency room for psychosis caused by hypothyroidism, or myxedema madness. She had a 3-year history of chronic pain ever since a waterskiing accident followed by cervical spine fusions of the C4-C5 and C6-C7. The patient's hypothyroidism was believed to be caused by a somatovisceral reflex dysfunction related to disruption of the nerves in the region of her cervical spine. While in the ER, imaging of the patient's cervical spine showed that her previous spinal fusion surgeries had failed. When the failed fusions were surgically corrected, the patient's hypothyroidism resolved. Two years after the successful refusions of her cervical spine, the woman was pain free no longer requiring pain medications and no longer requiring thyroid treatment.[3]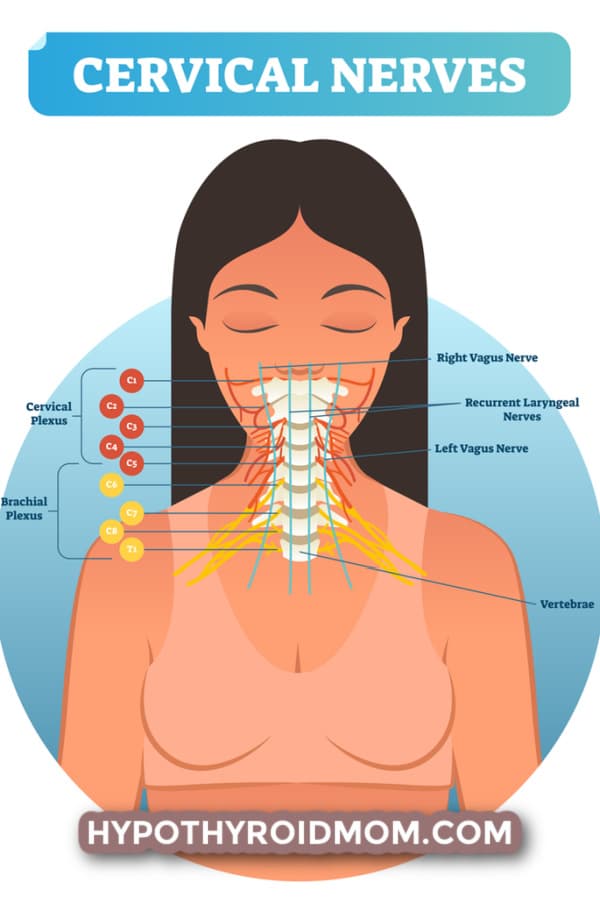 Misalignment of your C7 vertebra, and all of your vertebra really, can present with symptoms in completely different parts of your body. You see, there are networks of nerves fibers that travel from your neck region to other parts of your body that you wouldn't expect to be connected. Here's an example. The nerves of the brachial plexus travel to the scapular region (oh how I hate pain in my shoulder blades!) and into your arms, forearms, and hands. It's not surprising really when you consider that carpal tunnel syndrome is one of the classic symptoms of hypothyroidism. Symptoms of carpal tunnel syndrome including a tingling feeling or pins and needles, numbness and sometimes pain in the wrists and hands. Other common thyroid symptoms related to the arms and hands include shoulder and elbow bursitis, tendinitis, tennis elbow, golfer's elbow, De Quervain's tenosynovitis, frozen shoulder, trigger finger, rotator cuff injury, and peripheral neuropathy.
In 2019, a case study was published in the journal BMC Musculoskeletal Disorders about a 50-year-old man presenting with increasing cervical (neck) pain as well as numbness radiating down his left arm and fingers that medications failed to alleviate. An MRI scan revealed spondylosis of the middle and lower cervical spine, a prolapsed intervertebral disk at C7/T1, as well as a thyroid goiter.[4]
It makes sense now that damage or misalignment of any kind of the C7 vertebra would affect your thyroid gland, but the reverse makes sense too. Given the high occurrence of goiter and thyroid nodules among thyroid patients, as well as enlargement of the thyroid gland from inflammation say from Hashimoto's thyroiditis, it would make sense that any enlargement or protrusion from the thyroid gland may physically press against that C7 vertebra and result in misalignment or even damage from their mere proximity, right.

Pinched Blood Vessels & Thyroid
The cervical spine is intertwined with not just nerves but also blood vessels. C7 disruption can pinch the nerves as well as the blood vessels including the blood vessels to your thyroid gland.
In order to function properly, your thyroid gland requires proper blood flow to carry oxygen-rich blood via arteries to the thyroid gland and take the waste products away from the thyroid gland via veins. If there is disruption to that blood circulation to and from the thyroid gland, say from the blood vessels being pinched by misalignment of your C7 vertebra, it can impact its functioning.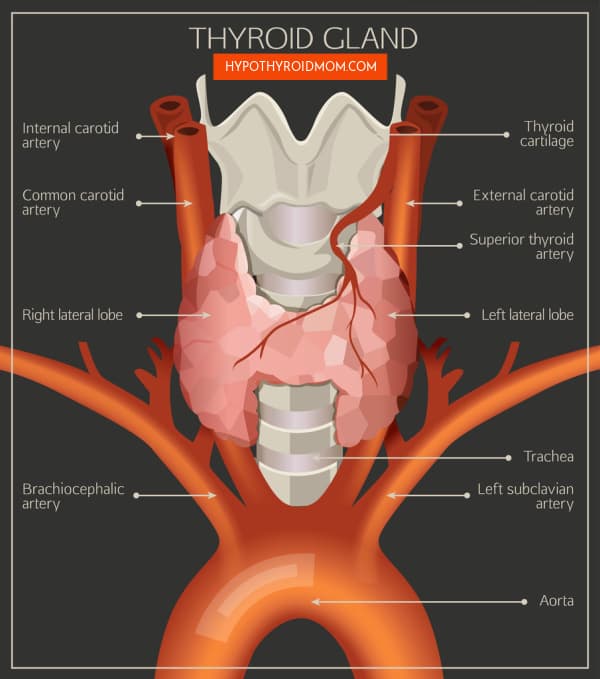 If you look closely at the diagram above you will also notice the carotid arteries which branch off from the aorta (the largest artery in the body) a short distance from the heart. They extend upward through the neck carrying oxygen-rich blood up to the head including your precious brain.
Hypothyroid patients come in droves to Hypothyroid Mom complaining about all sorts of head and brain-related symptoms, everything from brain fog, attention deficit, memory problems, headache, vertigo, mental health issues, hair loss, and eye and ear problems too. Considering the possibility of interrupted blood flow to the thyroid gland but also to the head region from cervical spine disruption, I often ask my Hypothyroid Mom readers with symptoms related to the head region these questions:
Do you experience dizziness, blurry vision, or ringing in your ears upon turning your head from side to side?
Do your brain-related problems calm down when you lie down?
Do your symptoms worsen when your neck is in a particular position?
Sure enough, the answer is more often than not – YES.
References:
[1] Huzurbazar, S., et al. Thyroid storm following anterior cervical spine surgery for Koch's spine. J Craniovertebr Junction Spine. 2014 Jan-Mar; 5(1):52-54.
[2] Cohen, H., et al. Autoimmune Thyroid Disease is Associated with a Higher Frequency of Spinal Degenerative Disc Disease. 2014 ACR/ARHP Annual Meeting. Session Title: Osteoarthritis – Clinical Aspects: Therapeutics. Session Type: Abstract Sessions. Abstract Number: 2252.
[3] Berkowitz, M.R. Resolution of Hypothyroidism After Correction of Somatovisceral Reflex Dysfunction By Refusing of the Cervical Spine. J Am Osteopath Assoc. 2015;115(1):46-49.
[4] Themistoklis, K.M., et al. Anterior Cervical Discectomy and Fusion combined with thyroid gland surgery, a tailored case and literature review. BMC Musculoskelet Disord 20, 629 (2019).
READ NEXT: 300+ HYPOTHYROIDISM SYMPTOMS…YES REALLY