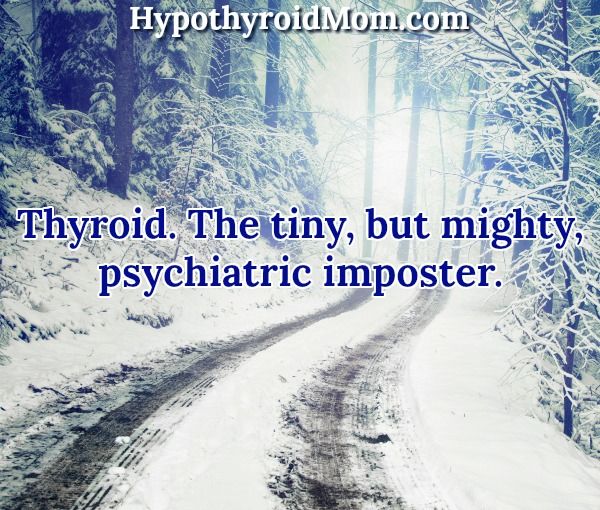 A frantic email. A son. His mother. A psychotic episode at work. An involuntary admittance to a psychiatric unit. No prior history of mental health issues. Her severe hypothyroidism diagnosis months before. Is there a connection? Came the plea. Psychiatrists insisted no. But then the discovery of Hypothyroid Mom online. "Please, please help my mother," he wrote.
Fear rippled through my veins. An urgent need to help this woman and the countless others. All being overcome by their brains, or so it may seem.
Connection, he asked. Where do I begin?
History of thyroid and psychiatric disorders
In 1874, Queen Victoria's court physician Sir William Withey Gull recorded the very first accounts of the clinical features of adult hypothyroidism.[1] Gull described the unusual symptoms of a Miss B, and he noted the distinct change in her mental state.[2] What we now call "hypothyroidism" was termed myxoedema or myxedema (myx meaning "mucus" & edema meaning "swelling" from ancient Greek) in 1878 by William Ord.[3]
In 1888, hypothyroidism was first linked to psychosis by the Committee on Myxoedema of the Clinical Society of London. Based on 198 patients with myxoedema, the committee reported that nearly half the cases presented with delusions and hallucinations, mainly in cases where the disease was advanced. They also reported mental disturbances including acute or chronic mania, dementia, melancholia, suspicion, and agoraphobia.[4,5]
It was then in 1949 that Asher introduced the term "myxoedema madness". In all fourteen cases of myxoedema patients showed psychosis amounting to complete "madness", ten admitted to mental observation wards with non-myxoedema diagnoses. The average doctor may not be aware that frank psychosis can occur with myxoedema, Asher noted.[6]
Every mental disorder and every thyroid disease
It would be simple to dismiss these early discoveries. Medicine has advanced by leaps and bounds in over a century with profound improvements in diagnosis, treatment and prognosis of major illnesses, after all. Surely, this connection is insignificant by this time given our vast advancements in endocrinology and psychiatry. I wish it were that simple.
The prevalence of thyroid disease is downright shocking. 1.6 billion people worldwide are thought to be at risk of thyroid dysfunction with the World Health Organization estimating 750 million people are living with a thyroid condition right now.[7,8] And the most dreadful part of this problem is that up to 60 percent of those living with a thyroid disorder are currently undiagnosed. For this considerable number of people, the truth can be far worse than imaginable with people living in such poor states of body and mind that no one can begin to imagine. One look at the Hypothyroid Mom poll that I conducted to determine the top thyroid hormone replacement medication for hypothyroidism will make it painfully clear that even those diagnosed with thyroid disease are struggling to find optimal treatment.
How many people with thyroid dysfunction are in mental wards this moment with no one to put the pieces of their health problems together? If it were so simple, researchers would have long lost interest in this topic, yet the research rages on to present day. And it's not just about hypothyroidism, it's all forms of thyroid disease. And it's not just about one type of mental disorder, it's all forms of psychiatric conditions.
Just take a look at the titles of the articles in the reference list at the bottom of this article to plainly see the topics that researchers are writing about in this day and age. Case after case of women, men, adolescents and children brought to psychiatric emergency departments in hospitals around the world from the U.S. to Canada to Brazil to Greece to Turkey to India to Korea to China to Japan presenting with paranoid behavior, confusion, disorientation, hallucinations, delusions, depression, altered mood, suicide attempt, aggression, acute mania, OCD, psychosis, with all different types of thyroid disease from severe hypothyroidism, non-adherence to thyroid hormone replacement medication, Hashimoto's thyroiditis, thyroid nodules, methimazole-induced hypothyroidism (antithyroid drug used to treat hyperthyroidism), Graves' disease, postpartum thyroiditis, thyroid storm, hypothyroidism from thyroidectomy, abrupt hypothyroidism from radioactive iodine treatment to thyroidectomy for thyroid cancer.[9-30]
It is eerie to read the words from thyroid pioneers written well over one hundred years ago. The mental disturbances associated with thyroid disease were noted over a century ago. All these years later, people with thyroid disease continue to suffer from what appear to be signs of mental disorder with insufficient or complete lack of attention paid to the possible biological causes of psychiatric conditions. Is it a psychiatric disorder or is it a flashing neon sign of disturbance of that tiny, but of so very mighty, thyroid gland? There is little doubt that thyroid hormone dysfunction can manifest in a number of psychiatric complaints. They may be some of the earliest signs of thyroid disease and easily misdiagnosed as psychiatric disorders.
Thyroid disease is one of the most critical, one of the most least understood, and one of the most frequently overlooked causes of psychiatric disorder.
Optimal thyroid treatment has the power to improve even the most devastating of mental disorders. I hear from Hypothyroid Mom readers every day finally finding reversal of mental health symptoms that once seemed hopeless. This is not to suggest that every mental disorder is connected to a thyroid problem. It is not that at all and far more complex. This is however to suggest that a full evaluation of thyroid testing and treatment should be part of the workup of every single person that presents with psychiatric symptoms.
Medical diseases presenting with psychotic symptoms
In 1909, one of the fathers of organic psychiatry, Karl Bonhoeffer, presented his concept of symptomatic psychoses. "The number of medical diseases that can present with psychotic symptoms (ie, delusions, hallucinations) is legion. A thorough differential diagnosis of possible medical and toxic causes of psychosis is necessary to avoid the mistaken attribution of psychosis to a psychiatric disorder."[31]
It was this 100 year old concept that rang through my ears as I read the email from that son. He was desperately trying to save his mother from being institutionalized in a psychiatric hospital for the rest of her life. That gut instinct of his that there was something more to her sudden, new-onset and rapidly worsening psychiatric story is what saved his mom. With hypothyroidism so severe her TSH was raging over 60, that tiny, butterfly-shaped thyroid gland at the base of her neck had the power to savagely disrupt every single part of her body, including her brain.
READ NEXT: STUBBORN WEIGHT WAS A SIGN HER THYROID MEDS WERE OFF
REFERENCES
Pearce, J.M.S. Wir William Witten Gull (1816-1890). Eur Neurol. 2006;55:53-56.
Gull WW. On a Cretinoid State supervening in Adult Life in Women. Transactions, Clinical Society of London. 1874;7:180-5.
Ord, W.M. On myxoedema, a term proposed to be applied to an essential condition in the "cretinoid" affection occasionally observed in middle-aged women. Medico-Chirurgical Transactions. 1878;61:57-74.
Clinical Society of London to investigate the subject of myxoedema. Trans Clin Soc Lond. 1888;21(Suppl):1-215.
Easson, W.M. Myxedema with Psychosis. Arch Gen Psychiatry. 1966;14(3):277-283.
Asher R. Myxoedematous madness. Br Med J. 1949;2:555–562.
Merck KGaA. News Release. Merck KGaA, Darmstadt, Germany, Survey Reveals Most Thyroid Disorder Patients Find Road to Diagnosis Long and Distressing. 2018 May 22. Retrieved from: https://www.emdgroup.com/en/news/thyroid-awareness-week-22-05-2018.html
American Thyroid Association. News Release. American Thyroid Association Announces 7th Annual World Thyroid Day May 25, 2014. Retrieved from: https://www.newswise.com/articles/american-thyroid-association-announces-7th-annual-world-thyroid-day-may-25-2014
Zorkin, N.G., et al. Severe Hypothyroidism Presenting with Acute Mania and Psychosis: A Case Report and Literature Review. Bipolar Disord. 2017;3(1):1.
Ueno, S., et al. Acute psychosis as an initial manifestation of hypothyroidism: a case report. J Med Case Rep. 2015 Nov 17;9:264.
Alex, C., Kumar, R. An interesting case of Myxedema Mania – A case report. RGUHS Med Sciences. 2015;5(1):27-29.
Mavroson, M.M., et al. Myxedema Psychosis in a Patient With Undiagnosed Hashimoto Thyroiditis. J Am Osteopath Assoc. 2017 Jan 1;117(1):50-54.
Nazou, M., et al. [Psychotic episode due to Hashimoto's thyroiditis]. Psychiatriki. 2016 Apr-Jun;27(2):144-7.
DAS, S., et al. Autoimmune Thyroiditis Presenting as Psychosis. Shanghai Arch Psychiatry. 2017;29(3):174-176.
Agachanli, R., et al. Psychosis related with Hashimoto thyroiditis: a case report. Düşünen Adam The Journal of Psychiatry and Neurological Sciences. 2016 Jun;29(2):181-6.
Kapoor, N., Couch, J. A Case of Hashimoto's Encephalopathy treated with only Oral Thyroid medication and symptomatic therapy for seizures and psychosis, but Without Steroids (P2.257). Neurology. Apr 2016;86(16 Supplement):P2.257.
Delichatsios, H.K., et al. Case 14-2016: A Woman with a Thyroid Nodule and Psychosis. N Engl J Med. 2016; 375:e20.
Lazaro, P.C.F., et al. Psychosis associated with methimazole-induced hypothyroidism: a case report. J. bras. psiquiatr. 2013;62(2):171-3.
Lee, K.A., et al. Subacute thyroiditis presenting as acute psychosis: a case report and literature review. Korean J Intern Med. 2013;28(2):242-6.
Kolawole, I.A., et al. Delusional Psychosis in Graves' Disease. Prim Care Companion CNS Disord. 2018;20(1):17l02145.
Kuno, F., et al. [Case of graves' disease with remarkable psychiatric symptoms]. J UOEH. 2015 Mar 1;37(1):49-53.
Desai, D., et al. Thyroid Storm Presenting as Psychosis. J Investig Med High Impact Case Rep. 2018;6.
Cota, E., Lentz, J. Gland New Psychosis: New Onset Adult Psychosis with Suicidal Ideation and Attempt in the Setting of Thyroid Storm. Case Rep Psychiatry. 2017;2017:7402923.
Kandukuri, R.C., et al. Nonadherence to Medication in Hypothyroidism. A Case Report. Prim Care Companion J Clin Psychiatry. 2010;12(3):PCC.09m00863.
Brockington, I. Non-reproductive triggers of postpartum psychosis. Arch Womens Ment Health. 2017;20:61.
Capetillo-Ventura, N., Baeza, I. Psychiatric Symptoms due to Thyroid Disease in a Female Adolescent. Case Rep Endocrinol. 2014;2014:972348.
Hazen, E.P., et al. Case 10-2015 — A 15-Year-Old Girl with Graves' Disease and Psychotic Symptoms. N Engl J Med. 2015 Mar 26;372:1250-1258
Al-Mendalawi, M. Encephalopathy associated with autoimmune thyroid disease in an 11-year-old girl, a rare clinical presentation. Thyroid Research and Practice. 2017;14(3):133.
Freeman, S.A. Radioactive Iodine-Induced Psychosis. American Journal of Psychiatry. 2009 Sep 1;166(9):1067–1068.
Morosán Allo, Y.J., et al. Myxedema madness complicating postoperative follow-up of thyroid cancer. Arch Endocrinol Metab. 2015 Aug;59(4):359-63.
Freudenreich, O. Differential Diagnosis of Psychotic Symptoms: Medical "Mimics". Psychiatric Times. [online]. 2012 Dec 3;27(12). Retrieved from: https://www.psychiatrictimes.com/forensic-psychiatry/differential-diagnosis-psychotic-symptoms-medical-"mimics"