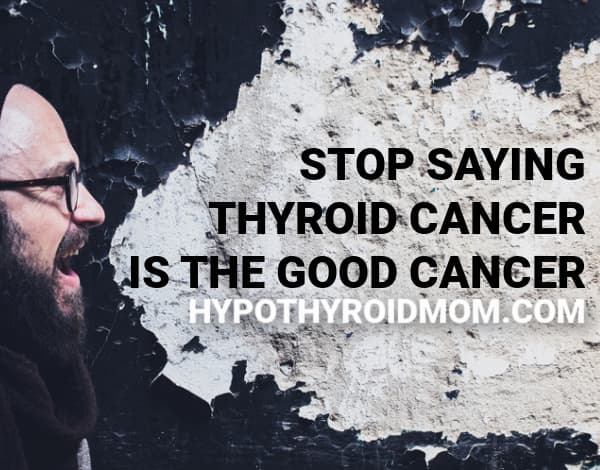 This is for the thyroid cancer warriors all around the world whose stories have not been heard, believed or understood. This man's advice to the world is raw. It is uncensored. And it needs to be heard.
Written by Pete Harrison
If you ever meet anyone that tells you they had thyroid cancer, do me a solid, and don't say anything stupid like is that REALLY cancer, or, OH, THAT'S THE GOOD CANCER.
Not only is that some stupid and ignorant stuff to say, it shows a significant and complete NON-UNDERSTANDING of a serious thing, CANCER BEING JUST THE BEGINNING. People who have had total thyroidectomies because they had cancer, as well as people who have thyroid issues at all ARE FIGHTING HEALTH ISSUES ON A DAILY BASIS THAT WOULD BEAT EVEN A 100% HEALTHY PERSON DOWN. I'm talking mental AND physical.
Go ahead and Google ALL THE SHIT WE DEAL WITH EVERY DAY. Not looking for pity or anything, but people, EDUCATE YOURSELVES.
Thyroid cancer is REAL FUCKIN' CANCER. Mine had spread to lymph nodes already. Not going to re-read and edit this…not in the fuckin' mood.
I have yet to actually find the right thyroid meds after over a decade. I have no idea what triggered it. I am of the belief that I had thyroid issues long before I was diagnosed.
I found out I had thyroid cancer in December, 2006, after a year of awful anxiety and depression and weight loss. Surgery January, 2007, radiation March of that year, and since then, over 25+ different meds changes, combos, etc., 15+ endo docs, etc., etc.
Misunderstood by EVERYONE around me.
Angered that you don't see endless TV ads about thyroid issues like you do heart disease, diabetes, etc.
I'm very tired, body sore, and depressed.
Hypothyroid Fun! My last two months, pretty much. Trust me. There are a lot of people with WAY more hypothyroid related issues…
Chronic fatigue
Long recovery period after any activity
Inability to concentrate
Dry skin
Chronic muscle and joint pain
Anxiety
Depression
Panic attacks
Memory loss
Mental sluggishness
Nightmares
I have no answers for myself, let alone anyone else.
Surrounded by people WITHOUT thyroid issues who DON'T GET IT.
Dealing with a medical community that DOESN'T GET IT.
On January 12, 2007, I had a total thyroidectomy due to papillary carcinoma.
This cancer had sneakily already begun to spread to some lymph nodes, so I also got to be radioactive for three days in March, 2007.
I got NO SUPER POWERS from this at ALL.
Rip-off!
Anyway: 2021- Fourteen years cancer-free!
Pete Harrison, Retired U.S. Air Force Sergeant