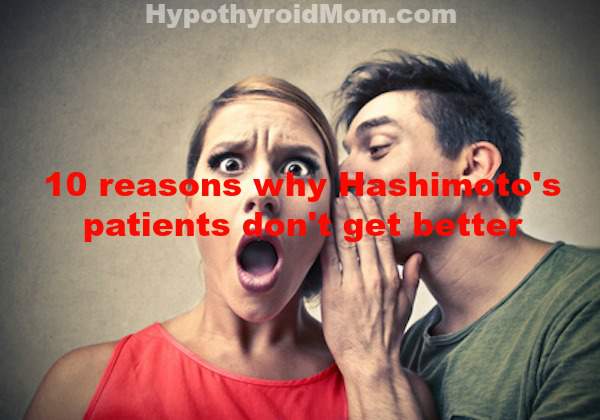 Often times mainstream doctors don't test for thyroid antibodies because it won't change how they treat you with Hashimoto's. The only solution they have is thyroid hormone replacement medication, but Hashimoto's is more than a thyroid condition. It is an autoimmune disease.
It is a pleasure to include Dr. Datis Kharrazian at Hypothyroid Mom. He is a leading expert in chronic illness, autoimmune disorders, and complex neurological disorders.
Written by Dr. Datis Kharrazian, PhD, DC
There is not one easy fix to successfully managing Hashimoto's hypothyroidism, an autoimmune thyroid disease. As many people have learned the hard way, using thyroid hormones to get TSH within lab ranges certainly doesn't guarantee a fix for most people, although it can help. Hashimoto's is a multifaceted autoimmune condition that involves many mechanisms. To truly manage your autoimmune Hashimoto's hypothyroidism, it's important to understand the factors that contribute to it.
10. Immune Reacting Fillers in Thyroid Hormone Replacement
Many thyroid supplements use corn starch or modified food starch that contains gluten. You need to make sure your thyroid hormones are gluten-free and free of corn starch if you react to corn. If your medication is in capsules make sure the capsules are gluten-free. Otherwise you could be taking hormones every day with dietary proteins that stimulate your autoimmunity.
9. Taking Immune Enhancing Supplements
Nutritional supplements can either help or flare up your autoimmunity based on an individual's T-helper dominance (whether you have a TH-1 or TH-2 dominance). Supplements such as echinacea, green tea, acai, astragalus, licorice, and a variety others can either help or aggravate autoimmunity depending on your dominance. If you are unaware of this you may be taking supplements that promote an autoimmune response. Please refer to Chapter Three of my thyroid book, Why Do I Still Have Thyroid Symptoms? When My Lab Tests Are Normal
 for more information and lists of supplements and herbs to be aware of.
8. Fixating their focus on thyroid hormone replacement only
Many thyroid patients believe that if they could only figure out the perfect version of thyroid hormones (natural versus bio-identical or T3 versus T4) they can correct all of their symptoms. Unfortunately, Hashimoto's hypothyroidism is a complex autoimmune disorder and thyroid hormone replacement is only one part of a large puzzle.
7. Increasing Stress
Emotional stress activates pathways involving the inflammatory immune messengers IL-6 and TH-17. This activity creates an autoimmune flare-up. Unhealthy relationships with your spouse, co-workers, or friends can promote autoimmune flare-ups, as can a bad work environment, or other significant and chronic lifestyle stressors. If you have Hashimoto's you need to create a healthy emotional environment for yourself. Bad personal relationships or poor work environments can be detrimental to Hashimoto's patients.
6. Not Strictly Gluten-Free
You are either 100 percent gluten-free or you're not gluten-free. Choosing to eat gluten-free only when it is convenient is not a gluten-free diet. If you are not strict about your food being 100 percent gluten-free when you eat out and you continue to consume condiments that have gluten, regular beer, and foods fried in fryers that use the same oil for breaded foods, then you are still being exposed to gluten. Gluten is a major trigger for most Hashimoto's patients and many cannot improve until they are 100 percent gluten-free.
5. Not avoiding gluten cross-reactive foods
Although a strict gluten-free diet is a great place to start, if you are still eating foods that cross-react with gluten you may not recover well. Cross-reactive foods have proteins similar in structure to gluten and can trigger the same immune response as if you were eating gluten. The most commonly ignored cross-reactive food is milk (casein), followed by rice, corn, sesame, and gluten-free oats. In fact, it is best to avoid all grains and adopt a diet such as a Paleo diet when you have Hashimoto's.
4. Ignoring their brain health
The most common form of collateral damage in chronic Hashimoto's patients is accelerated brain degeneration. Brain degeneration leads to identical symptoms of hypothyroidism, including fatigue and depression. I strongly suggest all thyroid patients become experts in identifying and supporting their brain health by referring to my second book, Why Isn't My Brain Working?


3. Ignoring insulin sugar spikes
Surges of insulin that follow eating or drinking something sugary or starchy (sweet coffee drinks, desserts, bowls of pasta or rice, bread, etc.) trigger the inflammatory TH-17 activity, which promotes autoimmune flare-ups. Eating sweets throughout the day or overeating promotes insulin surges, which can be identified by symptoms of fatigue or sugar cravings immediately after eating. If you have those symptoms after eating it means you are not managing your insulin levels and your Hashimoto's autoimmune response will be hard to tame.
2. Missing meals
When blood sugar gets too low it raises the inflammatory messenger IL-6 and promotes autoimmune flare-ups. Symptoms of low blood sugar are most noticeable between meals or if you skip meals and include shakiness, blurred vision, crankiness and irritability, and loss of function. If you feel a jump in your function and energy after eating it confirms your blood sugar was low—when your blood sugar is stable the only thing you should feel after eating is not hungry. Constantly skipping breakfast and missing meals will aggravate your autoimmune response and promote autoimmune flare-ups.
1. Passive attitude
The passive patient does not question or challenge her doctor. If you are a passive Hashimoto's patient and you do not take your health into your own hands you may not fare as well as the person who educates herself. The conventional model is based only on lowering your TSH with whatever thyroid medication your insurance plan or doctor prefers. Once TSH is within lab ranges, this model has nothing more to offer except to check your TSH once a year. It takes time and effort, but the thyroid patient who wants to feel better needs to roll up her sleeves and master the various mechanisms of Hashimoto's. The more you understand Hashimoto's the more likely you are to successfully manage your health.
About Dr. Datis Kharrazian, PhD, DC
Dr. Kharrazian's first book Why Do I Still Have Thyroid Symptoms When My Lab Tests Are Normal? created an international explosion of interest in his detailed review of the scientific literature regarding thyroid disease and his clinical model of patient management. Dr. Kharrazian is one of the most sought after educators in natural medicine, laboratory analysis, and nutrition. Patients from all over the world fly into his practice located in San Diego, California to understand his perspective regarding their condition and to apply natural medicine alternatives to help them improve their quality of life.
Thank you to Dr. Kharrazian for permission to include this important article that first appeared on his thyroid website thyroidbook.com.
READ NEXT: Hashimoto's Thyroiditis: The Power of 'I Believe'