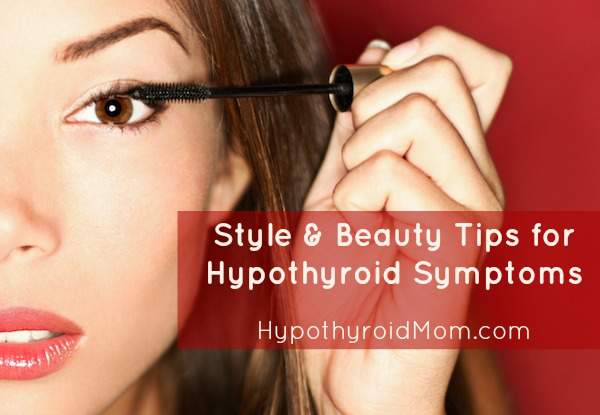 Who knew that little butterfly-shaped thyroid gland at the base of our necks could affect our physical appearance head to toe?! I invited makeup artist Gwen Lewis to share style and beauty tips to help us look FABULOUS despite our hypothyroid symptoms.

Written by Gwen Lewis
Some hypothyroid symptoms can get in the way of you achieving beautiful skin and a fabulous style. But with a few clever tricks and tips, you can look amazing.
Avoid the Meltdown
Excessive perspiration is not only a hypothyroid symptom you might experience that makes you feel uncomfortable, but it also gets in the way of a polished beauty routine. Perspiration can make your foundation drip or disappear. Prevent this with a water-based primer underneath foundation and choose a powder foundation that will absorb moisture. Water-resistant makeup products, such as eyeliner and mascara, are also great investments to prevent raccoon eyes from forming when the heat gets to you.
If you feel you need to cool down but don't know how to refresh the skin on your face after you've applied makeup, a facial mist is a must. Choose one that won't cause your carefully-applied beauty products to drip. Try Tata Harper Hydrating Floral Essence
 face mist that's packed with natural ingredients to nourish your skin and keep it cool as a cucumber.
Get Beautiful Eyes
Hypothyroidism can lead to dark circles or puffy eyes. Alleviate both conditions by getting enough sleep, preferably sleeping with your head on a raised pillow to prevent fluids from draining into the skin in the eye area.
You can mask dark under-eye circles by using a cream concealer that will slide over your skin without highlighting fine lines. Choose the concealer shade according to how the dark circles look. If they're a bit blue, you should use a yellow concealer. If they look brown or yellow, use a peach concealer.
Concealer can also hide bags under your eyes. It should be two shades lighter than your skin tone. Try Sephora Smoothing & Brightening Concealer
 that illuminates the skin around the eyes. The bonus: it works double-duty on puffiness and dark circles.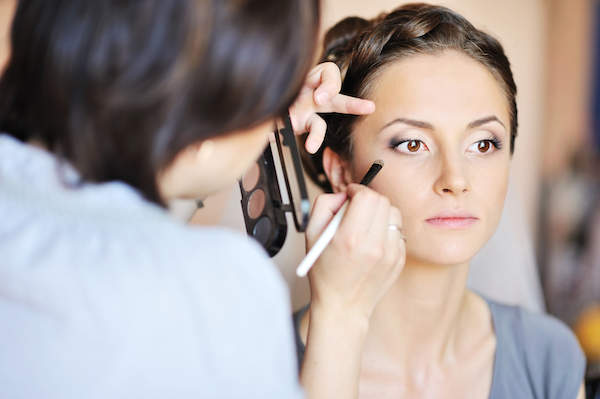 Another symptom you might be experiencing is that of your eyelashes thinning. By treating this, you can open your eyes and draw attention to their beauty. Try a nutritive treatment (such as Mavala Double-Lash

) will encourage thicker, healthy lash growth. You can also wear false eyelashes to open your eyes. Kevyn Aucoin has falsies called The Starlet

 that are actually quite subtle, fleshing out your lashes so they look beautiful yet natural.
Frame Your Face with Gorgeous Eyebrows
Hair can be prone to thinning if you've got hypothyroidism – even the hair on your brows can come under attack. They might thin out or experience hair loss, especially in the outer third section.
To fix this, you want to fill them in so that they look natural. Look in the mirror and hold a pencil from the outer corner of your nostril to the outer corner of your eye. Where the pencil meets your eyebrow is where your brow should end.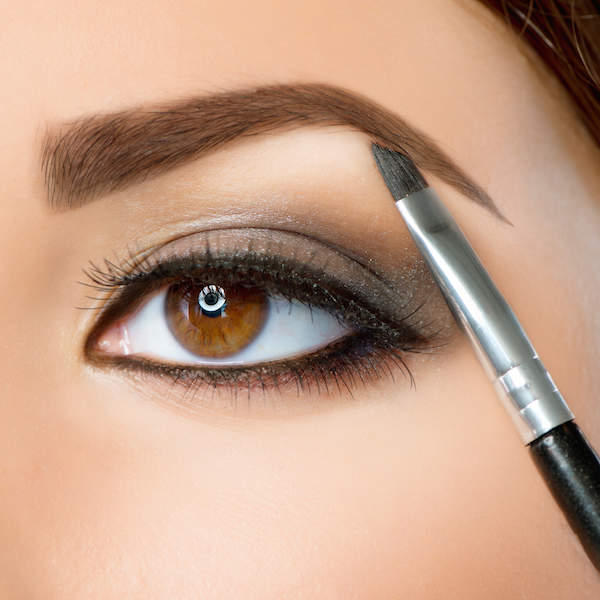 Now take a brow pencil that's in a color that matches your eyebrows and draw feathery lines in the same direction as your hair growth. Apply a tinted brow gel to set the pencil and make your entire brow look natural. A great gel is Benefit Cosmetics Speed Brow

–it has a mascara wand that makes application easier.
Draw Attention Away from Facial Puffiness
Sometimes your face can look puffy, but you can use makeup tricks to contour and disguise it. Apply a bronzing product to the following areas on your face: the bridge of your nose, your forehead, and under your chin. Then, apply the same bronzer to your face in the following way: start at your forehead and make a '3' shape with your makeup brush, curling into the cheek and then finishing the shape at your chin. Focus on accentuating your bone structure, such as the lines of your cheekbones and your jawline to draw attention away from any swelling. Finally, don't forget the blush! Add some to your cheeks and make sure you blend it well with the bronzer to complete the look.
Fall in Love with Your Hair
Research has found that 41 percent of people with hypothyroidism experience hair loss. Over-the-counter remedies and vitamins can boost blood supply and nutrients to the follicles, so they're worth asking your pharmacist about. Hypothyroid Mom shares the 10 Things That Stopped My Thyroid Hair Loss.
You should treat your hair gently if it's thinning, such as by choosing natural products instead of those containing irritating chemicals.
Opt for a new hairstyle that creates extra volume, such as with bangs or layers. A shorter style is also great if your hair is brittle.
Frizzy and/or dry hair can be a symptom you deal with, but it can be relieved with the right products. An anti-frizz product line, such as Frizz-Ease

 by John Frieda, can tame your locks. You also want to boost your hair's moisture which is what dry, frizzy hair is lacking. You can do this with natural hair masks, such as a mayonnaise pack.
Mayonnaise helps to deeply condition hair. Apply a cup of it to your scalp and hair. Massage it well and make sure you spread it through your hair from root to tip. Cover your hair with a plastic bag and sit with it for 30 minutes, then wash with shampoo. Do this once a week to bring hydration and smoothness to your hair.
For hair health, speak to your doctor about iron testing to check if you are deficient. Not having enough iron is a common problem in people with thyroid issues.
Ditch the Dry Skin
If your skin has become dry, you'll have to change your skincare products if you were using ones tailored to other skin types. Buy a rich moisturizer like Dr. Dennis Gross Skincare Alpha Beta Daily Glow Moisture

 that contains ingredients to nourish your skin, such as glycerine. Apply it to damp skin to lock in moisture. Avoid showering or washing your face with hot water as this strips skin of its natural oils.
You can also dry-brush your skin with the use of a good quality natural brush that you move up your body from your feet in sweeping motions. Make sure you always brush towards your heart. It stimulates circulation and exfoliates your dry skin.
When it comes to stubborn dryness, such as callus, cracked heels, you will need something a little more intensive such as a foot mask. After you have washed your feet and dried them, place a layer of vegetable oil over your cracked heels before bedtime. Wear a thick pair of socks. When you wake up in the morning, wash off any excess oil and repeat this for a few days so that your skin becomes smoother.
Get Radiant!
Dry skin might look pale since these two conditions usually appear together. To achieve a glowing complexion, glycerine products can come to the rescue again. Also use blusher on your cheeks to achieve a rosy complexion. Choose the right blush for your skin tone: fair or olive skin looks great in peach and pink, medium skin is complemented by apricot or soft berry shades, while darker tones look good in raisin or tangerine shades.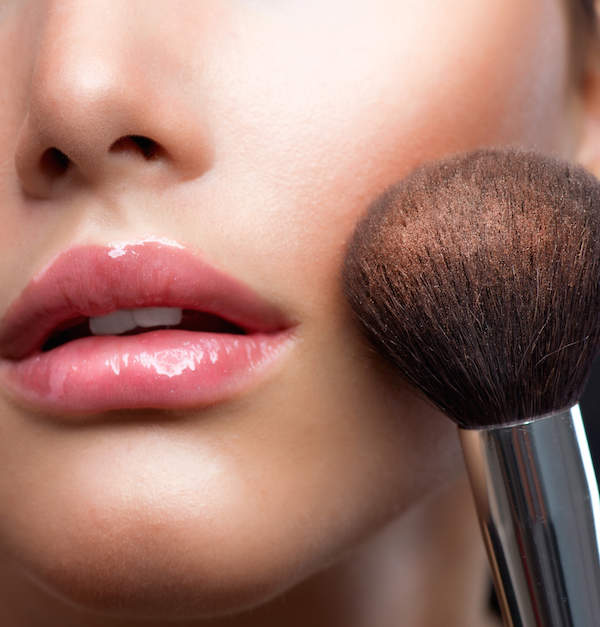 For paleness on your body, if you aren't too keen on high-maintenance self-tanning lotions consider a gentle body bronzer that will illuminate your skin so that it looks healthier. Try Dove Summer Glow Nourishing Lotion

 that is a gradual self-tanner to give your skin radiance while infusing it with softening ingredients. It moisturizes well and gives you a sun-kissed appearance.
Fight Skin Inflammation
If you're suffering from an inflammatory skin condition such as eczema, psoriasis or acne, eating omega-3 foods should form part of your skincare regime. These are anti-inflammatory and also promote smooth skin because they preserve the strength of cell walls that maintain moisture. The richest sources of omega-3s are fatty fish such as salmon, tuna and mackerel.
Adjust Your Fashion
If you've been experiencing weight gain or loss, you might feel depressed that your clothing doesn't fit the way it should. Here are some smart fashion choices to make so that you look great:
Choose clothes that adjust to your bodily changes easily, such as wrap dresses and items with elasticated waists.
Purchase underwear in the correct size. Undergarments make a huge difference in how you look in your clothes as they shape your body.
Invest in jersey or spandex materials if you are losing weight as they cling to your body nicely.
Accessories such as belts and scarves you can wear around your waist are great to highlight your form or hide a bit of extra weight.
Hypothyroid symptoms don't have to get in the way of you looking your best. With the above tips you can step out in style and confidence.
About Gwen Lewis
Gwen Lewis is a writer and makeup artist based in Southern California. Because of her passion for beauty and health, she hopes to help others not just look great but feel great, whether through makeup or her writing. In her free time, she enjoys shopping and pick-up soccer games with her friends. You can follow her on Twitter @GwenEveLewis