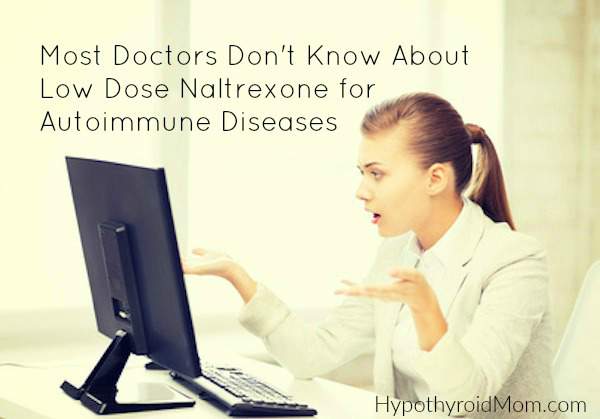 Do you know about Low Dose Naltrexone?
I hear from autoimmune disease patients all the time doing well on Low Dose Naltrexone (LDN). Here's the thing. Most conventional doctors are not aware of LDN and even those who are aware of it are not open to exploring it for their patients. If you're struggling with an autoimmune disease like Hashimoto's Thyroiditis and you haven't heard about LDN, today is the day you'll learn about a little-known but promising treatment.
Written by Julia Schopick
I understand from Dana that lots of Hypothyroid Mom's followers have autoimmune diseases—not only Hashimoto's and Graves', but also fibromyalgia, rheumatoid arthritis, lupus, chronic fatigue syndrome, and many others. (There are over a hundred known autoimmune diseases!) And many of you who have these illnesses are taking expensive medications that have lots of unpleasant side effects.
My article will be of interest to you if have one or more autoimmune diseases.
Because this article is about—Low Dose Naltrexone—an effective, inexpensive, low-side-effect treatment that has helped many people with autoimmune conditions. It may also help you!
What is Low Dose Naltrexone (LDN)?
LDN is a very low dose of a drug, naltrexone, that was approved by the FDA in the mid-1980s for drug addiction, and a few years later, for alcohol addiction. At around the same time, a brilliant, Harvard-educated physician named Dr. Bernard Bihari discovered that, in very LOW doses, which he called LOW Dose Naltrexone, it raised endorphin levels and caused the immune system to act correctly. He said that LDN "modulates" or "orchestrates" the immune system.
Thousands of people with autoimmune diseases have found this effective, inexpensive treatment, and are delighted with the results they are experiencing. In some cases, LDN stops the progression of the autoimmune disease in question. In other cases, it has been known to reverse the disease!
Here are some health conditions that LDN might help. Among the conditions on this list are several that you or a family member might have (a predisposition to autoimmune disorders seems to run in families), including:
Hashimoto's thyroiditis
Graves' disease
Fibromyalgia
Chronic fatigue syndrome
Celiac disease
Multiple sclerosis
Rheumatoid arthritis
Lupus
Crohn's disease
Sjögren's syndrome
Asthma
Eczema
Vitiligo
Alopecia areata
Autoimmune urticaria
Ménière's disease
Parkinson's disease
Pernicious anemia
Psoriasis
Raynaud's disease
LDN Research Trust is a non-profit organization whose aim is to enhance awareness of Low Dose Naltrexone (LDN), and the promotion and funding of research and clinical trials of LDN as a treatment for Multiple Sclerosis and other autoimmune diseases. LDN Research Trust provides a list of LDN Prescribing Doctors and LDN Pharmacists around the world.
Most conventional doctors do not know about Low Dose Naltrexone for autoimmune diseases, and those that have heard of LDN aren't interested in learning more about how it can help their patients. Luckily, tens of thousands of patients have found it for themselves and are advocating for it all over the world. Thanks to LDN patient advocates, it is relatively easy for patients to find doctors who will prescribe it and compounding pharmacists who compound it correctly.
One in five Americans has an autoimmune disease. The prevalence and incidence of autoimmune diseases is on the rise. Low-Dose Naltrexone is a little-known but promising treatment that autoimmune disease patients need to know about.
LDN is inexpensive (less than $50 a month), so even though the cost isn't usually covered by insurance, most patients can afford to pay for it out of pocket. LDN is extremely inexpensive especially when compared to many of the treatments doctors routinely prescribed for autoimmune diseases. For this reason, I believe that LDN could literally save healthcare. This is not a claim that I make lightly, and it's one I fervently believe.
I hope you will help me spread the word about this inexpensive, effective treatment that has been helping so many people with autoimmune diseases for so many years.
About Julia Schopick
Julia Schopick is the creator of the award-winning blog, Honest Medicine, and has been a published writer and a public relations consultant for more than twenty years. When her husband Tim Fisher became ill in 1990 with a cancerous brain tumor, Julia became his medical advocate and began writing on topics relating to health and medicine that were published in several publications, including American Medical News (the AMA publication), ADVANCE (the professional publication for physical therapists), SEARCH (the newsletter of the National Brain Tumor Foundation) and Alternative and Complementary Therapies (a publication for holistic health practitioners). In addition, her work and essays have been featured in the British Medical Journal, Modern Maturity, and the Chicago Sun-Times.
READ NEXT: Paleo Autoimmune Protocol 101