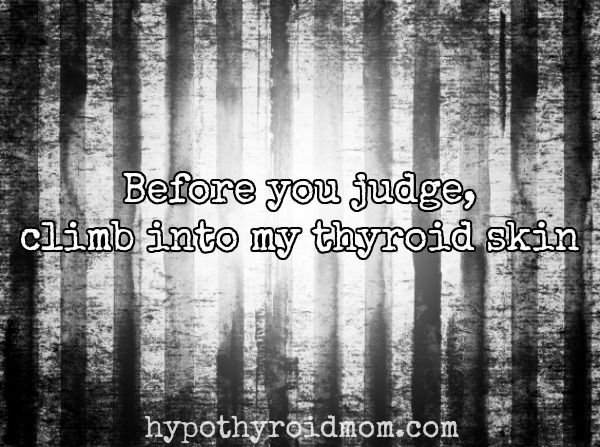 "Fist of all," he said, "if you can learn a simple trick, Scout, you'll get along a lot better with all kinds of folks. You never really understand a person until you consider things from his point of view…until you climb into his skin and walk around in it." ~ Harper Lee, To Kill a Mockingbird
You are making it all up. 
No one wants to be chronically ill. No one wants to plod through life in those heavy shoes. In sickness and in health, through thick and thin, in good times and in bad, the familiar words go. To be doubted by the very people that we expect to love us, it crushes the soul. Don't give up on us. Hope for thyroid disease is real but we need you to have hope too. When you become chronically ill, you lose people, family members and friends too. I wouldn't wish it on anyone. It is hard to explain what is going on with your health when you don't understand it yourself. It's even harder to explain it to someone who has never climbed into your thyroid skin and walked around in it. Until you do, you really have no idea. And you really don't want to know. Just ask a thyroid person and they will tell you. Don't judge. 
Take one pill a day and you'll be fine. 
The day you realize that your doctor is not going to get you well, that you've been declared "normal" when you feel anything but, changes you. It shatters the image you once held dear that doctors will swoop in to save you from illness. It can take going to 20 doctors until you finally find the one that helps and, even then, some people never find that great doctor. The good doctors may practice far away from where you live or they may require payment out of pocket that costs far too much for your budget. There is one type of thyroid medication typically prescribed but that doesn't work for everyone and often times doctors are unwilling to consider the alternatives that may make someone feel better.Too many doctors are missing critical pieces to the diagnosis and treatment of thyroid disease. It's not that simple. It's actually far too complicated. 
You are a hypochondriac. 
When cells all over the body have receptors for thyroid hormone, every part of the body can be pummeled to the ground by thyroid disease. It is not uncommon for thyroid patients to be taking a whole bathroom cabinet full of different prescription medications for every disease known to man from heart disease to diabetes to depression to fibromyalgia. And it may be all because their thyroid is not well treated. In this day and age, we expect modern medicine to have all the answers, but it doesn't when it comes to thyroid disease. No, we are not junkies or pill poppers or whatever you call us. We are surviving. That's what we are doing. 
You are lazy. 
Thyroid fatigue is not normal fatigue.This is a wretched fatigue that no amount of sleep can repair. You can sleep 5 hours or 15 hours and still be utterly exhausted the next day. The strongest people are not those who show strength in front of you but those who fight battles that you know nothing about. Let me see you get through each day while carrying the heavy load of thyroid disease on your back. We are not lazy. We are the exact opposite, in fact. And until you understand that, you will never truly understand. 
You are fat. 
First, let's get one thing straight. Stop judging people by the size of their body. That just has to stop. But while I'm at it, let me explain what you clearly don't know. You can exercise every single day and go on every single diet and still gain weight with a thyroid problem. Thyroid disease can lower your metabolism. It can add a strange, heavy, thick fat all over your body, that I call "thyroid fat". It can bring your body temperature down low and cause water retention that makes you bloated especially in your abdomen, face, legs, feet, arms, and hands.  
You are selfish. 
Taking time to get thyroid healthy. Resting when your body needs rest. Knowing when your plate is full and that you've reached maximum. Becoming more aware of what's really worth your energy. Having the strength to say NO. Removing the things, and even people, that are toxic in your life. Finally doing what's best for you. We have seen what the bottom looks like. Now we are ready to see the top. We have faced the ultimate choice of living or dying, and we have chosen to live our best and most courageous life. That's not selfish. That's called loving ourselves. Come on. Try climbing into my thyroid skin and walk around in it for a while because then, and only then, will you truly understand. If you can't be kind, please, oh please, just be quiet.