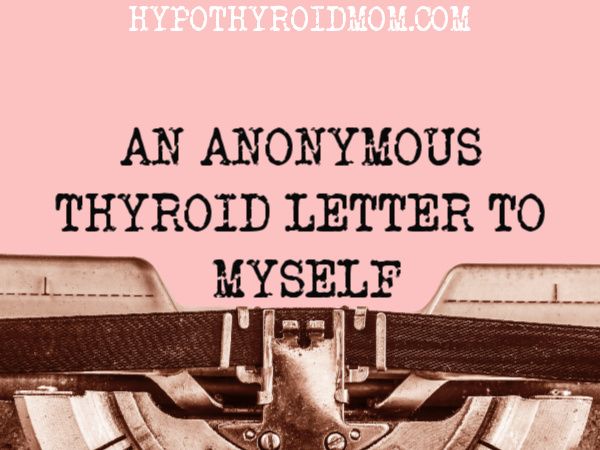 Several years ago a Hypothyroid Mom reader contacted me with a letter that she wrote to her family. She asked me to keep it anonymous. It turned out to be a letter that resonated with so many of my followers that I invited her back again to give us an update. This letter to herself is inspiring and incredibly beautiful, exactly what we all need on our worst of days.
Written by "Anonymous Thyroid Warrior"
A Letter to Myself
I originally wrote the Hypothyroidism: An Open Letter to My Family post on Hypothyroid Mom just over 3 years ago. It was a really bad day, and I just sat down and started to type all of the feelings that were bottling up and making me feel even sicker. Fast forward 3 and a bit years, and so much has changed, I don't even know where to begin. So, with a racing mind, here I sit, typing again, writing a letter to myself. To remember where I started, and where I am now.
Overall, my life has transformed in many ways. My boys are growing up quickly; one off to university in the fall, the other still finding his way in high school. The bigger question, did the letter work? It did! I didn't force anyone to read it, I simply told them that I had written something and it was very important to me that they read it and understand the words, absorb the words that I had penned. They were truly shocked. They knew I wasn't well, but didn't truly grasp the entire concept of hypothyroidism and Hashimoto's. In large part, I wanted my boys to understand what could potentially become their reality as Hashimoto's is often genetically inherited as was the case with me. After reading it, they didn't apologize, I wasn't looking for apologies, they understood as best they could. They can look at my face, watch my body movements and they tell me to go have a nap while they do the chores!
I did have to give up my evening job, but that's a whole other story that I will get to, and a very important story to tell. However, I'm still going strong at my full time job, and maintaining this crazy life we lead. I still take naps, but hey, that's part of taking good care of myself with this chronic illness. I try to keep my naps to a maximum of one hour per day. Some days are longer, some are shorter, and some I can fight through with none at all. I set aside one weekend day where I can sleep in and take my time doing what needs to be done around the house, but more importantly what I need to do for myself. Self care, self love and positivity will be the key to maintaining my warrior status!
My numbers are all over the map as I grow older. I flip between hypo and hyper, but in general, I do feel better overall. Along with my cocktail of drugs, I've added some B12 and am really trying to cut down on the caffeine and replace it with good old fashioned water. We eat one vegetarian meal a week, and I do try to eat healthy carbs. I work closely with my family doctor, who is absolutely amazing and with his help, we always find a solution to whatever it may be that crops up. The latest, Reynaud's disease. A very common phenomenon that affects many people with autoimmune thyroid disease. Typically affecting the hands and feet (but certainly not limited to), the nerve endings spasm and temporarily block blood flow in my fingers on those really cold Canadian days. I won't lie, it's really creepy to see your fingers turn pure white and lose all feeling. I had to laugh when my doctor sent me out to buy the warmest, thickest mittens I could find, with instructions on how to effectively wear them. I felt like I was five years old but had fun shopping for them!
So why did I leave my little evening job? In June 2018 my youngest was graduating from elementary school. Here I was, on the parent committee, rushing off to meetings, decorating the gym, jumping up and down to hang things, climbing ladders, and the entire time, I just wanted to curl up into a little ball in the corner, have a nap and nurse what I thought was a Charlie horse in my right calf. I muddled through until the pain worsened to the point that I could barely walk. One day, bringing my laundry downstairs, my leg went numb, gave out, and I tumbled top to bottom. The laundry stayed in the basket though! Thank goodness, we do have a carpeted basement to cushion the fall. My youngest was playing downstairs, helped me up and demanded that I go to the doctor because as he said, "This ain't no Charlie horse, Mom."
Turns out it wasn't. You see, I had been taking estrogen to try to regulate my cycles because they were so erratic. I knew the warnings, I researched them, my doctor warned me there would come a time I would have to stop and just deal with it for my own safety. It was too late. I had developed a DVT deep venous thrombosis in my right leg…one in a million chance, and I was that lucky one. Turns out there is also an increased prevalence of hypothyroidism in patients with DVT. Unfortunately, because I had hobbled around for over 2 weeks like this, the main veins in my leg were fully blocked, my nerves permanently damaged and my veins basically mangled. After nearly 8 months of very potent blood thinners the team of doctors treating me decided that my body would naturally absorb what remained of the clots. Sadly, this left me with PTS (post-thrombotic syndrome) which is irreversible. Some days are good, others my leg looks like a balloon, tingles, I can't walk well, but since I can't change it, I'll take it for what it is and be extremely grateful it wasn't any worse. My son tells me to this day that falling down those stairs was the best thing that has ever happened to me.
How else has my life changed? The summer after I wrote the letter to my family, my father was diagnosed with an incurable and very rare blood cancer, basically a death sentence. That was over 2 years ago. He too is hypothyroid with Hashimoto's, and guess what, he's kicking his hypothyroidism AND his cancer in the behind! He knows that there is no cure, only management, and only a matter of time. BUT, he gets up every day, smiles when he feels good and makes the most of what time he has. He is my hero! Here I thought I was a warrior, not even close in comparison to what he lives through. This cancer generally causes a stroke or heart attack, and that is how your story ends. Imagine going to bed every night not knowing if you will wake up? He is an inspiration to me. He taught me how to self love, to self care, and to know when it's simply time to sit down and rest. I have some pretty serious OCD issues and I'm slowly letting go of them. It's not easy, but I keep thinking of my father, myself, my kids, my husband, my mother and all of those who love me and I keep on going no matter how crappy I feel and I won't complain. I have a hero to be brave for!
It sucks. I know it does right! BUT – the power of positivity, of letting go, of persisting, persevering, will get me through this journey AND let me live the best life possible. I did this crazy little thing just before Christmas. Something I said I would never, ever, ever do! I started to believe that positivity "crap" really did work, better than any medicine, any supplement I've ever taken. So I took the plunge and I did this special thing, just for me, it's mine, I own it, I didn't even tell anyone I was doing it, I just took off out the door one day, hopped in my car (literally) and did it! If you believe, anything is possible, even on the worst of days, some glimmer of hope, the smallest bit of positive energy, a small milestone….well those all add up. So keep on adding those little things, and never, ever stop believing in yourself! You are beautiful, you are strong, you ARE a warrior!
Much love, from ME!
xoxo