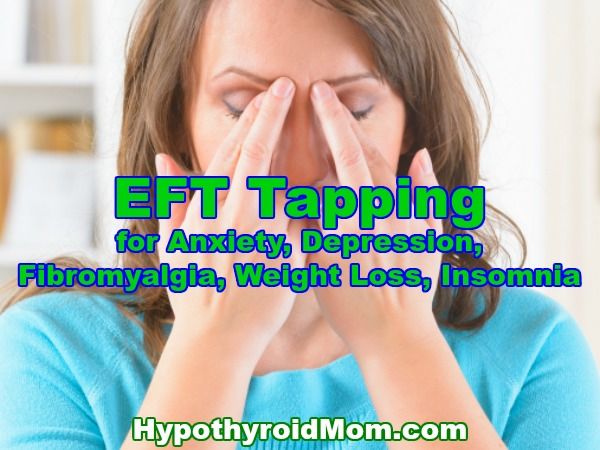 We've all heard of yoga, meditation, and massage to de-stress, but what about Tapping? It's zero risk, zero cost, and highly effective.
I first heard about Tapping on the Megyn Kelly TODAY show on January 16, 2018. Megyn was joined by Adrienne Cerulo, who said a healing technique known as Tapping freed her from four years of excruciating pain, and Nick Ortner from The Tapping Solution. Cerulo said she was still pain-free after two years, and Ortner led the studio audience in a demonstration of the technique.
How many times had I heard from Hypothyroid Mom readers struggling with fibromyalgia, anxiety, depression, weight gain, and insomnia? Too many to count. And here was a zero cost, effective treatment that required no doctors, no medications, no supplements, that was so simple to learn and do yourself. I was literally swept away as I watched this video below thinking about how many people could benefit from this technique? How many adults? And how many children?
You may be quick to dismiss Tapping, also known as EFT (Emotional Freedom Techniques). Your first reaction may be that this is all "woo woo", but one quick look at the list of recent published studies at the bottom of this article will make you think twice.
I'm looking forward to learning step by step how to use Tapping at the 10th Annual Tapping World Summit. This online event is 100% free to attend over 10 days starting Monday, February 26th. The summit is filled with health and personal development all-star speakers like Dr. Christiane Northrup, Kris Carr, and Iyanla Vanzant. When you sign up for the summit, you'll also receive 3 powerful Tapping meditation sequences via video. I'm looking forward to watching and here's where you can save your free spot too.
I know so many people with hypothyroidism struggle with anxiety. You'll find a Tapping sequence for anxiety in this article below. I would love to hear from you all on how effective you find these Tapping sequences. I've been hooked ever since watching the TODAY show and I've begun Tapping with my children too. Tapping really needs to be taught in schools.