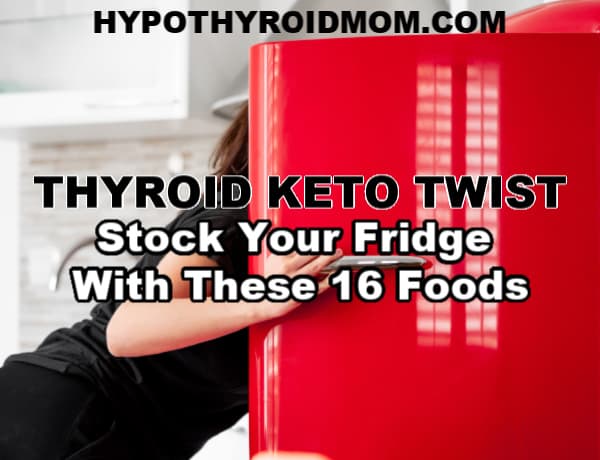 Keto. Everyone raves about it but many thyroid women, especially women over 40, get no results or even feel worse. This OB/GYN found her hypothyroid female patients most often failed on the traditional ketogenic diet and she was determined to figure out why. I invited her to write a guest post to share her 10 keto modifications for thyroid disease.
Her first guest article was hugely popular and followers flooded in with messages. One woman asked an interesting question, "What's in your fridge?" And the answer turned into this guest post.
Written by Anna Cabeca, Triple Board Certified OB-GYN
There is a right way and a wrong way to do the Keto diet especially for thyroid women over 40.
Like you, I'm busy. I have four daughters, a business to run, a heavy lecture schedule, books and blogs to write… Need I say more? Your life may not look like mine, but I bet we've got hectic-ness in common!
Setting up your kitchen for success is step #1.
Your kitchen should be a standing invitation to prepare and cook delicious meals. Believe it or not, my patients have the greatest success when they stock their fridge with only these 16 key food types and center their meals around them for 16 days. You can make all sorts of recipes and many different combinations. Think "16 food types-16 days".
Of course, modifications may be necessary if you have a known sensitivity to one or more of these food types or if you find yourself reacting poorly to certain foods. If you are vegan or vegetarian, there are plenty of dietary shifts that you can do too.
What's in my fridge?
Wild-caught fish: Adding wild-caught fish (my favorites are salmon and white fish) to your weekly diet is a great fat-burning strategy.
Chicken: White and dark meat are metabolism-stoking proteins important for boosting weight-loss hormones like growth hormone, testosterone, and glucagon.
Grass-fed beef: High in omega-3 fatty acid, grass-fed beef helps cut the risk of developing belly fat. Having lived on a diet of greens and having received not antibiotics or hormones, 100% grass-fed beef is on my list.
Dark leafy greens: These are a much for getting your body into a healthy alkaline state. Great options include spinach, kale, chard, collard greens, bok choy, dandelion greens, lettuces (romaine, arugula, mesclun, baby spinach, etc), and one of my favorites beet greens. Greens are rich in fiber which help push food waste products through the body for elimination. Backed up fecal matter could be adding a few pounds to the scale.
Raw sprouts: These super foods are little powerhouses that support liver detoxification and help eliminate toxic, fat-forming, environmental estrogens from the body. Both actions clear the way for steady fat loss. Get creative and add them to your cooking, smoothies, and salads.
Cabbage: Cooked or raw, this super-healthy food is another detoxifying veggie, which is why it's on my list.
Other cruciferous vegetables: This includes broccoli, Brussels sprouts, cauliflower, kohlrabi, mustard greens, radishes, rapini, rutabaga, turnips, watercress and Chinese cabbage. Cooking, even steaming, these veggies reduces the goitrogenic effect that may disrupt the production of thyroid hormones by interfering with iodine uptake in the thyroid gland. This doesn't mean to avoid these healthy veggies but do monitor your intake of raw forms and enjoy a variety of dishes in cooked form.
Garlic and other alliums: That's your onion, scallion, shallot, leek and chives. Alliums are rich sources of quercetin which is a type of phytochemical that helps activate enzymes essential for breaking down fats. They also have anti-viral, anti-bacterial, and anti-fungal properties that help keep pathogenic organisms for infesting the gut.
MCT oil or coconut oil: These are two fat-burning fats that can support your metabolism in a super fast way. Healthy fats keep us feeling satisfied longer and reduce cravings.
Olive oil: This is one of the best fats you can eat. It has an impressive list of health perks, especially for women. For example, olive oil balances one of our major hormones, insulin. It can also help improve body shape – less body fat and more tones curves.
Nuts: Go crazy for nuts, if you are not sensitive to them that is. The fat, fiber, and protein they contain all work together to make us feel fuller and satiated longer. They also stimulate the action of various weight-loss hormones. Great nuts include Brazil nuts, almonds, hazelnuts, and pili nuts.
Avocado: My favorite fat of all, avocados are loaded with omega-9 fatty acids known to activate fat-burning in the body. Plus, they're extremely alkalinizing. Add they to your smoothies to make them super creamy and even add them to your salads and dessert recipes.
Fermented vegetables: Sauerkraut, kimchi, and pickled ginger provide probiotics that boost the number and diversity of beneficial microorganisms of the gut. A healthy gut burns fat more easily.
Pineapple, mango, and papaya: This powerful trio contains natural enzymes that help your body digest protein and carbohydrates.
Bone broth: This super alkalizing food helps with digestion, joint function, immunity, hormone balance, and virtually every other function in the body. Make a home-made batch of bone broth and sip on it throughout the day.
Citrus: Lemons and limes are rich in polyphenols—active plant compounds that have anti-obesity, anti-inflammatory, liver-detox, and insulin-controlling benefits.
About Dr. Anna Cabeca
Dr. Anna Cabeca is an Emory University trained gynecologist and obstetrician, a menopause and sexual health expert, international speaker and educator.