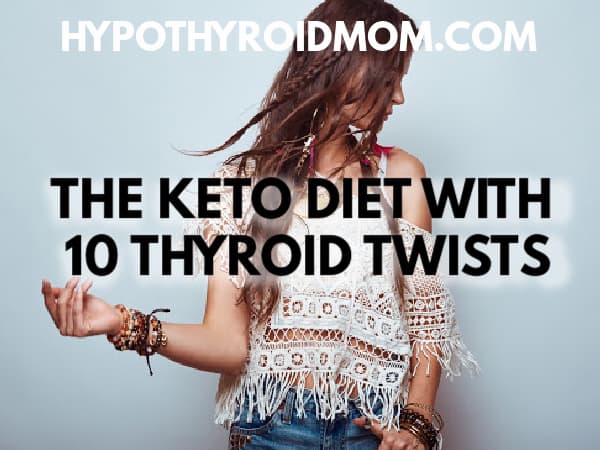 There's some conflicting information out there as to whether a ketogenic diet improves symptoms for women having thyroid disease, or whether it makes symptoms worse.
Written by Anna Cabeca, Triple Board Certified OB-GYN
Should a woman with thyroid disease try keto?
The short answer? Yes! But with 10 thyroid twists.
The long answer? You may need to try it to see how it works for you over a period of time. We're all unique when it comes to our chemistry, genetics and overall health challenges, so any given diet or health program may or may not be the best fit for you. I always say that if someone tells you they have the perfect diet that works for everyone all the time, don't listen any further! In particular, if you have a thyroid issue and need to gain weight, keto may not be the right fit for you, especially long-term.
The standard ketogenic diet helps control blood sugar spikes and reduces insulin. But does it reduce the insulin to where the liver can no longer make adequate T3 and T4? I believe that if the TSH levels don't increase and you continue to feel well, then there's no reason not to try it.
In most cases, the benefits outweigh any potential lowering of T3 levels. But it is important to monitor your thyroid levels. As I mentioned before, everyone is different. Our bodies and health issues are unique.
And please, always discuss any change in your diet with your doctor!
Thyroid-Friendly Keto
A typical ketogenic diet does not consistently provide women with the support they truly need to both feel healthy and be successful on low-carb dietary restrictions. It doesn't provide the detox support, gut healing, and adrenal support that most women need. It isn't anti-inflammatory when sustained over time and it does not provide the interventions necessary to ensure overall hormone balance.
This is where the thyroid twist comes in.
Here are some key modifications that make the traditional Keto diet more thyroid-friendly. They also address many of the common barriers such as keto-flu, which make many women simply give up on keto-based diets early on. More importantly it prevents going "keto-crazy". That's what I call the irritable (using a nice word) state that many women experience on these diets.
Without these important thyroid modifications, a ketogenic diet will in many cases not be successful for most thyroid women especially women over 50.
1. Maintain an alkaline pH
Achieving and maintaining an alkaline pH is core to counter the inflammatory acidity seen in ketosis! The issue with ketogenic-only diets is that women stay in ketosis too long and become acidic, which actually creates inflammation which forces your body to hold on to its fat stores. More inflammation is bad for your thyroid and you won't lose weight (if that is your goal). We want to see an overall net alkaline producing diet versus the typical Western net acid producing diet. Getting alkaline also helps us reset our circadian rhythm, which helps us sleep better and improves our mood. It supports our body in regulating our hormones, including our thyroid hormone, in a more productive fashion too.
The pH scale ranges from one to 14. Seven is neutral. Anything higher than seven becomes alkaline (base) and anything lower than seven is acidic (acid). Things like food can make your urine pH more or less alkaline. A general rule of thumb is that because of their mineral content, fruits and vegetables are most alkaline. Meat, poultry, dairy, sugar, processed foods, grains, and caffeine are acidic. As if you needed another reason to ditch it, soda has a pH of 2.5. Great foods to maintain alkalinity include greens, bone broth, apple cider vinegar, and my favorite, the superfood maca. Cook your greens more to absorb them better and get alkaline more quickly. Taking a teaspoon to a tablespoon of apple cider vinegar before your meals will help digestion and alkalinity. If you want to step things up, try my Alkaline Elixir recipe: six ounces of water, 1 teaspoon Bragg's Apple cider vinegar, 1 teaspoon Lemon juice, and 1/4 teaspoon baking soda. Add Mighty Maca Plus to get added alkalizing and detoxifying benefits. You can even purchase inexpensive urine pH and ketone test strips to take the guessing out of it. My patients are loving the Thyroid Keto Quick Starter Kit which includes urine test strips to make it super simple to test your own pH.
2. Support Your Adrenals
Incorporate important lifestyle changes that directly support the thyroid-impacting regulatory hormone cortisol.
Improve stress management. Cortisol effectively puts the brakes on your digestion, immune processes, and thyroid metabolism. Many women can't get into ketosis until they learn better stress management techniques. We can't always get our stressors out of the picture, but we can definitely reduce our cortisol to healthier levels!
Support your adrenals with adrenal adaptogens like ashwagandha, rhodiola, holy basil. Too much stress burns out your adrenals; your adrenals normally focus on mundane things such as metabolizing nutrients and producing needed hormones!
Improve the quality and quantity of sleep. Our circadian rhythm is critical to hormone production and over overall health and mood.
3. Address gut dysfunction
Gut dysfunction is common with thyroid disease including leaky gut, low stomach acid, and malabsorption of key nutrients such as zinc, Vitamin D, and selenium. Incorporate high-quality probiotics and digestive enzymes.
4. Remove inflammatory foods
Most ketogenic diets focus on just lowering gluten intake but do not require the removal of gluten as well as other inflammatory foods. I have found that women in particular do better on a diet that excludes the top inflammatory foods such as gluten, dairy, sugar, and processed foods. All the vices need to be cut back on as well, such as alcohol and caffeine.
5. Reduce exposure to toxins
Removing environmental toxins from foods (no hormones, chemicals or GMOs), personal care products, and the home. Most ketogenic diets do not include this as an initial step but women have found this to be a key aspect to their achieving alkalinity as well as hormone balance.
6. Modify your ketogenic plate
Take the time to develop a healthy foundation first by incorporating steps 1 to 5 above. Once you've set the foundation, begin with a slightly modified ketogenic "plate" with clean and organic foods. This modified plate consists of a slightly reduced percentage of fats (56-70%) from most ketogenic plates but with a very specific focus on healthy fats (omega-9 fatty acids, omega-3 fatty acids, healthy saturated fats). Protein (20%) also needs to be clean and organic. We don't want to introduce hormones and other toxins onto our plate. The same goes for carbs (5-10%). Remember not all carbs are equal! My plate consists of only slow-burning carbs such as green veggies (organic, please). You have to eat a lot of those to remain alkaline too. This also provides fiber benefits (important for those with thyroid issues – who may become sluggish). This percentage of carbs typically equates to 20-35 grams of carbs per day.
7. Do modified intermittent fasting
I'm a proponent of intermittent fasting with a 15/9 or 16/8 window or less, or as close as you can get to that on a regular basis. This means I will fast 15 hours between dinner and breakfast, sometimes longer, and sometimes not… and then eat two good Keto-alkaline meals and possibly one light meal or protein shake in the 9-hour window, and no snacking. I do not support the prolonged 24 hour type of fasting especially for those having thyroid or other underlying health issues as it puts too much stress on the body. People with underlying issues relating to glucose and insulin should discuss intermittent fasting with their doctor.
8. Use an 80-10-10 philosophy
I've seen some thyroid clinicians state that staying in ketosis too long isn't healthy for those with thyroid issues given that it may lower thyroid T3 levels. But frankly, women shouldn't stay in ketosis for weeks at a time, not even days at a time in many cases. Don't stay on this diet all the time. Target 16 days, reap the benefits and then get off for a while. Bounce in and out as there are many dependencies beyond carbs that affect ketosis (such as stress level!). For optimal results I like for women to stay keto about 80% of the time, fast about 10% of the time (so do some periodical periods of intermittent fasting, but don't live with those restrictions each and every day), and feast about 10% of the time. Yes! Feasting is important as it is typically time we bond with family and friends. We all need to treat ourselves from time to time.
9. Carbs about 5-10% of plate
Most people need to be at 20-40 grams of total carb per day to get into ketosis. For some people they may need less, some can go more…this is a general rule of thumb, it will depend on all of the things we've already discussed here! Women who are under serious chronic stress may not be able to get into ketosis at all, as one example, no matter how restricted the carbs. In talking with clinicians focused on thyroid disease and working with ketogenic diets for their patients and clients, most would say not to go lower than 20 grams of total carb per day, in conjunction with their thyroid hormone medication. But most will also say women may need to try it out and adjust their level of carbs as they go. I don't really look at the number of daily carbs, I look at the percentage of one's daily food intake or "plate". It is much easier and intuitive to do this! Sotarget 5-10% of the "plate" to be healthy, slow-burning carbs (and this equates to generally around 20-35 grams of carbs).
10. Don't try to be perfect
"I had some red wine last night and, OK, some dark chocolate," my patient Liz emailed me one morning. I told her "Me too!" and not to worry and get right back on track. Real life happens. Do your best but give yourself a little leeway. The principles work! Keep at it.
About Dr. Anna Cabeca
Dr. Anna Cabeca is an Emory University trained gynecologist and obstetrician, a menopause and sexual health expert, international speaker and educator.
READ NEXT: MY DARN HYPOTHYROID LEGS