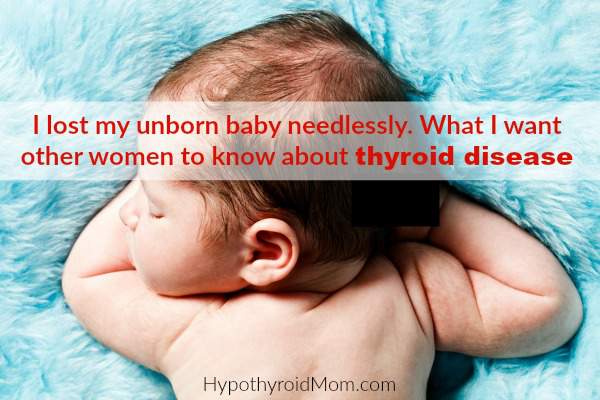 If you knew you weren't feeling well during your pregnancy, why didn't you get a second medical opinion?
A large digital media company had come to my home to interview me about HypothyroidMom.com. The interviewer asked this question so casually, no idea how her eighteen-word question crushed me.
Thoughts raced through my head, feelings overwhelmed me, silence suffocated me as the interviewer waited for my answer.
How would I explain that I had asked myself this same question a million times, feeling a regret so deep that I feared it would consume me.
I was diagnosed with hypothyroidism following the birth of my first son. When I became pregnant for the second time in late 2008, I followed my thyroid drug protocol to the letter never once doubting my Ivey League medical school trained and top awarded NYC doctors.
In my first trimester, I was overcome by a sick, tired, weak feeling. I recall the night I told my family, "I am worried that something is wrong with the baby." My body was whispering a warning to me, but I trusted my doctors and stopped questioning them when they responded that my thyroid level was safe for pregnancy and that it was normal in early pregnancy to be tired. Somehow this "sick, tired, weak" feeling didn't seem normal but I disregarded my body's warning.
I believed doctor knows best.
It turned out I was wrong.
Under their care my TSH (thyroid-stimulating hormone), the gold standard for measuring thyroid function in mainstream medicine, reached levels far about the recommended range for pregnancy endangering my fetus' life and I miscarried.
Guidelines of the American Thyroid Association for the Diagnosis and Management of Thyroid Disease During Pregnancy and Postpartum were updated in 2011. They recommend the following trimester-specific reference ranges for TSH in pregnancy:[1]
First Trimester, TSH 0.1 – 2.5 mIU/L
Second Trimester, TSH 0.2 – 3.0 mIU/L
Third Trimester, TSH 0.3 – 3.0 mIU/L
The 2007 Endocrine Society's clinical guidelines for the Management of Thyroid Dysfunction during Pregnancy and Postpartum included the following recommendations:[2]
If hypothyroidism has been diagnosed before pregnancy, thyroid hormone replacement medication dosage should be adjusted to reach a TSH level not higher than 2.5 mIU/L prior to pregnancy.

If overt hypothyroidism is diagnosed during pregnancy, thyroid function tests should be normalized as rapidly as possible to TSH levels of less than 2.5 mIU/L in the first trimester (or 3 mIU/L in the second and third trimester).
While TSH alone does not give a full picture of thyroid health and testing should include Free T4, Free T3, Reverse T3, and thyroid antibodies, this one guideline could have saved my child…if my doctor had read it.
Throughout my first trimester, my TSH remained higher than the above recommended 2.5 mIU/L, soaring as high as 10.0 mIU/L. My doctor said that everything was fine and that TSH was only a concern in pregnancy above 10.0 mIU/L.
Wait…rewind…yes you read that correctly.
My doctor was not concerned about my TSH levels near 10.0, because she was not aware of the danger to pregnancy with a TSH at that high range, and I wasn't aware of it either.
According to a study published in Thyroid in 2010, three waves of mail surveys were distributed to 1601 Wisconsin health care providers with a history of providing obstetric care. Survey participants were members of the American College of Obstetricians and Gynecologists or the American Academy of Family Physicians. The study determined that ONLY 11.5% of providers actually read the 2007 Endocrine Society's "Guidelines on the Management of Thyroid Dysfunction During Pregnancy and Postpartum."[3]
In another study a survey was distributed to 260 surgeons attending the 2009 American Association of Endocrine Surgeons' meeting. ONLY 23% had read the 2007 Endocrine Society's guidelines. Reading the guidelines was associated with a significantly greater likelihood of the doctors informing patients of the TSH guidelines for pregnancy, however I repeat only 23% actually read the guidelines.[4]
If only my doctor had just read the Endocrine Society's 2007 clinical guidelines, my child may be alive today.
I can't go back in time no matter how much I wish it, however I can make sure this never happens to another baby ever again. I can do everything in my power to drive awareness about thyroid disease in pregnancy.
The American Thyroid Association has issued multiple public health statements to warn about the dangers of thyroid disease in pregnancy.[5] Thyroid disease increases the risk of pregnancy complications, such as miscarriage, still birth, infertility, maternal anemia, pre-eclampsia, placental abruption, postpartum hemorrhage, premature delivery, low birth weight, congenital malformations, and impaired brain development in infants.[6][7] Despite the warnings, not all doctors know the ramifications of an undiagnosed or under-treated thyroid condition on a mother and her fetus, and very few patients know the facts to insist on proper testing.
I had to learn this the hard way by losing a child.
There is ongoing debate over universal thyroid screening in pregnancy. The argument is that there is insufficient evidence at this time to recommend for or against universal thyroid testing at the first trimester visit, however, the scientific research is mounting to show that even mild thyroid dysfunction can have serious adverse effects on mother and child.
What happens to all the women and their babies while we wait for thyroid screening to become universal in pregnancy?
In 2014 the American Thyroid Association reported that, according to recent World Health Organization (WHO) estimates, thyroid disorders affect 750 million people worldwide, making them even more prevalent than diabetes. Conservative estimates find that at minimum there are 27 million Americans with thyroid disease, but experts believe that the actual number is closer to 60 million – at least half are undiagnosed.[8]
According to Endocrine Facts and Figures, first edition by The Endocrine Society released 2015:[9]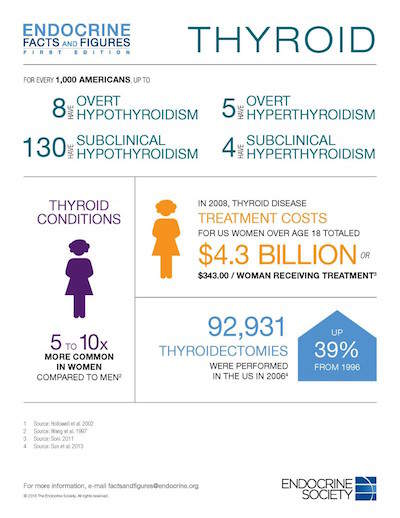 Given these statistics there are pregnant women worldwide this very minute with thyroid disease but they don't know they have it and their doctors are not aware they are at high-risk. Women may experience miscarriage, still birth, infertility, failed IVF, maternal anemia, pre-eclampsia, placental abruption, postpartum hemorrhage, premature delivery, and births of babies with ADHD and autism, but they will have no idea their thyroid was a problem.[10][11]
Elie Wiesel said, "Whoever survives a test, whatever it may be, must tell the story. That is his duty."
This is my story. I feel deep within me that it is my duty to share it, so that not one more child will be unnecessarily harmed from maternal thyroid disease.
The day I signed a book contract with Perseus Books/Da Capo Press along with New York Times bestselling author Mary Shomon my eyes were overflowing with tears that I could barely read the words. My book contract is filled with markings from my tears of sorrow and joy. We will save babies with our book Your Healthy Pregnancy with Thyroid Disease: A Guide to Fertility, Pregnancy, and Postpartum Wellness.
We interviewed leading experts on hypothyroidism, Hashimoto's, hyperthyroidism, Graves' disease, thyroid nodules, goiter, thyroid cancer, gynecology, obstetrics, infertility, and more, to create the first book of its kind. Part 3 provides comprehensive checklists including testing, treatment, dietary changes, and supplements, so that you will know more than even your doctor about making babies with thyroid disease.
I failed to be an advocate for my own child and I have to live with that regret for the rest of my life. I will never let this happen again. Now with my new book I am standing up loud and strong as an advocate for mothers and babies around the world, in memory of my lost child.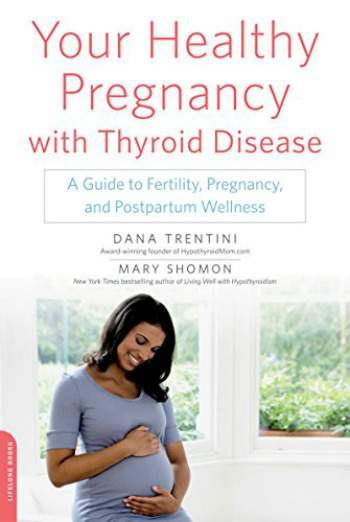 References:
 Stagnaro-Green, A., Abalovich, M., Alexander, E., Azizi, F., Mestman, J., Negro, R., Nixon, A., Pearce, E.N., Soldin, O.P., Sullivan, S., and Wiersinga, W. Guidelines of the American Thyroid Association for the Diagnosis and Management of Thyroid Disease During Pregnancy and Postpartum. Retrieved from http://thyroidguidelines.net/pregnancy
The Endocrine Society. Management of Thyroid Dysfunction During Pregnancy and Postpartum: An Endocrine Society Clinical Practice Guideline. Journal of Clinical Endocrinology & Metabolism 2007; 92(8)(Supplement):S1-S47
Haymart, M.R. The Role of Clinical Guidelines in Patient Care: Thyroid Hormone Replacement in Women of Reproductive Age. Thyroid 2010 March;20(3):301-307
Haymart, M.R., Cayo, M.A., Chen, H. Thyroid Hormone Replacement in Women of Reproductive Age: Is Surgeon Knowledge Related to Operative Volume? Thyroid 2010 June;20(6):627-631
American Thyroid Association (2012, June 4). Thyroid Disease and Pregnancy. Retrieved from http://www.thyroid.org/thyroid-disease-and-pregnancy
American Thyroid Association. American Thyroid Association Statement on Early Maternal Thyroidal Insufficiency: Recognition, Clinical Management and Research Directions. Thyroid 2005; 15(1):77-79
American Thyroid Association. General Information/Press Room. Retrieved from http://www.thyroid.org/thyroid-events-education-media/about-hypothyroidism
Newswise (2014, May 21). American Thyroid Association Announces 7th Annual World Thyroid Day May 25, 2014. Retrieved from http://www.newswise.com/articles/american-thyroid-association-announces-7th-annual-world-thyroid-day-may-25-2014
Endocrine Facts and Figures, first edition. Endocrine Society. Retrieved from http://endocrinefacts.org/health-conditions/thyroid/
Román, Gustavo C., Ghassabian, A., Bongers-Schokking, J., Jaddoe, V., Hofman, A., de Rijke, Y., Verhulst, F., Tiemeier, H. Association of gestational maternal hypothyroxinemia and increased autism risk. Annals of Neurology 2013 November;74(5):733-742.
Andersen, S.L., Laurberg, P., Wu, C.S. et al. Attention deficit hyperactivity disorder and autism spectrum disorder in children born to mothers with thyroid dysfunction: A Danish nationwide cohort study. BJOG 2014; 121:1365–1374