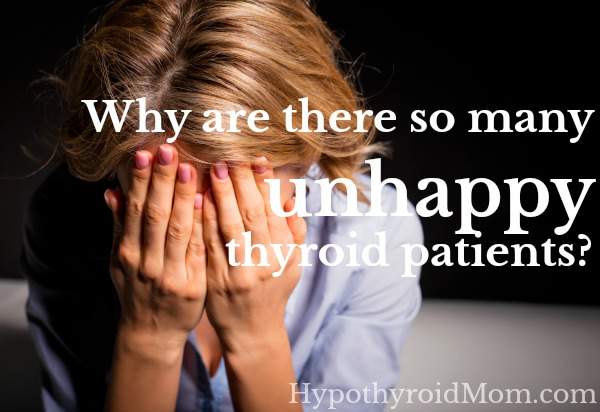 Unhappy? Oh, yes. Far too many unhappy thyroid patients unfortunately.
Learn the "old school" way (now overlooked by mainstream medicine) of diagnosing and treating hypothyroidism that works for many, including me.
Written by Hugh D. Melnick, MD, F.A.C.O.G.
 I'm going to tell you why there are so many unhappy thyroid patients.
Unhappy thyroid patients
A significant percentage of hypothyroid patients, treated with synthetic thyroid hormone medications, such as Synthroid, report dissatisfaction with their treatment because of the persistence of their symptoms.
Although many patients do respond well to treatment with synthetic T4, which is the most commonly prescribed thyroid medication, common symptoms of hypothyroidism, such as fatigue, hair loss, brain fog, decreased memory, attention deficit disorder, constipation, and depression still persist in a significant percentage of patients.
There is little doubt that a great many changes have been made in the diagnosis and treatment of hypothyroidism in the past 50 years. In that time frame, the invention of a group of thyroid blood tests and the development of synthetic thyroid hormone medications, such as Synthroid (T4) and Cytomel (T3), should have made a dramatic improvement in the way hypothyroidism was diagnosed and treated. But it really has not.
Since this method of treatment relieves patients' symptoms in only 60% of cases, what is the problem?
What is the problem?
The major problem is that the majority of doctors have been taught to use TSH levels exclusively in the diagnosis of hypothyroidism and in the management of thyroid medication dosage. They only look at laboratory results and do not pay attention to a patient's symptoms. This often results in physicians dismissing many symptomatic patients because their TSH levels are "normal". The reality is that patients having TSH levels in the "normal" range suffer with the same symptoms that are seen in patients who have high TSH levels.
The inescapable conclusion is that TSH levels should not be the only criteria used for the diagnosis and treatment of hypothyroidism. In addition, the modest rate of symptomatic improvement with synthetic T4 treatment also suggests that another form for thyroid medication may be more effective in providing symptomatic relief. Because the current system is not helpful for a large group of people with hypothyroidism, perhaps a return to the "old school" way of diagnosing and treating hypothyroidism is needed.
"Old school" hypothyroidism diagnosis & treatment
In the days prior to the 1970's, when I was a medical student, patients were diagnosed with hypothyroidism if they had the typical symptoms known to be associated with the condition. Blood tests were not available to diagnose or manage the patient clinically. In the "old school" approach, a doctor would listen to and evaluate a patient's symptoms. If the patients symptoms matched those known to be present in hypothyroid patients, the diagnosis was made.
Tiredness
Forgetfulness
Slower thinking
Moodiness/irritability
Depression
Inability to concentrate
Thinning hair/hair loss
Loss of body hair
Dry, patchy skin
Weight gain
Puffy eyes
Goiter
Hoarseness/deepening of voice
Persistent dry or sore throat
Difficulty swallowing
Slower heartbeat
Menstrual irregularities/heavy period
Infertility
Muscle weakness
Constipation
The only thyroid medication available was natural desiccated thyroid (NDT), which was first successfully used to treat hypothyroidism in 1891. NDT is a purified preparation of pig thyroid gland, which closely resembles the human thyroid gland. Based upon the number and severity of the patient's symptoms, the doctor would gradually increase the dose of NDT until symptomatic improvement was observed. NDT contains both natural T4 and T3, as well as other natural thyroid proteins not found in the synthetic thyroid medications. An equivalent amount of a combination of synthetic T4 and synthetic T3 is not as effective as NDT in producing symptomatic improvement. The natural T3 seems to be the key to symptomatic improvement.
Signs of improvement are gradual and are usually seen by 12 weeks in approximately 90% of the patients treated. One of the earliest signs of symptomatic improvement is that the hands and feet are no longer cold. Most patients begin to experience relief from facial and ankle bloating, as well as improvement in nail strength, recent memory, brain fog, and fatigue within 12 weeks of treatment. The last symptoms to be relieved are hair loss and weight gain. When hair stops shedding, the patient is taking the ideal dose of NDT. Weight loss usually takes somewhat higher doses of NDT to increase the metabolism in order to burn calories effectively. NDT is NOT a weight loss drug and should only be used in treatment individuals with hypothyroidism.
When patients are taking NDT, their thyroid blood test results may be confusing to a doctor who is not familiar with NDT therapy. When patients take NDT, T3 levels are normally higher and TSH levels are typically lower than the laboratory reference ranges. Many physicians will misinterpret these results and mistakenly think that the patient is hyperthyroid and taking too much thyroid medication. Elevated T3 levels in the blood are the result of rapid absorption of NDT from the stomach and the divided doses of NDT with which patients are treated. Patients taking too much NDT may temporarily have some similar symptoms as patients with hyperthyroidism. Too high a dose of NDT is seen when a patient experiences rapid or irregular heart beat, excessive sweating, weight loss, shakiness, and nervousness. If these symptoms occur, notify your doctor, who will stop the NDT for 24-48 hours, during which time the symptoms will go away. Treatment can then be resumed at a lower dosage.
Many symptomatic people are denied treatment and suffer with the symptoms of hypothyroidism needlessly. Often, they will be unfairly dismissed as a hypochondriac or incorrectly diagnosed with depression and offered antidepressants. No symptomatic patient should ever suffer the insult of being treated dismissively.
The key is for physicians not to depend entirely on TSH levels to diagnosed and treat hypothyroidism and to recognize the significance of a patient's symptoms. A therapeutic trial of treatment with NDT should be offered to symptomatic patients, especially those who are still symptomatic while being treated with synthetic T4 medications. NDT has a long history of clinical use and safety.
From recent data collected from 125 consecutive symptomatic infertility patients, 89% of patients who were treated with gradually increasing doses of NDT experienced significant symptomatic relief and 77% conceived.
About Hugh D. Melnick, MD, F.A.C.O.G.
Dr. Hugh D. Melnick, M.D. is a reproductive endocrinologist who has been treating patients with hormonal and fertility problems since 1976. In 1983, Dr. Melnick founded Advanced Fertility Services, which was the first free standing In Vitro Fertilization Center in New York City and is still its medical director. Dr. Melnick's vast clinical experience together with his own personal experience having hypothyroidism has enabled him to develop a unique approach to the diagnosis and treatment of hypothyroidism. During his many years of clinical practice, he has recognized how hypothyroidism can adversely affect every part of the human body, creating many unpleasant symptoms, which inevitably interfere with a productive and enjoyable quality of life. In addition to his fertility services, he works with thyroid patients at mythyroidmd.com.
READ NEXT: Study reveals superiority of natural desiccated thyroid over levothyroxine