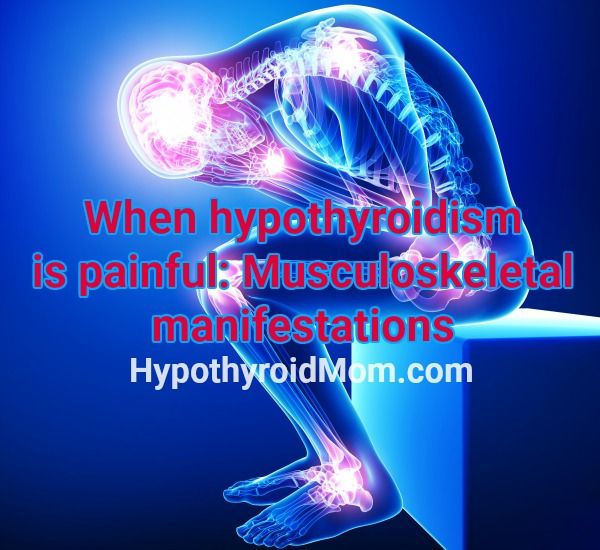 Pain.
I can't bear it.
Help!
Doctors tell me it's not my thyroid.
They say there is nothing more they can do.
Some say it's all in my head.
Scope of this pain issue
Musculoskeletal disorders are conditions affecting the bones, muscles, and connective tissues. The most common symptom of most musculoskeletal disorders is pain.
According to the 2016 Global Burden of Diseases, Injuries, and Risk Factors Study, the most common leading cause of disability for men was low back pain "resulting in the highest age-standardised rates of years lived with disability (YLDs) in 133 of 195 countries and territories, including every country in the high-income regions, central and eastern Europe, central Asia, Andean and Tropical Latin America, and eastern and central sub-Saharan Africa, as well as most countries in southeast Asia, north Africa and the Middle East, and western sub-Saharan Africa. Low back pain was the leading cause of age-standardised YLD rates for women in 104 of the 195 countries and territories." Neck pain and other musculoskeletal disorders ranked in the top ten of more than half of the countries and territories.[1]
Half of all American adults (126.6 million of U.S. adults over the age of 18) reported being diagnosed with musculoskeletal conditions in 2012 according to the Executive Summary of The Burden of Musculoskeletal Diseases in the United States: Prevalence, Societal and Economic Cost" by the USA Bone & Joint Initiative.[2]
Musculoskeletal manifestions in hypothyroidism
"Thyroid hormones play an important role in the development, maturation and maintenance of morpho-functional integrity of locomotor system structures," wrote a researcher in the Romanian Journal of Rheumatology.[3] The relationship between hypothyroidism and musculoskeletal conditions has appeared in the scientific literature since the 1800s.[4]
Shoulder pain and its relationship with thyroid disorders has been suspected since the late 1920s. More recently, the implication of thyroid disease in rotator cuff tendon tears has been studied.[5]
The neck stiffness and joint pain associated with hypothyroidism have been known for centuries.[6]
In 2016, 52 rheumatoid arthritis patients underwent thyroid function testing and 20 of the 52 patients (38.4%) had hypothyroidism.[7]
Carpal tunnel syndrome was discovered in 32.5% of patients with untreated primary hypothyroidism. Women were more vulnerable to develop carpal tunnel syndrome.[8,9]
Adhesive capsulitis (frozen shoulder), Dupuytren's contracture, trigger finger, and limited joint mobility are common in patients with hypothyroidism as well.[9]
The prevalence of fibromyalgia is approximately 2-7% in the general global population but as high as 30-40% in the population with the thyroid autoimmune disease Hashimto's thyroiditis.[10]
Based on a study which analyzed data from individuals who participated in health screening programs at Chang Gung Memorial Hospital in northern Taiwan (2000–2010), both hypothyroidism and hyperthyroidism were significantly associated with gout.[11]
Tendinitis is another common painful presenting complaint in hypothyroidism. The Journal of Medical Case Reports includes the unusual (or maybe not so unusual) case of spontanous rupture of the long head of the biceps tendon in a 48-year-old woman with severe hypothyroidism.[12]
In a 2013 study published in the Indian Journal of Rheumatology, the following disorders were found to be significant in 120 patients with primary hypothyroidism[13]:
body ache and myalgia (83.33%)
muscle cramps and stiffness (83.33%)
osteoarthritis (66.7%)
mild inflammatory arthritis involving hand joints (50%)
low back pain (50%)
arthralgia (25%)
adhesive capsulitis (20.8%)
limited joint mobility (16.67%)
rheumatoid arthritis (16.67%)
myopathy (8.33%)
systemic lupus erythematosus (8.33%)
carpal tunnel syndrome (6.6%)
fibromyalgia (5%)
trigger finger (4.1%)
Dupuytren's contracture (3.33%)
Raynaud's phenomenon (1.66%)
mixed connective tissue disease (1.66%)
tarsal tunnel syndrome (1.6%)
Conclusion
The relationship between hypothyroidism and musculoskeletal disorders is significant. Comprehensive thyroid testing including thyroid antibodies should be part of the workup of a patient presenting with musculoskeletal conditions. Musculoskeletal manifestations can serve as early signs of undiagnosed hypothyroidism and warning signs of hypothyroidism that is not optimally treated.
Psssst! Your pain is NOT in your head.
References:
1. GBD 2016 Disease and Injury Incidence and Prevalence Collaborators. Global, regional, and national incidence, prevalence, and years lived with disability for 328 diseases and injuries for 195 countries, 1990-2016: a systematic analysis for the Global Burden of Disease Study 2016. The Lancet. 16 September 2017;390(10100):1211-1259.
2. Bone and Joint Initiative USA. The Impact of Musculoskeletal Disorders on Americans – Opportunities for Action. boneandjointburden.org
3. Parasca, I. Manifestari reumatologice in bolile tiroidei. EMCB. 01.07.2008.
4. Radu, I., et al. Musculoskeletal Impairment in Primary Hypothyroidism. Rev Med Chir Soc Med Nat Iasi. 2016;120(2):244-251.
5. Oliva, F., et al. Thyroid hormones enhance growth and counteract apoptosis in human tenocytes isolated from rotator cuff tendons. Cell Death Dis. 313;4(7):705.
6. Doyle, L. Myxoedema: some early reports and contributions by British authors, 1873-1898. J R Soc Med. 1991;84(2):103-106.
7. Joshi, R., et al. Prevalence of hypothyroidism in rheumatoid arthritis and its correlation with disease activity. Sage Journals. 20 Jan 2016;47(1):2017.
8. Eslamian, F., et al. Electrophysiologic Changes in Patients with Untreated Primary Hypothyroidism. Journal of Clinical Neurophysiology. June 2011;28(3):323-328.
9. Cakir, M., et al. Musculoskeletal manifestations in patients with thyroid disease. Clinical Endocrinology. Sep 2003;59(2):162-7.
10. Haliloglu S, et al. Clinical Rheumatology. July 2017;36(7):1617-1621.
11. See, L.C., et al. Hyperthyroid and hypothyroid status was strongly association with Gout and Weakly Associated with Hyperuricaemia. PLoS One. 2014;9(12):e114579.
12. Pantazis, K., et al. Spontaneous rupture of the long head of the biceps tendon in a woman with hypothyroidism: a case report. Journal of Medical Case Reports. 2016;10:2.
13. Alakes, K.K., et al. Rheumatic manifestations in primary hypothyroidism. Indian Journal of Rheumatology. March 2013;8(1):8-13.
READ NEXT: 300+ Symptoms of Hypothyroidism…Yes REALLY