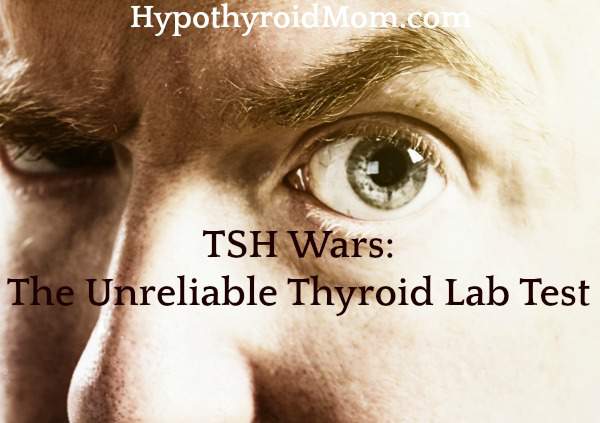 TSH (thyroid stimulating hormone) is the gold standard lab test for measuring thyroid function in mainstream medicine. Unfortunately this one thyroid lab test does not provide a complete picture. Many doctors don't run a full thyroid blood panel which should include at minimum Free T4, Free T3, Reverse T3, and thyroid antibodies. First problem.
I was fortunate to find a great thyroid doctor who treats "me" the person and not strictly my lab numbers. I personally take a natural desiccated thyroid called Nature-throid plus a time-release T3 medication created by a compounding pharmacy. Second problem. Mainstream medicine insists that T4-only levothyroxine medications like Synthroid are the only treatment for hypothyroidism. Yet so many are struggling on these medications.
Third problem. The "normal" reference range for TSH sucks. Yes, you read that correctly. It sucks. My TSH is suppressed BELOW the "normal" reference range. Yes my TSH is suppressed but I feel fabulous without symptoms of over-medication, similar to the symptoms of hyperthyroidism, such as elevated pulse rate, heart palpitations, jitteriness, profuse sweating, anxiety, insomnia, shaking hands, tremors, difficulty concentrating, diarrhea, unusual hunger, dramatic weight loss (and absolutely yes some patients will be over-medicated at the lower end of the reference range or below and contact your doctor right away if you experience these symptoms). My doctor focuses on my symptoms and testing that includes Free T4, Free T3, and Reverse T3 at every blood testing. My doctor listens to me. Really listens. I don't know why that's so hard for so many thyroid doctors to do.
Let me guess.
When you think back on your personal history of hypothyroidism, you may recall a time when a doctor gave you a dosage of thyroid medication that began to make you feel better (okay I know that many of you have received such terrible thyroid care from doctors that you've never had the experience of improving symptoms but this article is still important because it shows you what pitfalls to avoid when dealing with thyroid doctors on your road to healthy). Some symptoms actually started improving and you began to feel better and for some you felt so good you could hardly believe it. You recall that you went to your follow-up doctor's appointment, you were told that your TSH was below the "normal" reference range and your dosage must be immediately lowered. Your symptoms one by one began reappearing and you felt terrible all over again. Your doctor believed that every single thyroid patient's TSH must remain within this reference range.
WRONG.
If I was being treated by a doctor with this limited view of thyroid treatment, I would be a very ill woman today.
[Read more…]