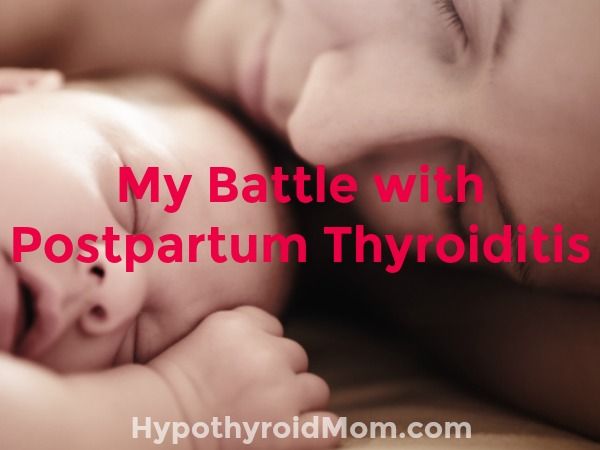 A Hypothyroid Mom reader named Jenny contacted me with her story of postpartum thyroiditis and it felt so familiar. I have lived through postpartum thyroiditis after the birth of both my sons. At a time when a mother is expected to be filled with joy at the miracle of her babies, women with postpartum thyroiditis struggle feeling alone, often misdiagnosed with postnatal depression or anxiety, all while their thyroid is left unaddressed but wreaking havoc on the mother's mind and body. But no one really wants to hear that. We are hushed and dismissed or carelessly misdiagnosed with mental health issues.
It is well known in the medical world that there are 3 times in a woman's life when she is most vulnerable to develop a thyroid condition or worsen an existing one, known as the 3 Ps: Puberty, Pregnancy/Postpartum, and Perimenopause. With over 700 million people with thyroid issues worldwide, and over half unaware of their condition, postpartum thyroiditis is more common than anyone can imagine, yet thyroid testing is not part of routine screening at a woman's first prenatal visit when she is newly pregnant (and it should be!)  nor at the first postnatal checkup around six weeks after giving birth (and it should be!) .
Jenny wrote,
"I write to you Hypothyroid Mom not to complain or grumble, but to raise awareness. To be a silent friend so that other women can read and feel someone understands. During my harder days, I felt so alone."
Written by Jenny Allen
I call it a battle because that is what it was.
To find someone to listen, to understand or to even know about the symptoms and nature of postpartum thyroiditis was impossible. At it's worst I thought I was going to die and truly believe that I am here now only because I have three incredibly supportive family members.
I was happy. I gave birth to a beautiful baby girl on July 7, 2017. My life felt complete. I slipped into the role of mum far better than I could ever have comprehended. With support from two fantastic midwives I overcame the initial hurdles of breastfeeding and was overwhelmed by the joy this brought. We spent three and a half months, walking, talking, reading, doing yoga, meeting friends, and really enjoying life. On Monday 5th of October I obtained a Masters degree, that I had completed whilst pregnant. Once my daughter was in bed I had a glass of prosecco and celebrated. Life was good and I 'said' thank you for this on a daily basis. I explain this not to gloat but to help you understand the transition – this is significant.
The only thing I found a little frustrating was that, every now and again (even though my daughter slept through), I would be wide awake for most of the night. My bedtime routine was more rigorous than my little girls, filled with baths, lavender, books and 'sleepy tea'.
After we celebrated my Masters results, I had three sleepless nights. I began to get nervous about going to bed and could think of nothing but sleep. Enough was enough. I made a doctor appointment and presented with sleeplessness and explained that I couldn't stop thinking about how or why I wasn't sleeping. This was inevitably making me feel low.  There was a suggestion of postnatal depression and I was referred to mental health services and told to contact my health visitor. I got some sleep that night. The next day, I went for a run and had some 'me' time but could not switch my brain off. Constantly asking myself 'have you switched off? Are you thinking about sleeping?' and repeatedly checking my own thoughts. I carried on and attended baby massage – surely this would be a big enough distraction from my own mind. It wasn't. The thoughts continued 'are you depressed? Can people see you are depressed? Do people think you haven't bonded with your baby? Have you switched off? What are you thinking about now?' I got hot and nervous, made my excuses and left.
I felt like my body was shutting down physically and mentally.
Straight after this class my little girl had her vaccination injections. I broke down and I battled to see a doctor. I felt desperate, my mind was whirring and I was sleep deprived. I was prescribed Sertraline for 'my anxiety' (only 25mg) and was sent on my way. I have always been proactive with my mental health and so I was. I found a wonderful lady and attended a meditation class, organized CBT (cognitive behavioural therapy), and made a healthy meal plan.  All this time I doubted something. This was not depression and anxiety. It happened over night. How could the change have been so drastic and quick?
I was diagnosed with postnatal anxiety and depression in a corridor of a GPs office, with no medical checks or examination. Once this had been said it could not be undone. It was a barrier that stopped anyone actively listening to ME!
Then it got worse. It felt like my life was gone I was constantly looking at my own thoughts, trapped in my own head. I couldn't be awake, it was like torture yet I couldn't sleep – which left me considering how I could end it all.
I would get hot and sweaty, pacing, pacing, pacing, all day and night. Over the next week these episodes reached peaks. I ran into the road in my pyjamas into oncoming traffic, banged my head repeatedly against the wall and floor, and scratched my arms. I just wanted to hurt myself so I would think about the pain and not my own thoughts. My family watched. They watched and watched 24 hours a day, scared of what I might do. I went to the doctors again, a mess. I screamed crying, like I never have before from the pit of my stomach, I couldn't live. I couldn't go on. What was happening to me?
The doctor referred me immediately to the psychiatric crisis team at the hospital. I filled in a form, any history of anxiety? No. Any history of abuse? No. Any worries before this? No. I had by now read everything I could (from reliable sources) about postnatal anxiety. I did not fit the bill. There were so many symptoms missing and so many more that weren't described. I kept exclaiming with such commitment 'this happened over night'. The change was incomprehensible and so sudden. I was given Diazepam, told to continue with the Sertraline and to stop breastfeeding with a view to putting me on Promazine – an anti-psychotic, in a week. I had never taken any drugs before but at this moment I would have done anything to feel normal. They took my bloods and did an ECG, as these were required before starting the course of recommended medication.
I still didn't know what was happening to me. The next week was bad but I got through it, each long hour of the day. I stopped breastfeeding in five days with the support of my mum and dad. We felt alone. I managed a CBT session and spoke to my health visitor. I continued to express the feeling that no one understood, that something was wrong. Everyone involved said 'that's part of the condition' (postnatal depression and anxiety). I was begging them all to listen, begging.
'I have seen so many women like this before,' they said. I knew the diagnosis was wrong and was very interested to see my blood results (even though these had been taken to put me on a drug, not to investigate what was happening to me). I arrived at the hospital that Friday. It was deemed I did not need Promazine and that I should increase my dose of Sertraline. I asked for my bloods, they weren't there. Why? There was no explanation. I became determined. I became angry (that's part of the condition!?)
I wanted to see my blood results. I was then told I could get the results from my doctors and so there I went. I battled there too. I was scared for my own life.  Later that day I was seen by a doctor and told my thyroid was overactive and the presence of Thyroid Stimulating Hormone (TSH) was non- existent.
Being unable to switch off my own thoughts was torture.
The relief was immeasurable, a diagnosis? Some answers at least. I was told to call the hospital to arrange an endocrinologist appointment in ten days and prescribed beta-blockers in the meantime. The symptoms persisted, with as much vigour as they ever had before. I battled some more. I made a doctor appointment and begged for the referral to be made and marked urgent. It was. I made an appointment to see an endocrinologist on the 6th of November 2017.  All this time there was a feeling of doubt from the professionals, of doubt that an overactive thyroid would present in such a way. I was, to them, clearly suffering depression and anxiety alongside this. This made me doubt myself, made me fear for my own sanity.
Things got worse. One afternoon my partner had to restrain me from hitting my own head with such force. When he held my hands I banged and banged my head on the floor screaming 'make it stop, please make it stop.' My parents came immediately – my own emergency services team – and took me to A and E (emergency department). There were no more options. Here, one woman listened. She really listened and spoke to me like an equal, like I knew something about what was happening to my own body. I was placed under the care of a mental health home crisis team and promised that all of the services would liaise in order to establish and treat my condition. I just needed to make it to my Endocrinologist appointment. This was my goal, the only thing I could think about and what I lived for. This was the emergency.
I had an overactive thyroid so again I read, when I could, and this is when I found out about postpartum thyroditis and that having an over-active thyroid could cause mental disturbances, mood swings and inappropriate anxiety. I also found out that after the hyper (overactive phase) your thyroid could return to normal or you could become hypo (underactive) and present with another set of symptoms. I went to the endocrinologist armed with questions, knowledge and my advocate, my Mum. During this time I had started to feel a little better. It couldn't be the anti-anxiety drugs because I hadn't upped my dose of Sertraline as advised.
In the classic form of postpartum thyroiditis, there is a transient phase of hyperthyroidism (over-active thyroid), at 6-12 weeks postpartum followed by hypothyroidism(under-active thyroid).
I arrived! 45 minutes early, ready to share my symptoms and listen to the expert. The appointment lasted less than ten minutes. I was explicitly told that my symptoms were for the psychiatrist to handle. He had not seen these symptoms with thyroid issues before (denied again by the expert – it must be me!?).  A few brief tests and a diagnosis of Graves' disease (an autoimmune disease that causes an overactive thyroid) with the instruction to take Carbimazole immediately and for 18 months. He would see me again in 3 months. I again questioned and asked how he could be sure my thyroid levels wouldn't drop as with postpartum thyroditis. I had after all been feeling a little better and the last blood test had been carried out weeks ago. He was certain, he said the fact I had given birth was not relevant. I was told I needed to take the drugs immediately otherwise my body would start to attack itself and I would get heart failure and this would not be treatable – have a nice day now, bye!
Not all women with postpartum thyroiditis experience this shift from hyperthyroid to hypothyroid. Some experience hyperthyroid symptoms throughout and others hypothyroidism.
We were out…done…I should have been happy? Resolved? Treatment? I wasn't. Something wasn't right. People still weren't listening. I was made to feel arrogant for questioning the expert. The following day, Tuesday 7th November, I made an appointment at the doctor's office to get my bloods tested – I battled to get the results quickly. The doctor would call the next day.
THE RESULTS WERE NORMAL. As of that moment my thyroid function was normal. I cannot explain to you the elation I felt. I cried with relief and happiness. Not only were the bloods normal, but I was right to push and battle and keep going. I felt vindicated, empowered and like I finally, after five long hard weeks, had information about what was happening to me – it was likely postpartum thyroiditis.
Two weeks later and a visit to the doctor showed that my thyroid function had now swung to underactive. These swings are common with postpartum thyroiditis. The doctor confidently diagnosed postpartum thyroiditis and instructed me to take thyroxine in order to replace the hormone my body should have been making.
I was so tired every inch of my body ached. Repetitive, depressive and intrusive thoughts defined my day.
I then waited until the 18th of December to see an endocrinologist. Two months after I had initially begun to feel unwell. At this appointment I was told that my thyroid function was normal but that it was not possible to tell if this was due to my thyroid function returning to normal or because I was taking thyroxine. I agreed with the endocronologist to stop taking thyroxine  – adding a bonus six weeks to my journey to begin recovery. On the 4th of February 2018 I had hopefully begun to get better, more than four months since I became unwell.
Most cases of postpartum thyroiditis resolve in 6-9 months, but for others the thyroid abnormality is permanent.
Looking back I described four symptoms of an overactive thyroid at my six-week postnatal check. When I asked the doctor about the notes that had been made at this appointment she simply read 'Jenny felt tired'. Of course I felt tired, I had a six-week-old baby at home!? What I had actually said was 'I am awake all night, even though my baby is asleep for six hours and had been doing so since three weeks old (I know how lucky we are!)' and as a result of this I was tired. I left that appointment feeling and stating that it was a box ticking exercise, like I wasn't listened to – this is what I feel angry about. Not the fact that it was missed but the way that it was missed. If a blood test had been taken as a first port of call at my six-week postnatal check, even later on when I presented with sleeplessness I could have continued breastfeeding, I could have perhaps avoided the extreme symptoms and I could certainly have saved UK's National Health Service (NHS) thousands of dollars.
Thyroid testing should be part of every woman's six-week postnatal check, especially those suspected of postpartum depression and/or anxiety.
Postpartum thyroiditis is something that happens to up to 10% of women after birth yet, from my experience, no one seems to know about or understand it. The hyper phase often goes undetected – I unfortunately presented with extreme and rare symptoms. Then the hypo phase is often where it is detected, tiredness, achy muscles, and depression – perhaps there are many more cases misdiagnosed as postnatal depression, dismissed and not understood.
The hyperthyroid (over-active) phase may result in symptoms such as insomnia, nervousness, anxiety, sweating, rapid heartbeat, palpitations, weight loss, diarrhea, and fatigue.
I write this article not to complain or grumble, but to raise awareness. To be a silent friend so that other women can read and feel someone understands. During my harder days, I felt so alone. I found two accounts on the Internet that described almost exactly what I was going through and it gave me hope to keep battling for help. The profession was too quick to put me in a box. So quickly was I diagnosed with postnatal anxiety and depression, so quickly were people saying 'we've seen this before'.  Once this had been said it could not be undone – it was concrete, set in stone. I was catapulted into the system like a pinball in a machine and slowly a crisis was created. A crisis that needed responding to.
The hypothyroid (under-active) phase may come with symptoms including fatigue, unexplained weight gain, hair loss, constipation, dry skin, high cholesterol, swelling, feeling cold all the time, chronic pain, and depression.
If people had only listened, if blood tests had been done, I could have continued to breastfeed with postpartum thyroiditis. If the thyroid problem had been viewed as the emergency and not the mental health symptoms, I would not have lost months of time with my beautiful daughter. This is what I want for other women, for them to be informed and understood, for them to be listened to and acknowledged. We know being a mum is an incredibly big role change, we have done it – this does not mean anxiety and depression follows without question. We are strong, we gave birth, and we know our own bodies better than anyone.
I am left with anxiety and depression, very aware of my own thoughts and constantly wondering how my thyroid is functioning.
I am currently in the 'normal' thyroid range in the UK and being told my symptoms are mental health related…again.
The mental health workers told me to stop reading about my condition – it would only feed my anxiety. Thank goodness that I didn't listen.  I am not sure where I would be now.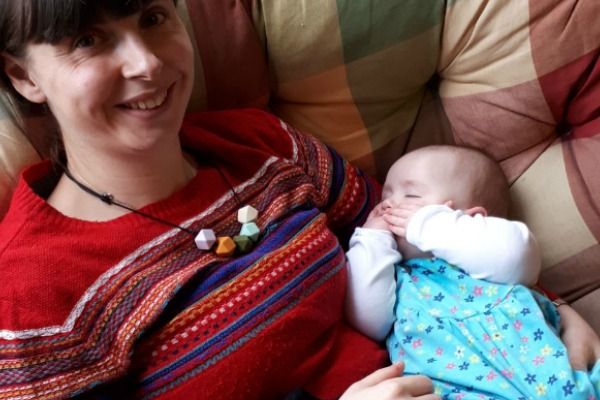 About Jenny Allen
I am a 34 year old first time mum and a passionate Reception Teacher. I spend my time with family and friends and have a 'grab every second with both hands' attitude to life. I live in Manchester, UK and love travel, learning, music and dance. I feel exceptionally proud to be a woman.
Sources:
Thyroiditis. NHS UK.
Guidelines on the management of thyroid disease in pregnancy. Norfolk and Norwich University Hospitals NHS. Retrieved from: www.nnuh.nhs.uk/publication/download/thyroid-disease-in-pregnancy-ao38v3/