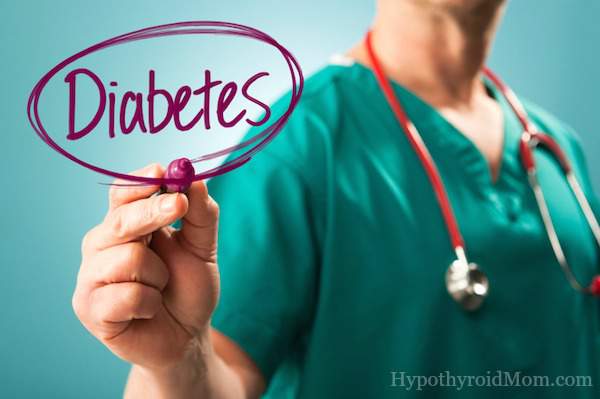 Dana, your blood sugar and cholesterol are very high. Do you have a family history of diabetes and heart disease?
Several months later…
Dana, your blood sugar and cholesterol are high again. You should start a cholesterol-lowering statin drug and diabetes medication. Let's wait until your next lab test to decide.
347 million people worldwide have diabetes. The World Health Organization warns that its escalating rates around the world will result in the doubling of diabetes deaths between 2005 and 2030.[1. World Health Organization. World Diabetes Day 2012]
Thyroid Disease and Diabetes
The frequency of thyroid dysfunction in diabetic patients is higher than that of the general population. The Journal of Thyroid Research published an article in 2011 reviewing the scientific research worldwide on thyroid disorders and diabetes mellitus.[2. Hage, M., Zantout, M.S., Azar, S.T. Review Article: Thyroid Disorders and Diabetes Mellitus. Journal of Thyroid Research Volume 2011 (2011), Article ID 439463, 7 pages]
Perros et al. demonstrated an overall prevalence of 13.4% of thyroid diseases in diabetics with the highest prevalence in type 1 female diabetics (31.4%). A prevalence of 12.3% was reported among Greek diabetic patients and 16% of Saudi patients with type 2 diabetes were found to have thyroid dysfunction. In Jordan, a study reported that thyroid dysfunction was present in 12.5% of type 2 diabetic patients.

Thyroid disorders remain the most frequent autoimmune disorders associated with type 1 diabetes. Positive TPO antibodies have been reported in as high as 38% of diabetic individuals. Ghawil et al. documented that 23.4% of type 1 diabetic Libyan subjects had positive TPO antibodies and 7% had positive TG antibodies.
According to the World Health Organization, 50% of people with diabetes die of cardiovascular disease.[3. World Health Organization. Diabetes]
In the legendary book Hypothyroidism: The Unsuspected Illness
, Dr. Broda Barnes presented research that the cardiovascular complication of diabetes was due to low thyroid function rather than insulin. Just one look at the article Is Your Thyroid Killing You? Heart Disease will show you that there is a deadly link between hypothyroidism and heart disease. Dr. Barnes wrote that many diabetic patients are in fact hypothyroid and the heart disease that manifests in these diabetic patients is due to the thyroid deficiency. Dr. Barnes claimed that heart disease complications of diabetes could be prevented by treatment with natural desiccated thyroid.
Thyroid Screening for Diabetics
Both type 1 and type 2 diabetics have an increased risk of thyroid disorder. All diabetics, pre-diabetics, and those with family history of diabetes, should receive thyroid screening. I decided to look at the clinical guidelines to see if thyroid testing is mandated for diabetes. I was so disappointed with what I discovered that I felt compelled to write this post.
According to an article published in the online magazine Diabetes Forecast by the American Diabetes Association "Detecting Thyroid Disease: People with diabetes are prone to disorders of this gland":[4. American Diabetes Association. Detecting Thyroid Disease: People with diabetes are prone to disorders of this gland]
Because of the high risk of thyroid disease among people with type 1 diabetes, it's especially important for them to get tested. The American Diabetes Association recommends that everyone with type 1 be tested for hypothyroidism at diagnosis and, if the initial exam is normal, every year or two afterward. Testing isn't thought to be necessary for everyone with type 2 because the risk of thyroid disease is less. However, it's wise to be familiar with its symptoms so you can detect hormone abnormalities early before blood glucose levels worsen.

A simple blood test can detect thyroid disease. Too much of the thyroid-stimulating hormone, or TSH, indicates hypothyroidism.
Wait. Rewind. Read that carefully.
Where do I begin?
Multiple studies conclude that hypothyroidism shows a strong association with type 2 diabetes. Yes the association is greater with type 1, but what about all the type 2 diabetic sufferers who may be hypothyroid. Why should they not have the opportunity to be tested to rule out thyroid disorder? If their undiagnosed hypothyroidism is causing heart disease complications, simple testing may save their lives.
Type 1 diabetes is an autoimmune disease in which the immune system attacks the cells in the pancreas that make insulin. A person with one autoimmune disease is more likely to develop other autoimmune diseases. Type 1 diabetics are at high risk of Hashimoto's, an autoimmune thyroid disease in which the immune system mistakenly attacks the thyroid gland, and vice versa. Hashimoto's is one of the leading causes of hypothyroidism in the world. With this recommendation to test only TSH, type 1 diabetics with Hashimoto's may go undiagnosed. There is no mention of testing thyroid antibodies for Hashimoto's.
TSH is the blood test recommended for diagnosis. There is no mention of conducting full thyroid testing, including Free T4, Free T3, and Reverse T3. There is also no mention of the fact that the TSH reference range is so broad that 'normal' doesn't make it 'optimal' for every patient. So many hypothyroid sufferers go undiagnosed because mainstream medicine relies solely on TSH as the "gold" standard for diagnosis and treatment.
Dana, your high cholesterol and blood sugar levels are now normal.
My primary care physician shakes his head in amazement. (I had searched for a great thyroid doctor who was open to exploring the thyroid treatment options to find what was right for me. Thanks to a combination of natural desiccated thyroid and time-release compounded T3 my life changed.)
You won't be needing the prescriptions for statins and diabetes medication.
The Thyroid Federation International estimates there are up to 300 million people worldwide with thyroid dysfunction yet over half are unaware of their condition.[5. Thyroid Federation International. International Thyroid Awareness Week] Given that close to 150 million people worldwide are estimated to be unaware of their thyroid dysfunction, how many diabetics are there right now worldwide unaware of their thyroid condition? Hmmm…
References: