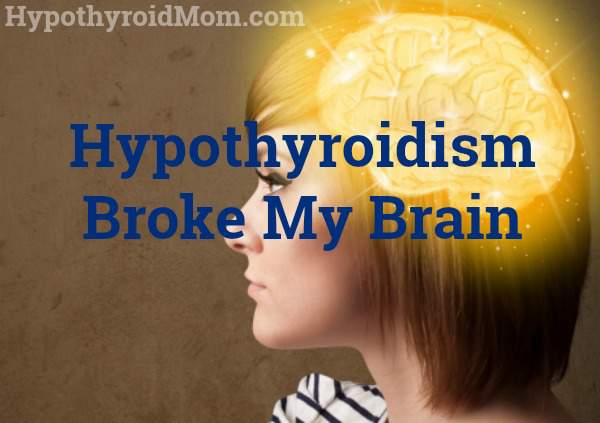 My brain suddenly broke.
And I knew it.
I woke up one day shortly after my first son was born in 2006.
And I was no longer me.
I was this broken, dysfunctional version of myself.
That I didn't recognize.
I couldn't remember the simplest of things.
I lived in a thick, foggy haze.
I didn't feel good about myself.
I felt anxious all the time.
I was unable to concentrate and felt fidgety.
I felt so moody.
I descended into a spiral of darkness.
And I was embarrassed.
I was told by my ob/gyn at my first postnatal visit that I had postpartum depression.
No lab tests.
Nothing.
Just a quick diagnosis just like that.
And a prescription slip for antidepressants.
"It's normal for brain function to decline with age," my doctor said.
"Oh and here's a prescription for anti-anxiety and sleeping pills too."
Somehow I knew deep inside
That something more all-consuming was happening to me.
The indescribable fatigue that had swallowed me up whole.
The weight on the scale that kept rising.
The hair that fell and clogged my shower drain.
The cholesterol and blood sugar levels that were all of a sudden too high.
The non-stop infections that plagued me.
No one understood.
Lazy.
Maybe that's what people thought I had become.
I looked "normal".
But I felt like I was dying.
I knew there was something serious going on.
That my doctors were missing.
But what?
Then I miscarried my baby.
And I was wracked by grief.
Finally I landed in the emergency room.
I had two kidney stones.
Who knew that I would later rejoice about kidney stones that hurt like hell.
But they saved my brain.
I was diagnosed with hypothyroidism right there in the emergency room.
I finally had a name for what was plaguing me.
I researched everything I could about hypothyroidism.
I spent all hours of the day and night.
I found the best doctors.
And I got well.
So well that I kissed my new thyroid doctor.
I kissed her on the cheek and hugged her so tight.
That's what I did for the joy I felt.
I discovered that most doctors have no clue how to diagnose and treat hypothyroidism.
And that pisses me off.
With hundreds of millions of us in the world, the medical world needs to get their act together.
The TSH lab test is often the only lab test run for hypothyroidism.
And it fails miserably.
Comprehensive lab testing should includes Free T4, Free T3, Reverse T3, and thyroid antibodies.
Hashimoto's disease is the number one cause of hypothyroidism yet thyroid antibodies are rarely tested.
And that's freakin' crazy.
Every mainstream doctor that I visited insisted that T4-only levothyroxine drugs like Synthroid were the solution.
Even when they failed to work for me and doctors kept insisting.
It took firing multiple doctors to find one open
to the other options including T3 and natural desiccated thyroid.
Why do doctors make finding treatment that works for us so darn difficult?
Step by step I discovered that there are multiple pieces of the thyroid puzzle.
And they can all independently affect the brain too.
Like nutrient deficiencies, food sensitivities, heavy metal toxicity.
Adrenal fatigue, sex hormone imbalance, and more.
I got so well that I went on to have my second son.
I got so well that my brain started working again.
It worked like my old brain, only better.
I must share what I've discovered with other people.
I read an article about blogging and that word "blog" stayed on my mind.
Could a blog really make a difference?
I took a leap of faith and launched Hypothyroid Mom in October 2012.
With my brain working at lightning speed again.
Guess what?
A blog can make a difference.
Over one million people follow Hypothyroid Mom.
I can hardly believe it.
That's possible now because my brain is no longer broken.
I am helping hypothyroidism sufferers across the globe regain their health.
My brain can't stop me now.
I didn't have depression after all.
I didn't have anxiety disorder.
I didn't have brain fog and memory loss due to aging.
I had hypothyroidism.
And it broke my brain.
READ NEXT: 300+ HYPOTHYROIDISM SYMPTOMS