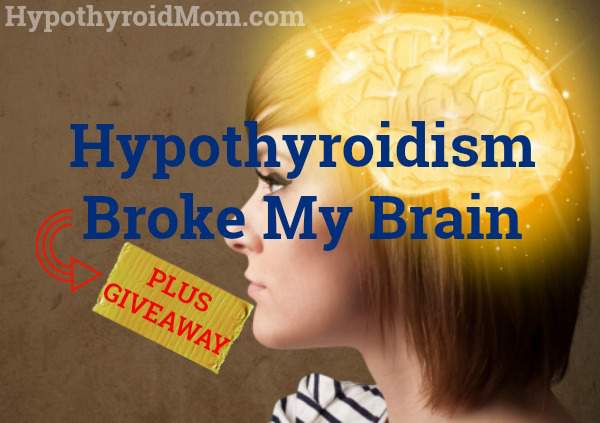 I had always been an A student earning top marks, appearing on the Dean's list multiple years in a row, receiving several large sum scholarships, graduating with High Distinction (equivalent to to magna cum laude) from the University of Toronto, completing dual Master's degrees from Columbia University, then landing a plum position at one of the largest financial services firms on Wall Street in New York City and receiving offers to sit on the Board of Directors of multiple organizations. This is not to toot my own horn but to set a backdrop for my story and to help explain why The Broken Brain docuseries GIVEAWAY (at the end of this article) is so important to me.
My brain suddenly broke.
And I knew it.
I woke up one day shortly after my first son was born in 2006.
And I was no longer me.
I was this broken, dysfunctional version of myself.
That I didn't recognize.
I couldn't remember the simplest of things.
I lived in a thick, foggy haze.
I didn't feel good about myself.
I felt anxious all the time.
I was unable to concentrate and felt fidgety.
I felt so moody.
I descended into a spiral of darkness.
And I was embarrassed.
I was told by my ob/gyn at my first postnatal visit that I had postpartum depression.
No lab tests.
Nothing.
Just a quick (careless) diagnosis just like that.
And a prescription slip for antidepressants.
"It's normal for brain function to decline with age," my doctor said.
"Have you been checked for attention deficit disorder?"
"Oh and here's a prescription for anti-anxiety and sleeping pills too."
I didn't believe her honestly because this felt deeper, more all-consuming than that.
The indescribable fatigue that had swallowed me up whole.
The weight on the scale that kept rising.
The hair that fell and clogged my shower drain.
The cholesterol and blood sugar levels that were all of a sudden too high.
The non-stop infections that plagued me.
No one understood.
Lazy.
Maybe that's what people thought I had become.
I looked "normal".
But I felt like I was dying.
I knew there was something serious going on.
That my doctors were missing.
But what?
I started screwing up big time at work.
I was no longer the star performer.
I missed appointments and major deadlines.
And I eventually quit my job.
The job I had worked so hard to get.
Because I just couldn't keep up.
Then I miscarried my baby.
And I was wracked by grief.
Finally I landed in the emergency room.
I had two kidney stones.
Who knew that I would later rejoice about kidney stones that hurt like hell.
But they saved my brain.
I was diagnosed with hypothyroidism right there in the emergency room.
I finally had a name for what was plaguing me.
I researched everything I could about hypothyroidism.
I spent all hours of the day and night.
I found the best doctors.
And I got well.
So well that I kissed my new thyroid doctor.
I kissed her on the cheek and hugged her so tight.
That's what I did for the joy I felt.
I discovered that most doctors have no clue how to diagnose and treat hypothyroidism.
And that pisses me off.
With hundreds of millions of us in the world, the medical world needs to get their act together.
The TSH lab test is often the only lab test run for hypothyroidism.
And it fails miserably.
Comprehensive lab testing should include Free T4, Free T3, Reverse T3 and thyroid antibodies.
Hashimoto's disease is the number one cause of hypothyroidism yet thyroid antibodies are rarely tested.
And that's freakin' crazy.
Every mainstream doctor that I visited insisted that T4-only levothyroxine drugs like Synthroid were the solution.
Even when they failed to work for me and doctors kept insisting.
It took firing multiple doctors to find one open to the other options including T3 and natural desiccated thyroid.
Why do doctors make finding treatment that works for us so bloody difficult?
Step by step I discovered that there are multiple pieces of the thyroid puzzle.
And they can all independently affect the brain too.
Like nutrient deficiencies, food sensitivities, heavy metal toxicity.
Adrenal fatigue, sex hormone imbalance, and more.
I figured out the pieces and I got well.
I got so well that I went on to have my second son.
I got so well that my brain started working again.
It worked like my old brain, only better.
I must share what I've discovered with other people.
I read an article about blogging and that word "blog" stayed on my mind.
Could a blog really make a difference?
I took a leap of faith and launched Hypothyroid Mom in October 2012.
With my brain working at lightning speed again.
Guess what?
A blog can make a difference.
Over one million people follow Hypothyroid Mom.
I can hardly believe it.
That's possible now because my brain is no longer broken.
I am helping hypothyroidism sufferers across the globe regain their health.
My brain can't stop me now.
I didn't have depression after all.
I didn't have anxiety disorder after all.
I didn't have ADD or ADHD after all.
I didn't have brain fog and memory loss due to aging after all.
I HAD HYPOTHYROIDISM.
AND IT BROKE MY BRAIN.
Broken Brain Docuseries
When Dr. Mark Hyman, practicing physician and 10 time New York Times Bestselling author, reached out to me about his new 8-part docuseries called the Broken Brain, I literally jumped out of my seat in excitement. When your brain is broken, it can express itself in different ways in different people as brain disorders like brain fog, memory loss, depression, anxiety, ADD, ADHD, autism, traumatic brain injury, MS, Parkinson's, dementia, Alzheimer's, and more. The truth is that they are all manifestations of a very few common underlying root causes. You wouldn't know this by looking at the modern approach. Conventional medical treatments don't always get to the root cause. Sometimes they make things even worse. Broken brain is the #1 cause of disability worldwide.
Dr. Hyman spent the past year traveling the country interviewing the top brain health experts to bring you the most cutting-edge research and information. This docuseries does a deep dive into the different brain disorders to explain why they happen and how to address their root causes. What if I told you that the cure for most brain disorders and a better brain is OUTSIDE the brain?
Beginning on Wednesday, October 18, 2017, at 6pm ET, this Broken Brain docuseries is FREE to watch online for 8 days. All Hypothyroid Mom fans are welcome to sign up here to access this free 8-day world premiere.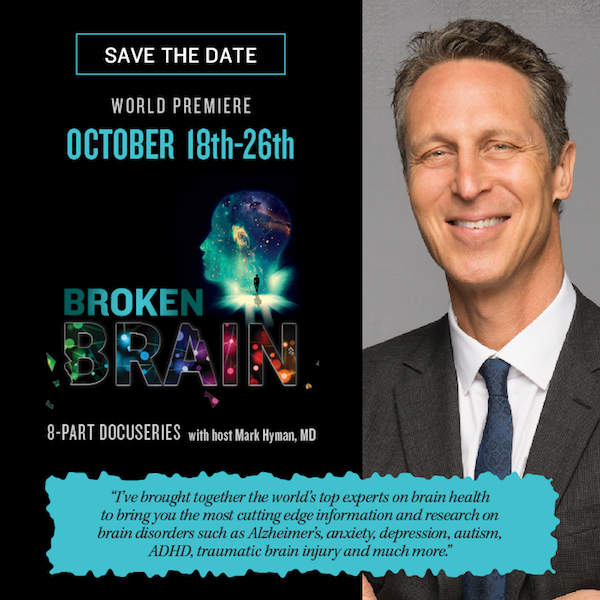 Broken Brain GIVEAWAY
The Broken Brain docuseries will be FREE to watch for 8 days ONLY October 18th-26th, 2017. This is a fabulous opportunity to watch the world's leading brain experts all for free.
To celebrate Hypothyroid Mom's 5th anniversary, Dr. Hyman is offering TWO lucky winners lifetime digital access to the Broken Brain docuseries, valued at $97 each.
This is an incredible prize because it gives you LIFETIME digital access to the Broken Brain docuseries including all 57 interview videos and transcripts (in case you prefer to read the interviews rather than watch the videos). This is amazing if you find there are so many great interviews to watch and you want more than the 8 free days to replay and digest all the material. Or if October 18-26 is a hectic time in your life and you want the option to watch the interviews at another time that is more convenient for you. The Broken Brain docuseries will be yours forever to watch with this giveaway prize!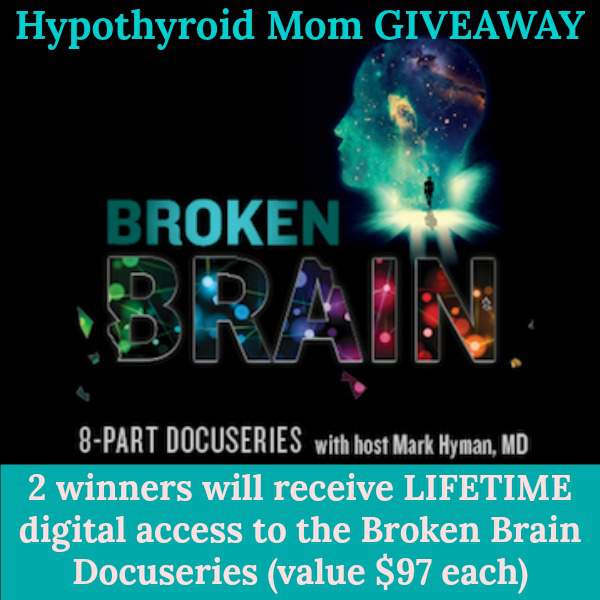 Enter for your chance to win by completing this form below. Your entry is free and everyone in every country of the world is invited to participate. The giveaway will end on Thursday, October 12, 2017 at noon 12PM EDT. The two winners will be contacted by email and listed here in this post. Remember to refer a friend to participate in the giveaway. After you complete one of the entry options in the form below, a 'Bring Your Friends!' entry option will appear that will give you a unique URL that you can share with your friends. For each friend that enters the giveaway through that unique URL, you will receive +1 entry into the giveaway. You can refer up to 10 people for the giveaway. You only have to complete one of the entry options to participate. If you participate in more than one, however, you increase the chances of winning. If you're trying to view the giveaway entry form on a mobile device, a rectangular button will appear right here below that says "Enter the Giveaway". When the button is tapped, the entry form appears in its own browser window and will fit in the screen of the new browser window.