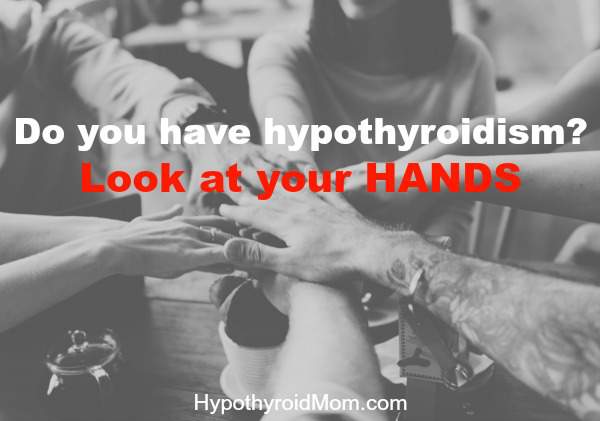 Our fingernails (and toenails actually) say so much about our health. It is mind-blowing when you look at the references listed at the bottom of this article the number of conditions of the nails associated with hypothyroidism including Alunula (absence of the Lunula, the little white moons of the bed of the nails), Onychorrhexis (longitudinal ridging of the nails), Beau's Lines (transverse grooves or depressions of the nail plate), Koilonychia (spoon shaped nail plates), Onycholysis (separation of the nail from the nail bed), Pterygium Unguis (thinning of the nail fold and spreading of the cuticle over the nail plate), Onychomycosis (fungal infection of the nail), Yellow Nail Syndrome, brittleness, slow growth, and thickening.
I first heard Dr. Peter Osborne describe the following common symptoms of hypothyroidism he notices in his patients' nails and it got my mind racing. I dove into studies and books to figure out how low thyroid can affect even our nails. What the heck! Not even one part of our body is safe from hypothyroidism.

Written by Dr. Peter Osborne
The symptoms of thyroid problems often manifest in the hands and fingers. Some very common physical abnormalities can present in the nail beds and fingernails. If you have these types of findings on your hands and also suffer with fatigue, hair loss (especially a thinning of the lateral eyebrows), low libido, dry skin, and unexplainable weight gain, visit with your doctor to have your thyroid evaluated. If you are being treated for hypothyroidism and have these symptoms, please too see your doctor in case they are an indication that you are not well treated for your condition.
Paronychia & Hypothyroidism
Here I have a nice image of the classic fingernails of a patient who had been priorly diagnosed with a hypothyroid condition. Now there are a number of classic things we can see here.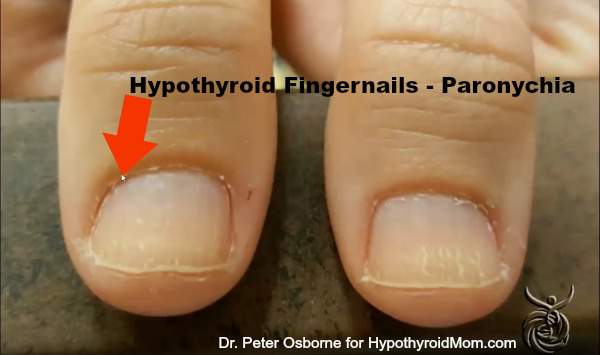 The first is around the cuticles. You can see the really jagged and rough edges. You see it on both sides here. The formal name for this is Paronychia and it is a very very hallmark sign of hypothyroidism, meaning low thyroid condition. This type of symptom nutritionally is often times also linked to a protein deficiency. Interestingly enough, one of the major forms of amino acids (amino acids are the building blocks for protein) responsible for helping thyroid function is Tyrosine. Often times we will see a protein deficiency, and particularly Tyrosine deficiency, in patients that have low level of thyroid and it will present in the cuticles looking just like this, called Paronychia.
Vertical White Ridges on Nail & Hypothyroidism
Another classic example of the thyroid fingernail is this white vertical ridging that we see on both sides in the nail beds.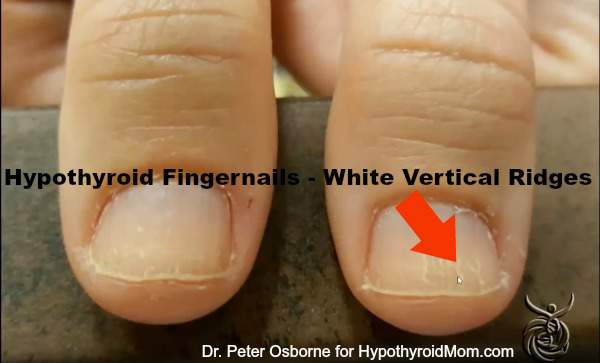 This is often times indicative nutritionally of a selenium deficiency. Now why is that important in someone that has a thyroid condition? It's important because selenium is a mineral absolutely essential in the conversion of the INACTIVE thyroid hormone T4 to the ACTIVE T3 thyroid hormone. T4 has to be converted into T3. T3 is the thyroid hormone that communicates directly with your DNA and speeds up your metabolism and has all the wonderful effects we're looking for in thyroid hormone health. Without selenium we don't convert T4 to T3 very effectively and it will look like this often in the fingernails. So look at your fingernails and if you find these types of white spots very well it means you have a selenium deficiency. It also might mean you have an undiagnosed thyroid condition. If you are treated for hypothyroidism, it might mean you are not well treated for it. I would advise you if these are present on your fingernails to visit with your doctor and have your thyroid evaluated.
Nail Splitting & Hypothyroidism
One other thing you can see here in this image is the splitting at the tips of the nails. This is also very very common in people with a hypothyroid condition.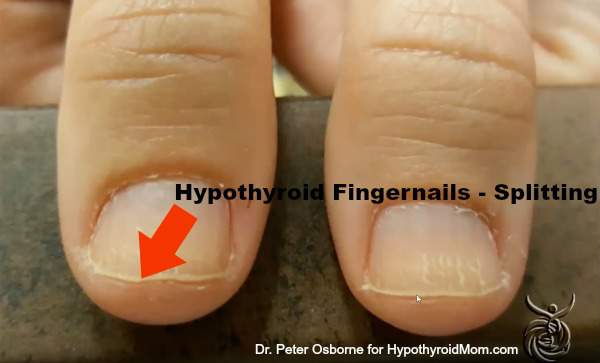 Look at your fingernails and see if you have these types of findings. If you do, follow up with your doctor and have your thyroid fully evaluated.
About Dr. Peter Osborne
Dr. Peter Osborne is the clinical director of Town Center Wellness in Sugar Land, Texas. He is a doctor of chiropractic and a Board Certified Clinical Nutritionist. His clinical focus is the holistic natural treatment of chronic degenerative musculoskeletal diseases. He is an expert in the relationship that gluten sensitivity and food allergies play in chronic inflammation. He has helped thousands of patients recover from chronic painful conditions.
References:
Heymann, W.R. (2008). Thyroid Disorders with Cutaneous Manifestations. London: Springer-Verlag London Ltd.
Macura, A.B. et al. Nail susceptibility to fungal infections in patients with hypothyroidism and hyperthyroidism. Przegl Lek. 2005;62(4):218-21.
Magee, D.J. (2014). Orthopedic Physical Assessment: Musculoskeletal Rehabilitation Series, Sixth Edition. Missouri: Saunders, an imprint of Elsevier Inc.
Sacchidanand, S. and Savitha, A.S. (2013). Nail & Its Disorders. New Delhi: Jaycee Brothers Medical Publishers Ltd.
READ NEXT: SHE LOST THYROID FAT WITH THIS PROBIOTIC STRAIN