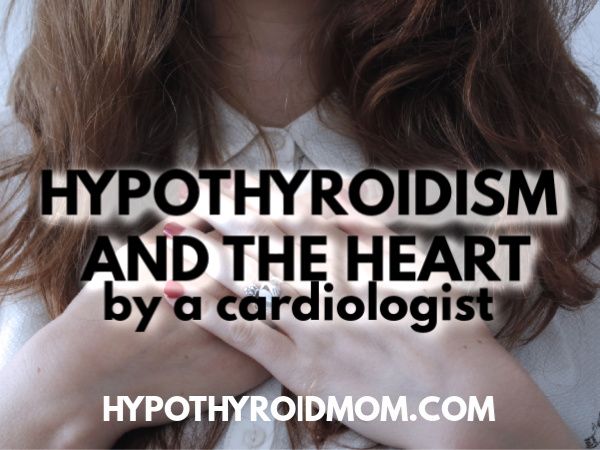 I was searching for recently published studies on the connection between hypothyroidism and heart disease and there I found hundreds, yes hundreds, right before my eyes. Then one day a cardiologist from England contacted me with this guest post that everyone with hypothyroidism needs to read.
Written by Sanjay Gupta, MD
Deficiency of thyroid hormone can play havoc with your heart.
Cardiac symptoms of hypothyroidism
Cardiac symptoms that we see in patients with hypothyroidism include a slow heart rate. It usually manifests as a sinus bradycardia, meaning it is a normal rhythm just a little bit slower.
Secondly, sometimes we see exertional breathlessness, shortness of breath on exertion. They aren't able to do as much without getting extremely tired.
The third thing that we see often in hypothyroidism is high blood pressure. In particular, we see both values, the top value (the systolic blood pressure) and the bottom value (the diastolic blood pressure), go up but the diastolic blood pressure goes up much more than the systolic blood pressure.
It is also worth noting that patients with hypothyroidism may develop swelling of their legs. What is typical about this swelling is that it tends to be non-pitting. When you press the swelling, the finger doesn't leave a massive indentation behind.
Another thing we sometimes see in patients with hypothyroidism is the development of fluid around the heart. Up to 25 percent of hypothyroid patients may develop fluid which accumulates in the sac that the heart sits in, the pericardial sac. This accumulation of fluid around the heart is termed pericardial effusion. Pericardial effusions can grow quite big but usually they don't have to be manually drained out because, as you treat the hypothyroidism, the fluid gets less.
Why people with hypothyroidism get heart symptoms?
The first thing to say is that the thyroid hormone thyroxine controls other enzymes which regulate, firstly, how fast our heart beats and, secondly, how strongly the heart contracts. Thirdly, thyroxine also controls how responsive our heart is to the hormone adrenaline. Another thing to know about thyroxine is that it relaxes all our blood vessels. It does this by its own effects but also by controlling the release of something called endothelial-derived relaxing factor (EDRF) which, again, opens up our blood vessels. And all of these processes can get affected if we are deficient in thyroid hormone.
The simplest way to think of this is that when we are deficient in thyroid hormone everything slows down and everything gets a bit stiffer. The contraction of the heart becomes less effective. Our heart rate slows down. The reason the blood pressure goes up is because of the stiffness of the blood vessels. The blood pressure goes up because the heart is having to pump against this stiffer system. Although less blood is going around because the heart is beating less strongly and more slowly and because of the stiffness, less blood is going around. This doesn't really manifest as a major problem because the oxygen requirements become less because everything (the entire body) has slowed down in the hypothyroid person so all the tissues don't need as much oxygen.
There was an interesting study where they took a bunch of people who had their thyroid removed as a result of thyroid cancer who were on thyroid hormone replacement. When you deprive them of thyroid hormone replacement, their diastolic blood pressure (the lower value) went up in about 20 to 40 percent of patients. The average rise in blood pressure is around 6 millimeters of mercury for the top value and about 9 millimeters of mercury for the bottom value.
As the heart slows down, patients with hypothyroidism may be more prone to developing ectopic heartbeats, extra beats. We see more ectopics in patients with hypothyroidism because the heart has slowed down.

It's also worth noting another heart rhythm disturbance that can be seen in hypothyroidism is that, when the heart slows down, our QT interval will prolong. People who already have problems with their QT interval, who have long QT syndrome or people who are on lots of medications that prolong the QT or people who have underlying heart disease, are more prone to developing further prolongation of the QT. This can predispose them to a condition called Torsades de Pointes which is a risky and dangerous heart rhythm disturbance, but this is in a minority of cases.
Sometimes patients with heart rhythm disturbances are given a medication called Amiodarone. It contains iodine. One of the potential adverse effects is amiodarone-induced thyroid dysfunction (both hypothyroidism and hyperthyroidism).
For patients with heart failure and patients who already have pre-existing weak hearts, the development of hypothyroidism can make things worse. The heart is already not contracting as well and then hypothyroidism slows down the heart further and makes the contractions even less effective and it can exacerbate the symptoms of heart failure.
In patients who have angina, the presence of hypothyroidism actually helps. If you have angina, you have a supply and demand mismatch. When the heart needs more blood, it doesn't get the blood it needs and the patient complains of chest pain. In hypothyroidism, angina tends to get better because the body's requirements go down. The demand goes down and the demand and supply becomes more equal.
This is not to say that hypothyroidism is a safe condition because what we know is that the presence of hypothyroidism is quite inflammatory and it can accelerate heart artery narrowing if left untreated.
In particular, hypothyroid patients also develop problems with their cholesterol metabolism and they get very high levels of LDL cholesterol, VLDL cholesterol, total cholesterol, and triglycerides.
Patients with hypothyroidism also get blood pressure problems which again exacerbates the risk of developing stiffening of the blood vessels and the coronary arteries which leads to atheroma.
And we also find that, in patients with hypothyroidism, you can get elevated levels of homocysteine. Elevated homocysteine is a risk factor for heart disease.
Hypothyroid patients often get edema, swelling of their legs because of fluid in their legs, and the edema tends to be non-pitting. The way you can tell if the swelling is pitting or non-pitting is by pressing on the swelling. If your hand leaves an indentation that tells you that it is pitting. If it doesn't leave an indentation then that is non-pitting. Typically, hypothyroid patients tend to get non-pitting edema. Patients with proper heart failure, which is another condition where you get a lot of edema, tend to get pitting edema. The reason hypothyroid patients get edema is largely because hypothyroidism increases the deposition of glycosaminoglycan which absorbs fluid which leads to accumulation of water in the legs and feet.
As you correct the hypothyroidism, most of the cardiovascular abnormalities you see tend to normalize. There are two important messages here. Firstly, it is important to be aware of hypothyroidism and to be aware that it can come on with non-specific symptoms including cardiac symptoms. If you notice you are getting a bit more tired, you are putting on weight, you are depressed, it is always a good idea to get screened for thyroid disease. Secondly, if you do develop these cardiac symptoms, know that as you treat the thyroid these symptoms will often improve in cases of hypothyroidism.
About Sanjay Gupta, MD
Dr. Sanjay Gupta is a cardiologist practicing in York, England. He believes in making high quality, jargon-free, holistic information about heart health freely available to everyone in the world. His research has been published in a number of publications including the Journal of Cardiology, Annals of Clinical Biochemistry, Circulation, European Heart Journal, and Radiology. You can find Dr. Gupta on his website York Cardiology as well as his two YouTube channels More Than Just Medicine.