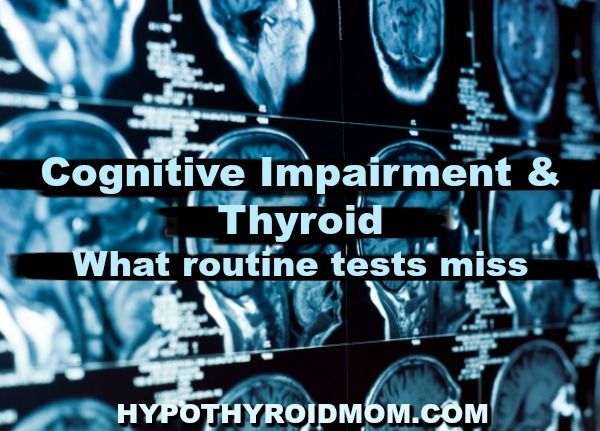 The number of people living with cognitive impairment in the United States is equal to twice the population of New York City. ~Centers for Disease Control and Prevention (CDC)[1]
Written by Raphael Kellman, MD
You are living with brain fog. You feel that something has changed in your brain, and you are exhausted and lacking energy. Maybe you've noticed memory impairment or confusion or lack of focus. Perhaps there are gastrointestinal issues. Or fatigue, anxiety, even depression. Sound familiar?
New research shows that there are multiple interconnected factors that lead to both a healthy or unhealthy brain state. This new research shows that there's an answer.
Scientists have identified Non-Thyroidal Illness Syndrome (NTIS) as one cause of low thyroid. In NTIS, the problem is not the thyroid itself but in the signals coming from the hypothalamus and the pituitary gland in the brain. In NTIS those signals are diminished. It's as if the body is going into low gear. This diminished communication results in a thyroid that isn't producing adequate hormone, and this in turn leads to hypothyroid disease. This occurs in states of protracted health issues such as depression, anxiety, gastrointestinal and microbiome dysfunction or chronic inflammation.
The problem is that routine tests can miss the cause of NTIS.
Scientists have found that the TRH Stimulation test is able to detect NTIS even when routine thyroid tests come back with "normal" results. The TRH Stimulation used to be administered routinely but for various reasons and for lack of appreciation of deeper testing, it's been limited to research centers.
NTIS can occur in many chronic illnesses, including:
Chronic anxiety
Depression
Colitis
Chronic inflammation
Chronic microbiome dysfunction (Note: Gut issues, including previous overuse of antibiotics or PPI's usually indicate chronic microbiome dysfunction)
Dementia
Alzheimer's
ICU patients
Other degenerative disorders
Again, this condition is not uncommon, but lab results can be elusive. Sometimes thyroid lab tests can appear completely normal.
NTIS can only be properly diagnosed through the TRH Stimulation Test.
TRH Stimulation Test
The TRH Stimulation Test is a different, even controversial, test to evaluate thyroid function. Once the gold standard for detecting low thyroid output, this test was abandoned in favor of the routine blood tests that measure T3, T4, and thyroid-stimulating hormone (TSH), which is produced by the pituitary gland. Produced in the hypothalamus, TRH, or thyrotropin-releasing hormone, acts on the pituitary to stimulate TSH production. Injecting TRH to stimulate the pituitary allows physicians to see what's happening in the pituitary gland.
I perform a stimulation test using thyrotropin-releasing hormone (TRH) when I suspect the presence of hypothyroidism in patients, especially older patients, with "normal" TSH levels. The TRH stimulation test is only to be conducted under the direct supervision of a physician. The test involves administering a small amount of TRH intravenously and measuring the changes in TSH level.
A Look at Thyroid Medication
Low levels of T3 thyroid hormone, within the normal range, have been found in patients with Alzheimer's Disease AD.[2] In 2018, a cross-sectional, case control study evaluated 40 outpatients with mild to moderate AD and 20 normal controls. The patients with AD had worse cognitive function and lower Free T3. Researchers suggested the potential efficacy of adjunctive T3 treatment.[3]
A large number of patients arrive at my office already taking a thyroid prescription, most often Synthroid or another T4 only medication. Unfortunately many of these people haven't gotten better even though they've been taking thyroid medication for years, even decades. After extensive testing, I frequently find there is a need for T3 supplementation as well as T4.
A very quick thyroid hormone lesson will help to explain the issues a bit better. The thyroid secretes 2 hormones that regulate the metabolism and energy levels of the body: triiodothyronine, known as T3, and thyroxine, known as T4. Only 10% to 20% of the hormone produced by the thyroid is T3, the active form. T4 is an inactive hormone that must be converted to T3 before the body can use it.
Conventional medicine tells us that T4 is the best choice medication because it is the one the thyroid gland creates itself in largest quantity. This model ignores the fact that there are many very common conditions that actually block T4 from converting to T3. Inflammation, stress, poor diet, digestive conditions, nutrient deficiencies, liver dysfunction, certain medications, or excessive alcohol use can all interfere with this conversion.
The Thyroid Gland & Cognitive Function
Thyroid status has received considerable attention over recent decades as a potential risk factor for cognitive impairment. This topic has been a hotbed of debate as conflicting results have emerged from research to date.
In 2018, a clinical review found that clinical and subclinical hypothyroidism as well as overt hyperthyroidism in middle-aged and elderly adults are both associated with decreased cognitive functioning.[4]
In a recent study utilizing functional neuroimaging, subjects with subclinical hypothyroidism had abnormal fMRI results in the frontal brain area with impaired verbal and spatial working memory. This study showed that a 6-month treatment with thyroid hormone replacement medication can improve memory impairment and reverse the altered neural activity network.[5] An F-18 FDG PET/CT study suggested that a cortical dysfunction in anterior cingulate and frontal lobes may affect serum values of TSH in Alzheimer's disease patients.[6]
In a 2018 study titled Cognitive Status in Hypothyroid Patients Before & After Attainment of Euthyroid State, researchers assessed the cognitive status of newly diagnosed overt hypothyroid patients compared with euthyroid controls. They found a significant overall improved performance in hypothyroid patients after they attained a euthyroid state with thyroid hormone replacement treatment.[7]
That these types of cases are largely reversible with proper thyroid diagnosis and treatment is of considerable importance. A reasonable approach would be to conduct a full evaluation of thyroid status in every case of cognitive impairment.
About Raphael Kellman, MD
Raphael Kellman, MD, graduate of Albert Einstein College of Medicine, pioneered a groundbreaking new branch of medicine and healing, seamlessly integrating holistic and functional medicine with his visionary understanding of bacteria, the world and nature, the root of who we are and its connection to health. Founder of "Microbiome Medicine", Dr. Kellman is recognized internationally as a leader in the field of microbiome medicine, and lectures frequently on the topic.
As medical director of the Kellman Center in New York City, Dr. Kellman specializes in thyroid disorders, gastro concerns, chronic fatigue, fibromyalgia, autism, anxiety, Lyme disease, cancer treatments, infertility, weight management, and unexplained malaise.