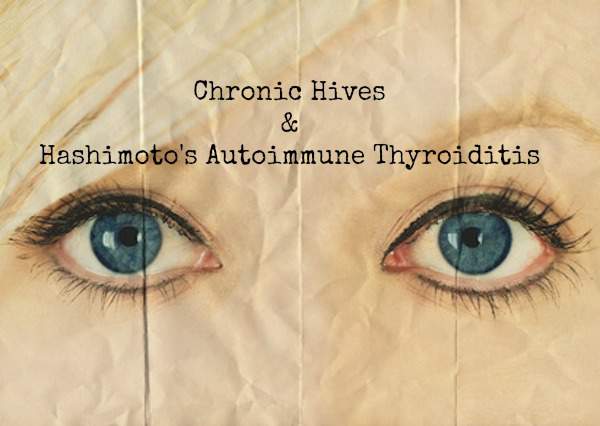 Whenever I hear from a Hypothyroid Mom reader struggling with itchy red welts known as hives, I ask them if they've had full thyroid testing including thyroid antibodies for Hashimoto's and the answer is too often NO.
Written by David Clark, DC
Let's talk about the connection between chronic urticaria and Hashimoto's autoimmune hypothyroidism.
Chronic idiopathic urticaria is a condition in which you get itchy wheals on your skin that can vary in size and number.
"Chronic" means that the condition has been going on for a quite a while, versus just a day or two.
"Idiopathic" means that the cause is unknown (or at least not known yet).
Urticaria can be caused by food alleriges or medications–but Chronic Idiopathic Urticaria appears NOT to be related to those mechanisms.
Chronic Idiopathic Urticaria (CIU) can be brought on by exercise or stress–and as we'll see in just a minute, Hashimoto's autoimmune hypothyroidism.
About 30 years ago there was the first research to see the connection between CIU and autoimmune thyroid disease. Then, a study released in 2011 picked up that topic again.
What is the connection between Chronic Idiopathic Urticaria and Hashimoto's?
The research shows that anywhere between 45% to 55% of people with Chronic Idiopathic Urticaria ALREADY have an autoimmune condition…they are making antibodies to IgE (immunoglobulin E) or the IgE receptor. IgE is a part of your immune system.
So, in many CIU patients, their immune system is attacking a part of their immune system!
If you're making antibodies to a piece of yourself and you're attacking it—that is autoimmunity.
Interestingly, the authors of this 2011 paper didn't really understand how there could be a connection between CIU and autoimmune thyroid. But, one of the researchers they quote described thyroid autoimmunity and CIU as "parallel autoimmune events." (I love that description).
In other words, Hashimoto's and Chronic Idiopathic Urticaria are both autoimmune conditions that can happen at the same time.
I look at that like this…
If you've already broken the tolerance to yourself, then you can start attacking anything.
And if you've already developed a situation in which you're attacking your thyroid… Hashimoto's, which causes low thyroid symptoms such as depression, constipation, weight gain, hair loss and brain fog…
…if you've already got Hashimoto's it's not that big of a leap to think that you could develop something like chronic urticaria because it's another autoimmune condition.
Likewise, if you first develop the skin problem of Chronic Idiopathic Urticaria, and then develop low thyroid symptoms you most likely have Hashimoto's as an autoimmune cause for your hypothyroidism.
FYI — Hashimoto's is the most common cause of hypothyroidism in the U.S.
The 2011 study found that 25% of chronic idiopathic urticaria patients had positive antibodies for Hashimoto's – 25%!
That is significant.
I wanted to share this with you because many times a woman will have symptoms and not realize that they're crucial clues about what's really causing their problems.
If you've ever been diagnosed with chronic idiopathic urticaria and you've now developed low thyroid symptoms, there's a good chance you have Hashimoto's.
Likewise, if you've already got Hashimoto's and you develop these short-lasting or even long-lasting itchy wheals that come and go–now you understand they likely are another symptom of your autoimmune condition.
These may be a sign that your autoimmune condition has expanded a little bit into another tissue—not a good sign. We don't want the autoimmune process to do that.
You need to find someone that can help you deal with the total package. Unfortunately, taking Synthroid or Cytomel or Armour or Nature-Throid for Hashimoto's doesn't do much to stop the raging fire of the autoimmune condition.
The same thing goes for the urticaria…
You can take steroids for it but that doesn't really solve the problem, right? It just temporarily suppresses your immune system.
What tests should they run for you to determine if you have Hashimoto's?
These two simple tests:
TPO Antibodies
TGB Antibodies
Most doctors typically don't run a full thyroid panel, which include antibodies, because in their mind they don't need to because they really only have one tool to offer you: replacement hormones like Synthroid or Armour.
But if you have Hashimoto's, the replacement hormones aren't very helpful in the long run.
Sure, you can enjoy a "hormone honeymoon" where you feel good for a few weeks or few months. Over time, your dosage keeps changing but you still feel bad.
I just wish that doctors would check for these things. I wish more doctors knew that there was something you can do for Hashimoto's on top of giving thyroid hormones:
Changing diet
Making sure the GI tract is healthy–not leaky
Decreasing inflammation and cytokine levels
Improving brain function
You have to be an advocate for yourself.
You have some powerful information now, so go find someone to get you tested.
And find someone who'll know what to do if you show up abnormal.
About David Clark, DC
Dr. David Clark found Chiropractic during his journey to change his own health and poor habits. In 2005 Dr. Clark became one of less than 1,000 board-certified Chiropractic Neurologists in the world. Chiropractic Neurology brings together current research findings from fields such as psychology, neuropsychiatry, neurology, neurophysiology and nutrition. Dr. Clark has lectured at leading chiropractic colleges, medical schools and private schools on topics such as alternative medicine, nutrition, neurology and learning/behavior problems such ADHD, Autism and Dyslexia. He specializes in treating Hashimoto's Autoimmune Thyroiditis at his Center for Low Thyroid Solutions in Durham, NC.
Reference:
Thyroid. 2011 Apr;21(4):401-10. Review.
READ NEXT: 92% of Hashimoto's patients are deficient in Vitamin D