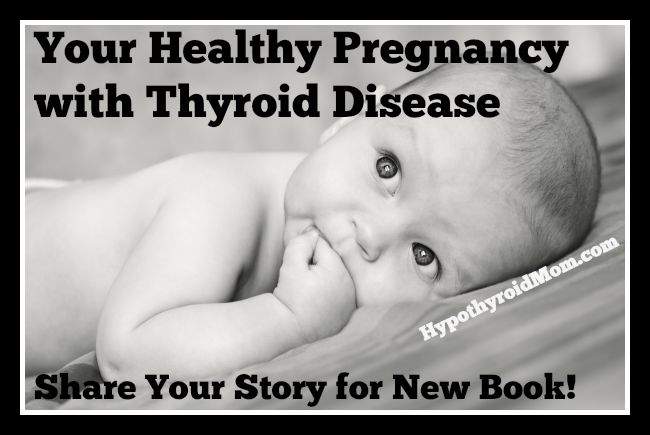 I am thrilled to announce that New York Times bestselling author Mary Shomon and I are co-authoring a new book, Your Healthy Pregnancy with Thyroid Disease: A Guide to Fertility, Pregnancy & Postpartum Wellness. I would love to include stories from my Hypothyroid Mom readers.
You may wonder why I created Hypothyroid Mom. There I was a woman with zero blogging experience and no clue how to use Facebook or Twitter. Who was I to think I could change the world?
The truth is I created Hypothyroid Mom out of pure rage.
In early 2009 I lost my unborn baby unnecessarily to maternal hypothyroidism. I trusted my award-winning, Ivey-League trained, New York City doctors to know how to treat my thyroid disease in pregnancy. I didn't question them, even when my symptoms were raging so high that I was struggling to stay awake, because I thought "doctor knows best". My TSH soared far above the recommended range for pregnancy endangering the life of my fetus and I miscarried.
I have to live with that regret for the rest of my life.
The day I lay on that medical exam table waiting for the D&C to remove my child a rage so deep filled me as I stared up at the ceiling. I vowed that moment to research all I could about thyroid disease in pregnancy and warn women everywhere.
After 6 years of extensive research and a quest to find the best thyroid experts in the world, I am now thankfully in the best health of my life. I got so thyroid healthy that at age 40 I gave birth to my second son Hudson in October 2010. The child that my doctors told me would never happen for me DID and I am forever grateful. My sons Benjamin and Hudson are the light of my life and I, Dana Trentini, have come from the depths of hell to this place of bliss.
I know there is hope to have healthy babies despite thyroid disease, because hope happened to me and I want the same for every woman with thyroid disease.
My vow will be fulfilled the day my new book Your Healthy Pregnancy with Thyroid Disease: A Guide to Fertility, Pregnancy & Postpartum Wellness releases in the Spring of 2016 from Perseus Books/Da Capo Press.
There is currently NO universal thyroid screening in pregnancy despite mounting evidence that thyroid disease is a danger to mother and fetus in pregnancy. It's time to stand up and say ENOUGH IS ENOUGH.
I can't go back and change what happened to my child no matter how much I long to do so, but what I can do is save babies in memory of my child. I know the day my book releases my child will look down on me and be proud of me.
The day I signed the contract with Perseus Books/Da Capo Press along with internationally-known thyroid advocate Mary Shomon my eyes were overflowing with tears that I could barely read the words. My book contract is filled with markings from my tears of sorrow and joy.
What will make this book extra special is to include stories from my Hypothyroid Mom readers who have made this book possible. I don't have words to express how thankful I am to have met you all. We meet people for a reason. I truly believe that. Even though we have only met online I know that we have come together for a very important reason and that is to make change so that not one more baby is unnecessarily harmed from thyroid disease.
Announcement: My book Your Healthy Pregnancy with Thyroid Disease released in June 2016. It is available online at Amazon.