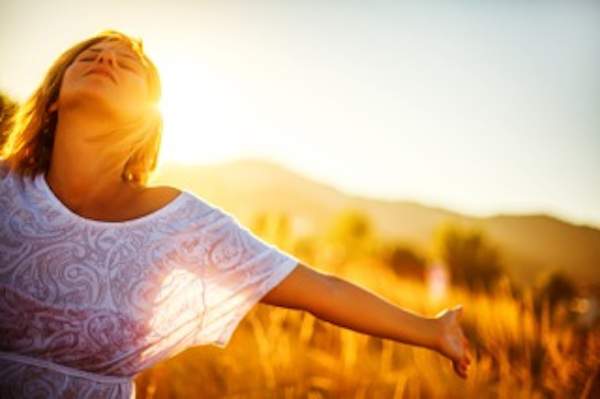 I was honored to be voted Runner-Up for Change The World: The Search For The Next Global Thought Leader sponsored by Ghost Tweeting last June. One of my fellow Global Thought Leaders was Michelle Madrid-Branch, founder of LetHerBeGreater.com. From the first time I connected with Michelle I knew she was an inspiring woman. Michelle has a positive spirit that glows. Turns out she is a fellow thyroid thriver. Michelle's story of Hashimoto's, Lupus, gluten allergy, and the metaphysical is so thought-provoking, I invited her to share her story at Hypothyroid Mom.
A Letter from Michelle Madrid-Branch, LetHerBeGreater.com
Dear Hypothyroid Friends,
I was diagnosed with Hashimoto's Thyroiditis (also known as Hypothyroidism) while in my early twenties. I believe I had this chronic illness much earlier, though. I recall in third grade that I was stricken with a sickness that no doctor could diagnose. For three weeks, it was virtually impossible for me to get out of my bed. My body felt weighed down, my throat swelled, and it frightened me.
"It's all in her head," our family pediatrician told my mother. He said the words right in front of me as if I wasn't even there. His words were cold, said almost with a mocking tone that made me feel humiliated. This doctor's words also made me feel ugly. I was in third grade and I felt ashamed.
After this meeting with our doctor, I vividly remember thinking to myself, If this is imaginary, why do people stare at my throat? Though I didn't ask this question out loud because I knew that my mother would not have encouraged this kind of defiance, the thought was persistent, something was definitely wrong with my body.
At the time, there was never any discussion of the thyroid, nor was there a diagnosis as to what had caused this strange three-week long health ordeal. There was only the professional medical determination that I, somehow, had created the symptoms in my mind.
Roughly one-month after the war within my body began, the symptoms calmed down and the swelling in my throat, although not completely gone, seemed better. Life went back to a normal pace and I returned to third grade.
Flash forward to my early twenties. I was a busy student who was feeling, once again, a strange exhaustion that crippled my ability to live an active lifestyle.
Getting out of bed was a challenge. I mean that!
I wanted to get up, go out, and live an energetic twenty-something kind of life – but my body was not able to meet that desire. I turned to a family physician for help. He just happened to be my eldest brother.
"We should check your thyroid," he said.
I'd never heard of the thyroid before, but soon learned that it is an endocrine gland found at the base of the neck. It's shaped like a butterfly and wraps around either side of the windpipe. Its purpose is to make, store, and release thyroid hormones into the blood. If you have too little of the thyroid hormone, your body slows down. This is a chronic illness known as hypothyroidism. Lab work confirmed that I was, indeed, "hypothyroid".
I began taking a medication called Synthroid that balanced my thyroid levels over the course of many years. Then, I had my first child. After pregnancy and delivery, my thyroid hormone levels shifted and I began a roller coaster ride that – ultimately – landed me on a new path to treatment.
I was living in Santa Fe, New Mexico and waking in the middle of the night with excruciating pain. My fingers and toes would stiffen at the joints and a burning sensation would travel through my arms, originating at my elbows.
My endocrinologist suggested that I see a rheumatologist, and referred me to a Houston-based doctor. I went. I took the tests. I listened. This is how the rheumatologist explained my lab results:
"Well, you've got what I term as the worst of the worst. Lupus. [A chronic, inflammatory causing disease] Your life, from here on out, will be about keeping the wild horses in the corral. That's all you can do. I suggest you begin taking a medication called Plaquenil. It's used to treat malaria and has proven effective in the treatment of Lupus. There is a potential side effect of damage to eyesight, but you really have no other choice but to take it. Come back in six months for follow-up testing. By the way, I like your boots."
With that, I was given a prescription for Plaquenil. I walked out of the rheumatologist's office, pressed my back against the wall and began to cry.
I don't want to take this medicine, but I have two little boys at home and they need their mommy to be better.
I sobbed a bit longer. Then, I pulled myself together, found the nearest pharmacy, and filled the prescription. I took my first dose before the plane left the ground.
For six months, I swallowed the medication. For six months, I still woke up in pain. Frustrated, I phoned a local doctor of oriental medicine (DOM). It was my first experience with eastern medical philosophy, and my first step toward healing.
Please note that this was – and – is my journey. I can only share with you what has worked for me, with the prayer that some shimmer of hope can be passed along.
I learned that Lupus is sometimes called the "great imitator". And, because of its wide range of symptoms, can sometimes be confused with other health problems.
My DOM did her own testing. I was astonished when the results came back! Lupus was not my diagnosis. Tests showed that I was, and am, highly allergic to gluten.
I soon learned that gluten is a protein found in most grains, cereals, and breads.
Could this allergy to gluten be, in some way, the cause of my current health condition, and even of my thyroid disease?
It seems that there is a strong link between the two. The very structure of the gluten protein, gliadin, closely resembles that of the thyroid gland. When gliadin breaks through the gut's barrier and enters the bloodstream, the immune system goes out to destroy it. Thyroid tissue is attacked.
I had eaten, all of my life, gluten containing foods and my system was attacking my thyroid. Indeed, my thyroid was being killed by friendly fire.
"You can begin to weed gluten slowly out of your diet, or you can go cold turkey, beginning today," my DOM explained. Cold turkey was my decision. I went directly to Whole Foods and began my journey into the world of gluten-free living.
Within ninety days of a strict gluten-free lifestyle, my Lupus-like symptoms disappeared. They simply vanished! Within six months, my blood work returned to normal and my thyroid levels were beginning to balance with no more than a gluten-free diet, and natural supplements prescribed by my DOM. I had energy. And I felt better than I had in years!
I consider myself an intuitive person. At the time, however, I wasn't living intuitively, even if this part of me was beginning to awaken. I sensed that a gluten-free diet was not my only course of treatment. Healing my thyroid and my body would also require "metaphysical" investigation.
I sensed that there was pain within me that was cutting off my ability to voice my own desires. Could my thyroid be acting like that of a catcher's mitt? Holding everything I wanted to say there in my throat because the ability to voice my true feelings had been cut off?
Author Louise Hay has suggested that the metaphysical root of thyroid disease begins with humiliation, and a feeling that I never get to do what I want to do. When is it going to be my turn?
I knew that for a very long while, I had been feeling overburdened about things for which I could do nothing about: 1. As an internationally adopted child growing up in the United States, trying to figure out why my first parents had abandoned me. 2. Trying to make sense of the senseless. 3. Trying to be the "perfect" adopted child so that no one else would ever abandon me again.
I existed in my head. I wasn't serving my higher good. Perhaps, my childhood pediatrician was – in some skewed way that totally lacked compassion, by the way – on the right path. I wasn't making symptoms up in my head, but my mind was cutting off my ability to live authentically. That is, until I began to let go of the past, began to clear the way for a spiritual healing that would facilitate a physical one.
There is no doubt that I was born with a predisposition to thyroid disease. I had also been conditioned, through my own personal story, to avoid acknowledging my voice. There was pain trapped within me and it needed to come out.
I went to see a Mauri healer, from New Zealand, who was visiting Santa Fe. I write about this encounter on my blog site, LetHerBeGreater.com, under the posting The Choice of Letting Go.
Ultimately, what this healer said to me on that day was this:
"Let your anger out and then let it go. If you do not, it will destroy you."
Anger, hurt, and pain trapped within was already destroying my thyroid. Would I allow it to go further? The answer was no. I was going to thrive, not just survive, through thyroid disease.
I have learned that thriving is the result of following both a practical and spiritual recipe:
Practical Application
An integrative approach, with practitioners who will work together in both an Eastern and Western medicine philosophy.
A gluten-free and dairy-free lifestyle, primarily focusing on a "Paleo Diet" of lean meats, vegetables, fruits, nuts, and seeds.
Use of only certified gluten-free skin care, hair products, and cosmetics. Remember, you are not only what you eat – you are also what you put on your skin, which is the largest "organ" of the body.
Spiritual Application
Daily meditation
Forgiveness
Love and nurture yourself
Let go of the past
Trust your body. Listen to your body!
I highly recommend doing your own research and creating a program that works for you. However, I have gained great diet insight from a book called, The Paleo Solution, by Robb Wolf. In addition, I have grown passionately green about the products I slather on my skin and lather in my hair. After much research, I have converted to using only gluten-free skin and hair care, along with cosmetics. Currently, I use the following brands:
ACURE Skin Care (Whole Foods) Love, Love, LOVE their Radical Resurfacing Cream!
Additional gluten-free hair care and skin care lines are also available at Whole Foods and other natural health stores.
Please take a few minutes and view The Story of Cosmetics.
[youtube]http://youtu.be/pfq000AF1i8[/youtube]
I believe a person can thrive through thyroid disease! I know that I am. How, you may ask, have I come to experience a heightened level of health after all the years of illness? In part it is because I refuse to allow hypothyroidism to diminish my quality of life. I honor the fact that my condition is a daily walk and that there will be up hill climbs from time to time. I no longer fight it! I listen to my body. Sometimes small changes, little edits, are all I need. Mostly, I trust my intuition.
I suggest that you remove from your body and mind what does not serve. Keep up on the latest thyroid research and maintain open communication with your medical team. Educate those around you. It's hard, I know, but your children and your significant other need to understand this disease. Extended family and friends need to be aware of what you are going through. You're not lazy – you're hypothyroid! You're not perfect – you're human!
Finally, don't walk alone. An estimated twenty million people in the US suffer from thyroid disease. We should strengthen this community, reach out to one another (thank you Hypothyroid Mom) and demand growing attention to the matter.
With love and a thriving spirit,
Michelle Madrid-Branch
Michelle Madrid-Branch is an award-winning author, fellow thyroid thriver, and founder of Let Her Be Greater to awaken women worldwide to their authentic beauty and inner treasure. The first thirty-three pages of Michelle's life story are not chronicled in a baby book created by proud and doting parents. Rather, these pages reveal the details of what it was to be a child of Spanish descent who was a ward of the United Kingdom Department of Social Services. Given over for adoption in her native land of England and adopted by an American family, at birth Michelle was saddled with tags of illegitimate, bastard, and difficult to place.