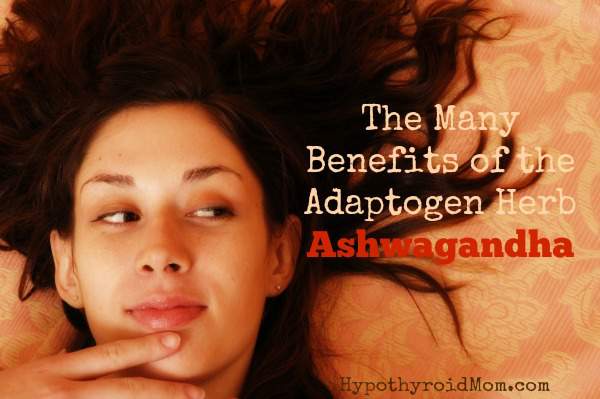 I've watched my thyroid health collapse during particularly stressful times in my life. With stress and the resulting adrenal fatigue key factors in my health condition, this blend of adaptogenic herbs including ashwagandha is a critical part of my thyroid treatment. This herb provides many potential benefits you should know about.
As with all thyroid treatments, there isn't one thing that works for everyone. I wish it was that simple. The truth is we're all individual in terms of how we react to different substances. What works for me may not for another. At Hypothyroid Mom I share the various things to explore in the hopes that you find what works for you too.
Written by Yusuf M. Saleeby, MD
An adaptogen herb in the nightshade family of plants Withania somnifera (AKA, Ashwagandha, Indian Ginseng, and winter cherry to name a few) has been used in Ayurvedic medicine for hundreds of years. The plant, roots, seeds, leaves and fruit, which is classified a berry, contain alkaloids, flavonoids and steroidal lactones. Most notably a substance called withaferin A which was first isolated along with sitoindosides 9 & 10 more recently discovered, all agents whose attributes to wellness and as an adaptogen are given. Ashwagandha finds its way into several stand-alone supplements for stress reduction and sleep, as well as one part of several other herbals or adaptogen herbs in proprietary blends for adrenal gland support and optimal Hypothalamus-Pituitary-Adrenal (HPA) function.
Adaptogens get their name as particular herbals (some 25 of all medicinal herbs) for their properties of adapting organisms to stress. They must maintain three general properties to obtain this distinction. Those being that they are not toxic substances, they must work on multiple physiological avenues and systems in an organism and lastly they must exact a balancing property. The balance or homeostasis by example would be a particular adaptogen herb at a certain dose would both lower blood glucose in a person with elevated serum glucose (a diabetic) and also raise the serum glucose levels in another individual with very low sugar levels (a hypoglycemic). The combination of all three principals must be met and are very unusual in the world of medicinal. I know of no pharmaceutical that actually possesses even two of these three properties.
An interesting aside is the culinary application of this plant's fruit as a substitute for rennet, an animal gut derived complex of enzymes used in making of cheese. W. somnifera is a vegetarian alternative to the animal derived rennet.
Medicinally this herbal has been used for cognitive enhancement and neuro protective properties for the treatment of anxiety and ADHD and cerebellar ataxia conditions. Researchers have studied its effects on diabetes and elevated cholesterol. There have been studies on reduction of tumor size and regression of cancer. It has use in male infertility, increasing sperm count and has been studied with positive effects on erectile function in men.
Ashwagandha has found its way into formulations to treat arthritis conditions as it imparts anti-inflammatory as well as analgesic properties. Dr. Kulkarni found Ashwagandha helpful with both control of pain and inflammation in osteoarthritis participants. Pain scores and disability scores in this study dropped significantly.In 2012 Dr. Chopra demonstrated not only benefit of this herbal in combination with other Ayrevedic herbs "Shunthi-Guduchi" for relief of pain using a functional activity questionnaire pain score but also demonstrated a reduction in urinary cartilage collagen break-down products. There were no significant adverse side effects noted. It was also noted that a drop in serum hyaluronic acid, interleukin 1β, IL-6 and TNF-α (inflammatory markers) were appreciated.
Several studies published in peer-reviewed scientific journals purport effectiveness in reducing tumors showing its anti-neoplastic properties. Others report a reduction in inflammation, stress (adaptogenic properties) and ulcers. A 2003 animal study established the fact that W. somnifera like the other adaptogen herbal Panax ginseng ameliorated the chronic stress induced animals by correcting hyperglycemia, glucose intolerance, reducing cortisol levels and gastric ulcerations. It also demonstrated an improvement in cognitive deficits, mental depression and immune-suppression. Studies have been repeated successfully in the human models.
Clinicians prescribe this herbal to aid their patients suffering from fibromyalgia conditions as well as to bolstering their immune system. It has characteristics that increase the function of the thyroid gland and production of thyroxine and triiodothyronine, the two principle thyroid hormones.
It has even been researched as a remedy for reducing the dependence and halting the tolerance to pain medication. It has found its way in complementary treatments for the addiction to opiate medications.
Dosing depends on the individual and what in particular is being treated, but a typical starting dose of 500 mg of standardized pharmaceutical grade once to twice daily is the norm. No more than 1000 mg twice daily is suggested. Length of use is safe for months at a time.
There are a few cautions to be considered with any herbal or therapy. Ashwagandha may cause lowering of blood glucose levels so care with folks on sugar lowering medications should be exercised. It may cause either an elevation or a lowering of blood pressure. Drops in blood pressure in those taking medication for hypertension can be of particular concern, so appropriate monitoring should be implemented. Those with stomach ulcers should use caution as it can cause gastrointestinal irritation. Prior to surgery that requires anesthesia this herb should be stopped two-weeks in advance as it may cause central nervous system depression with anesthetics. Ashwagandha is not recommended for use in pregnancy. Use cautiously if you are sensitive to nightshades. Those on thyroid hormone replacement therapy should also exercise caution, as this herb may cause an increase in hormone levels and thyroid function.
There are also some interactions with prescription medications. Chief is the sedative effect when taken with benzodiazepines such as diazepam or lorazepam. Also additive effects of somnolence are noted with phenobarbital and zolpidem. If one is on an immunosuppressant drug, than there are certainly suppressive effects associated with this herb that counteract these drugs' properties as it promotes immune function.
Ashwagandha is a superb choice of adaptogen herb for the treatment of stress and stress induced illnesses. Ashwagandha is generally regarded as safe and effective for a wide number of medical conditions, but it is still highly suggested to have it managed by a qualified practitioner.
About Yusuf M. Saleeby, MD
Yusuf M. Saleeby, MD is an integrative practitioner Carolina Holistic Medicine in Charleston & Murrells Inlet, South Carolina. He utilizes herbals from several traditional medical cultures to aid in promoting wellness and reducing the dependence on prescription medications.
READ NEXT: HYPOTHYROIDISM SYMPTOMS ON YOUR HANDS
References:
http://www.altmedrev.com/publications/5/4/334.pdf (Accessed 9/28/2014)
Ahumada F, Aspee F, Wikman G, and et al. Withania somnifera extract. Its effect on arterial blood pressure in anaesthetized dogs. Phytotherapy Research 1991;5:111-114.
Ambiye VR., L. Deepak Langade, et. al., Clinical evaluation of the Spermatogenic Activity of the Root Extract of Ashwagandha in Oligospermic Males. Evid Based Complement Alternat Med. 2013; 2013: 571420.
Anbalagan K and Sadique J. Withania somnifera (ashwagandha), a rejuvenating herbal drug which controls alpha-2 macroglobulin synthesis during inflammation. Int.J.Crude Drug Res. 1985;23(4):177-183.
Anbalagan, K. and Sadique, J. Influence of an Indian medicine (Ashwagandha) on acute-phase reactants in inflammation. Indian J Exp Biol. 1981;19(3):245-249.
Begum, V. H. and Sadique, J. Long term effect of herbal drug Withania somnifera on adjuvant induced arthritis in rats. Indian J Exp Biol. 1988;26(11):877-882.
Bhat, J., Damle, A., Vaishnav, P. P., Albers, R., Joshi, M., and Banerjee, G. In vivo enhancement of natural killer cell activity through tea fortified with Ayurvedic herbs. Phytother.Res 2010;24(1):129-135.
Bhattacharya, S. K. and Muruganandam, A. V. Adaptogenic activity of Withania somnifera: an experimental study using a rat model of chronic stress. Pharmacol Biochem.Behav 2003;75(3):547-555.
Bhattacharya, S. K., Bhattacharya, A., Sairam, K., and Ghosal, S. Anxiolytic-antidepressant activity of Withania somnifera glycowithanolides: an experimental study. Phytomedicine 2000;7(6):463-469.
Chopra A, Saluja M, et.al.,.Evaluating higher doses of Shunthi – Guduchi formulations for safety in treatment of osteoarthritis knees: A Government of India NMITLI arthritis project. J Ayurveda Integr Med. 2012 Jan;3(1):38-44.
Cooley K, Szczurko O, Perri D, et al. Naturopathic care for anxiety: a randomized controlled trial ISRC TN78958974. PLoS One 2009;4:e6628.
Davis, L. and Kuttan, G. Effect of Withania somnifera on DMBA induced carcinogenesis. J Ethnopharmacol. 2001;75(2-3):165-168.
Davis, L. and Kuttan, G. Immunomodulatory activity of Withania somnifera. J Ethnopharmacol. 2000;71(1-2):193-200.
Deocaris, C. C., Widodo, N., Wadhwa, R., and Kaul, S. C. Merger of ayurveda and tissue culture-based functional genomics: inspirations from systems biology. J.Transl.Med. 2008;6:14.
Devi, P. U. Withania somnifera Dunal (Ashwagandha): potential plant source of a promising drug for cancer chemotherapy and radiosensitization. Indian J Exp Biol 1996;34(10):927-932.
Dhuley, J. N. Adaptogenic and cardioprotective action of ashwagandha in rats and frogs. J Ethnopharmacol. 2000;70(1):57-63.
Ghosal S, Lal J, Srivastava R, and et al. Immunomodulatory and CNS effects of sitoindosides 9 and 10, two new glycowithanolides from Withania somnifera. Phytotherapy Research 1989;3(5):201-206.
Katz M, Levine AA, Kol-Degani H, Kav-Venaki L. A compound herbal preparation (CHP) in the treatment of children with ADHD: a randomized controlled trial. J Atten Disord 2010;14:281-91.
Kaur, K., Rani, G., Widodo, N., Nagpal, A., Taira, K., Kaul, S. C., and Wadhwa, R. Evaluation of the anti-proliferative and anti-oxidative activities of leaf extract from in vivo and in vitro raised Ashwagandha. Food Chem.Toxicol. 2004;42(12):2015-2020.
Kulkarni RR, Patki PS, Jog VP, et al. Treatment of osteoarthritis with a herbomineral formulation: a double-blind, placebo-controlled, cross-over study. J Ethnopharmacol 1991;33:91-5.
Kulkarni, S. K. and Dhir, A. Withania somnifera: an Indian ginseng. Prog.Neuropsychopharmacol.Biol.Psychiatry 7-1-2008;32(5):1093-1105.
Kurapati, KR, Atluri, VSR, et.al., Ashwagandha Reverses β-Amyloid1-42 Induced Toxicity in Human Neuronal Cells: Implications in HIV-Associated Neurocognitive Disorders (HAND), PLoS One. 2013; 8(10): e77624.
Lu, L., Liu, Y., Zhu, W., Shi, J., Liu, Y., Ling, W., and Kosten, T. R. Traditional medicine in the treatment of drug addiction. Am J Drug Alcohol Abuse 2009;35(1):1-11.
Malviya, N., Jain, S., Gupta, V. B., and Vyas, S. Recent studies on aphrodisiac herbs for the management of male sexual dysfunction–a review. Acta Pol.Pharm. 2011;68(1):3-8.
Mamidi, P., Thakar Ayu, AB., Efficacy of Ashwagandha (Withania somnifera Dunal. Linn.) in the management of psychogenic erectile dysfunction. 2011 Jul-Sep; 32(3): 322–328.
Mikolai, J., Erlandsen, A., Murison, A., Brown, K. A., Gregory, W. L., Raman-Caplan, P., and Zwickey, H. L. In vivo effects of Ashwagandha (Withania somnifera) extract on the activation of lymphocytes. J.Altern.Complement Med. 2009;15(4):423-430.
Misico, R. I., Nicotra, V. E., Oberti, J. C., Barboza, G., Gil, R. R., and Burton, G. Withanolides and related steroids. Prog.Chem.Org.Nat.Prod. 2011;94:127-229.
Mohan, R., Hammers, H. J., Bargagna-Mohan, P., Zhan, X. H., Herbstritt, C. J., Ruiz, A., Zhang, L., Hanson, A. D., Conner, B. P., Rougas, J., and Pribluda, V. S. Withaferin A is a potent inhibitor of angiogenesis. Angiogenesis. 2004;7(2):115-122.
Panda S, Kar A. Changes in thyroid hormone concentrations after administration of ashwagandha root extract to adult male mice. J Pharm Pharmacol 1998;50:1065-68.
Panda S, Kar A. Withania somnifera and Bauhinia purpurea in the regulation of circulating thyroid hormone concentrations in female mice. J Ethnopharmacol 1999;67:233-39.
Pingali, U., Pilli, R., Fatima,N., Effect of standardized aqueous extract of W. somifera on tests of cognitive and psychomotor performance in healthy human participants. Pharmacognosy Res. 2014 Jan-Mar; 6(1): 12–18.
Saleeby, YM., Wonder Herbs: A guide to three adaptogens. Xlibris, 2006.
Sehgal, V. N., Verma, P., and Bhattacharya, S. N. Fixed-drug eruption caused by ashwagandha (Withania somnifera): a widely used Ayurvedic drug. Skinmed. 2012;10(1):48-49.
Singh N, Nath R, Lata A, and et al. Withania Somnifera (ashwagandha) a rejuvenating herbal drug which enhances survival during stress (an adaptogen). Int.J.Crude Drug Res. 1982;20:29-35.
Singh, R. H., Narsimhamurthy, K., and Singh, G. Neuronutrient impact of Ayurvedic Rasayana therapy in brain aging. Biogerontology. 2008;9(6):369-374.
Sriranjini SJ, Pal PK, Devidas KV, Ganpathy S. Improvement of balance in progressive degenerative cerebellar ataxias after Ayurvedic therapy: a preliminary report. Neurol India 2009;57:166-71.
Tohda, C. [Overcoming several neurodegenerative diseases by traditional medicines: the development of therapeutic medicines and unraveling pathophysiological mechanisms]. Yakugaku Zasshi 2008;128(8):1159-1167.
Upton R, ed. Ashwagandha Root (Withania somnifera): Analytical, quality control, and therapuetic monograph. Santa Cruz, CA: American Herbal Pharmacopoeia 2000:1-25.
Vaishnavi, K., Saxena, N., Shah, N., Singh, R., Manjunath, K., Uthayakumar, M., Kanaujia, S. P., Kaul, S. C., Sekar, K., and Wadhwa, R. Differential activities of the two closely related withanolides, Withaferin A and Withanone: bioinformatics and experimental evidences. PLoS.One. 2012;7(9):e44419.
Vanden Berghe, W., Sabbe, L., Kaileh, M., Haegeman, G., and Heyninck, K. Molecular insight in the multifunctional activities of Withaferin A. Biochem.Pharmacol. 11-15-2012;84(10):1282-1291.
Ven Murthy, M. R., Ranjekar, P. K., Ramassamy, C., and Deshpande, M. Scientific basis for the use of Indian ayurvedic medicinal plants in the treatment of neurodegenerative disorders: ashwagandha. Cent.Nerv.Syst.Agents Med.Chem. 9-1-2010;10(3):238-246.