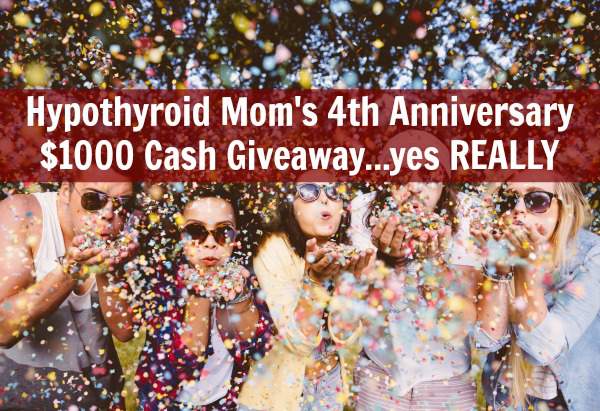 It's HERE!
HYPOTHYROID MOM'S
4th ANNIVERSARY!
Let's CELEBRATE with
an ENTIRE MONTH
of GIVEAWAYS!
Today is a very emotional day for me. This day four years ago October 1st, 2012, I woke up very early to make sure my blog was ready for its debut. When it went live that morning friends and family visited my site for the first time and shared it with all their friends and family. By the end of the day I was amazed at all the comments my first Hypothyroid Mom blog post Have You Suffered A Miscarriage? Your Thyroid Could Be To Blame received. I am thankful to all the special people in my life who made the first day of Hypothyroid Mom a success. I am a lucky girl to have such great family and friends.
When I launched Hypothyroid Mom I had no idea the impact it would have all across the globe. For years I had dreams of a blog that would bring hypothyroidism sufferers together from all across the world. I had dreams of a blog that would reach each and every one of you to let you know you are not alone. I hesitated though because I honestly wasn't sure that a blog could really make a difference in people's lives.
I decided to take a leap of faith and create Hypothyroid Mom and you know what? Yes a blog can make a difference…it can ACTUALLY shake the world.
Hypothyroid Mom has 2,858,235 monthly pageviews with 896,019 monthly unique visitors from 217 countries in the world.
Thanks to all of you, Hypothyroid Mom is even better than I dreamed.
So now it's time to celebrate our fourth anniversary with a month of giveaways to let you know how much I appreciate your support. This anniversary month of giveaways every October has become a tradition at Hypothyroid Mom and I love it. All month long I will have new surprises, so be sure to visit throughout the month to join Hypothyroid Mom's 4th Anniversary GIVEAWAYS!
Let's get started.
Hypothyroid Mom's 4th Anniversary…$1000 CASH Giveaway
There are 300+ hypothyroidism symptoms that can affect us. On top of the thyroid medication we pay for each day, we may have a number of additional medications, copays, supplements, herbs, special foods, out-of-pocket doctors, lab tests and more that cost money out of our pockets. It is expensive to be a hypothyroidism patient and I know it.
I thought long and hard about this first giveaway. I wanted a prize that would make a difference in a hypothyroid person's life living anywhere in the world. This is the perfect prize.
One lucky person will win $1000 CASH (U.S. dollars)…yes REALLY.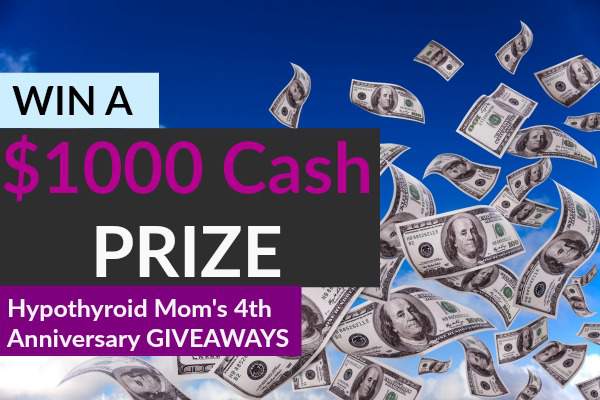 Enter for your chance to win by completing this form below. Your entry is free and everyone in every country of the world is invited to participate. The giveaway will end on Wednesday, October 12, 2016 at 12PM ET. The winner will be contacted by email and listed here in this post.
Remember to refer a friend to participate in the giveaway. After you complete one of the entry options in the form below, a 'Bring Your Friends!' entry option will appear that will give you a unique URL that you can share with your friends. For each friend that enters the giveaway through that unique URL, you will receive +1 entry into the giveaway. You can refer up to 10 people for the giveaway.
If you have difficulty entering the giveaway on a mobile device, try turning your mobile horizontally so that the giveaway fits on the screen with the login button visible.
This giveaway ended on October 12, 2016 at 12PM Eastern.