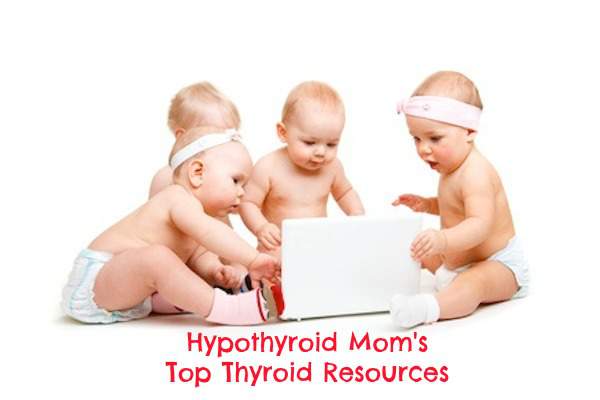 After 6 years of intense research and a quest to find the top thyroid health experts, I am in the best health ever. Dreams do come true for hypothyroid moms. I spent countless hours online searching for the most valuable information. Here is a list of top resources that every person with hypothyroidism (and every person who suspects they have it) should check out. I hope the creators of these resources know what a difference they make in people's lives, including mine. A thank you to all of them.
About.com Thyroid Disease
Patient advocate and author Mary Shomon is About.com's Thyroid Guide since 1997. What do I say about a woman who I credit for helping me get pregnant with my second child despite my hypothyroidism? There are no words to thank Mary enough for what she has done for me. I happen to come across Mary's book Living Well with Hypothyroidism: What Your Doctor Doesn't Tell You…That You Need to Know and it changed my life. Mary is also author of the New York Times bestselling book The Thyroid Diet Revolution.
Gena Lee Nolin
Actress and model Gena Lee Nolin, who starred on the popular TV series "Baywatch", has gone public with her struggle with Hashimoto's disease and hypothyroidism. Her book Beautiful Inside and Out: Conquering Thyroid Disease with a Healthy, Happy, "Thyroid Sexy" Life with thyroid advocate Mary Shomon is excellent.
ThyroidChange
ThyroidChange unifies the international thyroid community (patients, organizations, groups, blogs, websites and physicians) and mainstreams the voice of thyroid patients who are left symptomatic and not being assessed or treated with current options.
Sick to Death!
Sick to Death! is a documentary-in-progress by Award-winning filmmaker Maggie Hadleigh-West. It seeks to understand and change the corrupt medical practices around thyroid disease. It give me goose bumps to know I will be part of this film.
Suzy Cohen
Suzy Cohen's fans call her America's Most Trusted Pharmacist. Suzy is author of the book Thyroid Healthy.
Dr. Izabella Wentz
I am a bookworm. I had the pleasure of reading Dr. Izabella Wentz's New York Times bestselling book Hashimoto's Thyroiditis: Lifestyle Interventions for Finding and Treating the Root Cause and I loved it.
Dr. Kent Holtorf
The Holtorf Medical Group website has an informative blog on thyroid disease. Dr. Holtorf is also the medical director of the non-profit National Academy of Hypothyroidism.
Dr. Datis Kharrazian
Dr. Datis Kharrazian is a sought after Hashimoto's expert and author of a book that blew my mind Why Do I Still Have Thyroid Symptoms? When My Lab Tests Are Normal.
Dr. Alan Christianson
Dr. Alan Christianson is a Naturopathic Doctor who specializes in natural endocrinology with a focus on thyroid disorders. He is the author of the book Healing Hashimoto's: A Savvy Patient's Guide
.
Dr. Steven Hotze
Dr. Steven Hotze, author of the book Hypothyroidism, Health & Happiness, has a great list of videos on hypothyroidism, adrenal fatigue and bioidentical hormones at the Hotze Health & Wellness Center website.
Dr. Weston "Wiggy" Saunders
Dr. Wiggy is an integrative thyroid physician helping people regain control of their thyroid health. He provides informative thyroid articles.
Dr. Mark Hyman
Dr. Mark Hyman is currently medical editor at the Huffington Post and on the Medical Advisory Board at The Doctor Oz Show. He is author of 8 New York Times best sellers including The Blood Sugar Solution 10-Day Detox Diet.
Sarah Wilson
Sarah Wilson is an Australian author, TV host, blogger and wellness coach. She's the former editor of Cosmopolitan magazine and was the host of the first series of MasterChef Australia. Sarah has Hashimoto's and she writes excellent articles on thyroid disease. She is author of the New York Times bestseller I Quit Sugar.
Stop The Thyroid Madness
Janie Bowthorpe's Stop The Thyroid Madness is a thyroid patient-to-patient website based on successful patient experience and wisdom from the last ten years. Janie is author of the book Stop the Thyroid Madness: A Patient Revolution Against Decades of Inferior Treatment
.
Thyroid Petition Scotland
Lorraine Cleaver is a thyroid and hypoparathyroid patient. She petitioned the Scottish Parliament with Sandra Whyte and Marian Dyer for better thyroid testing and treatment. I love following Lorraine's Paper.li #Thyroid News which is an online newspaper that provides comprehensive thyroid information.
Thyroid UK
Thyroid UK provides information and resources to promote effective diagnosis and appropriate treatment for people with thyroid disorders in the UK.
Helle Sydendal – Denmark
Danish author Helle Sydendal advocates on the behalf of thyroid patients in Denmark for the need for change in the treatment of thyroid disease on her website Lavtstofskifte.info.
Stofskiftesupport
Stofskiftesupport is a Danish non-governmental Thyroid Patient organization. The website Stofskiftesupport.dk was started by Hashimoto's patient Anett Kromann and is a collection of articles mainly translated from English for Danish thyroid patients; brain-fog makes it difficult for many to read the English originals, so Danish translations were much needed. Anett and Joan Lowe also run a facebook group called Stofskiftesupport for Danish thyroid patients as well as as arranging various events, demonstrations and much more all around Denmark often in collaboration with Scandinavian, European and international patient groups.
ThyCa: Thyroid Cancer Survivors' Association
ThyCa Thyroid Cancer Survivors' Association is a non-profit organization of thyroid cancer survivors, family members, and health care professionals.  The site maintains current information about thyroid cancer and support services available to people at any stage of testing, treatment, or lifelong monitoring for thyroid cancer, as well as their caregivers.
Healthy Thyroid Lady
Carol Gray, the Healthy Thyroid Lady, wrote a great book WOW, Your Mom Really is CRAZY about coping with thyroid disease.
Stacey Robbins
Stacey Robbins is the author of the fabulous book You're Not Crazy And You're Not Alone: Losing the Victim, Finding Your Sense of Humor, and Learning to Love Yourself Through Hashimoto's.
Butterflies & Phoenixes
Sarah Downing was diagnosed with Hashimoto's Thyroiditis. She is a wonderful writer. Her chronic illness blog Butterflies & Phoenixes spreads positivity and hope. When you read her articles you feel that you are not alone.
Thyroid Nation
Danna Bowman is the founder of Thyroid Nation. She is a Hashimoto's sufferer and advocate living in Costa Rica.
Thyroid Loving Care
Jen Wittman from Thyroid Loving Care is a Thyroid/Autoimmune coach. She is author of the guide The Super-Mom's Guide to Managing Life with Thyroid & Autoimmune Disease without Going Bonkers.
Hashimoto's Healing
Marc Ryan discovered he had the autoimmune diseases ankylosing spondylosis and Hashimoto's. Today Marc runs a busy practice in Los Angeles where he uses a mix of Eastern and Western medicine called functional medicine to help his clients with autoimmune disease.
Thyroid Survivor Network
The Thyroid Survivor Network is a patient advocacy group seeking to raise awareness and provide support for thyroid disease survivors.
Thyroid Mom
Blythe Clifford is a mother of two boys, both born with Congenital Hypothyroidism. Blythe was diagnosed with Hashimoto's and her husband with Graves' Disease. Her blog Thyroid Mom raises awareness of Congenital Hypothyroidism.
HypoMan
Robert Chapman from Cambridge, UK is HypoMan. I had tears in my eyes the first time I saw Robert's video A Face of Thyroid Disease.
Zen Thyroid
After years of being misdiagnosed and developing a total distrust of the medical system, Zen Thyroid is grateful that her healing process has begun. She can be found on Twitter @ZenThyroid.