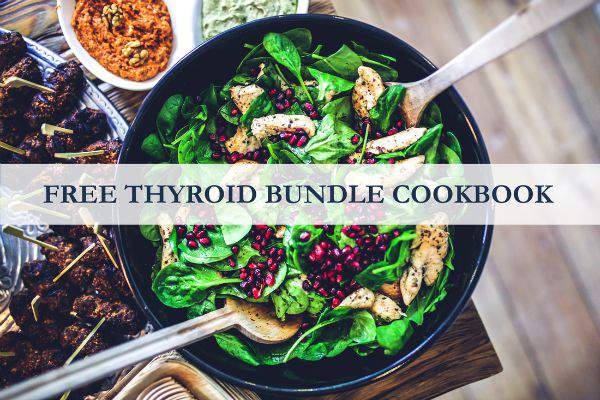 Many of you have been asking me for specific recipes that would help you on your thyroid journey. I'm so excited to let you know about the Free Thyroid Bundle Cookbook.
A few months ago, my friend and thyroid pharmacist, Dr. Izabella Wentz let me know about an exciting project she was working on.
The Thyroid Bundle Cookbook contains over 100 delicious gluten, dairy and soy free recipes from her and her favorite thyroid and nutrition experts, and you can get it for free TODAY July 22 until 11:59pm PST HERE.
In addition to recipes, Izabella has also been working on putting together the first ever Thyroid Bundle!
She has collected an amazing library of practical tools, eBooks, eCourses and coupons worth more than $1300 from the same experts to help support you on your thyroid journey that will be offered for a huge discount, as part of the Thyroid Bundle.
Here are some tools I think you'll really enjoy:
Overcoming Thyroid Fatigue eBook– by Dr. Izabella Wentz- fatigue was the most debilitating symptom that she experienced with her thyroid condition (for me personally the thyroid fatigue was so crushing that I struggled to make it through each day). Izabella has summarized her most helpful strategies to overcoming fatigue in this simple and easy to read eBook, including some of the supplements that helped her virtually overnight! ($17 value)
Optimizing Thyroid Medication eBook– by Dr. Izabella Wentz- Izabella has been working with medications for more than half of her life. She started as a pharmacy technician at age 16, and is passionate about using medications appropriately. Getting your thyroid medications right can make a world of difference. In this eBook, she covers everything you need to know about thyroid medications, from understanding your labs to dosing protocols, drug/food interactions, reactions to medications and the different types of medications that may work best for you and everything in between. This eBook will help you optimize your thyroid medications once and for all. ($22 value, not available anywhere else)
A Partner's Guide to Thyroid and Autoimmune Disease – I've found that the people who have the best outcomes with recovering their health have a solid support network. My friend Jen Wittman wrote this book to help the loved ones of those with thyroid disorders be more supportive. Great way to help your loved ones help you. ($47 value)
Mapping your Thyroid Signs and Symptoms – from nutritionist Andrea Nakayama, this eCourse will help you determine how to target your thyroid symptoms and prioritize ($67 value)
Paleo Crock Cooker Recipes – from SavingDinner.com's Leanne Ely. Leanne is the slow cooker queen who is now in Hashimoto's remission thanks to the Paleo diet. Keep a few of these slow cooker make-ahead meals in your freezer at all times to simplify your thyroid diet ($30 value)
Healing Hashimoto's: A Savvy Patient's Guide – from Dr. Alan Christianson eBook- World renowned thyroid doc, Dr. Christianson is sharing his wisdom from over 20 years of clinical practice in a super easy to read format. ($10 value)
Roadmap to Hashimoto's Remission eBook – from Marc Ryan, L.Ac – Marc is an acupuncturist who was able to reverse his Hashimoto's and now helps others do the same. This eBook is based on his experience with 500+ people with Hashimoto's. ($27)
Root Cause Testing 4-part video series – from Jordan Reasoner and Steve Wright, the guys at SCDLifestyle.com. Jordan and Steve are engineers who overcame their health issues and now help others do the same. This video series will help you figure out your autoimmune triggers. ($97 value)
Natural Beauty Guide – from Katie the Wellness Mama. Did you know that many personal care items contain hormone disrupting chemicals? Katie is the DIY queen and shares hundreds of DIY beauty recipes for non-toxic lotions, make-up and personal care products! This guide alone is worth more than the cost of the Thyroid Bundle ($39 value)
Plus much more, including helpful eBooks, meal-plans, eCourses and coupons, all valued at over $1300 for a fraction of the cost.
Grab your free cookbook and take a peak at the Thyroid Bundle HERE. Be sure to pay this forward and share with your friends and family!
The offer ends July 22 at 11:59pm PST. You don't want to miss this.