In honor of Hypothyroid Mom's first birthday, one lucky reader will win a FREE 30-minute telephone consult with thyroid expert Dr. Kent Holtorf, valued at $450!
I spent 3 years dreaming about Hypothyroid Mom.
I hesitated. Could a blog really change people's lives? Was my story important to share? Was it worthwhile to share the research I had uncovered? Were there others out there like me struggling with hypothyroidism?
October 1st, 2012 I took a leap of faith. I launched Hypothyroid Mom.
Holtorf Medical Group
When Hypothyroid Mom launched on October 1st, 2012, I hoped my blog would reach a few readers outside of my family and friends, but never did I imagine the number of people that it would reach in such a short time. I was blown away when thyroid expert Dr. Kent Holtorf, medical director of the non-profit The National Academy of Hypothyroidism and medical director of the Holtorf Medical Group, included @HypothyroidMom in his recommended list of people to follow on Twitter on a Friday in early November (#FF FollowFriday).
You can imagine my surprise when the Holtorf Medical Group contacted me recently about a prize in honor of Hypothyroid Mom's first birthday. They offered an individual 30-minute telephone consult with Dr. Kent Holtorf himself valued at $450! Goose bumps rose on my arms…
…because I knew that for one of my readers this prize would change their life forever.
Thank you Dr. Holtorf.
Holtorf Medical Group LIVE Facebook Chat with Hypothyroid Mom
In addition to this incredible prize for my giveaway, Holtorf Medical Group invited me to lead a LIVE Chat on their Facebook wall this Friday, October 25 at 9 AM (PDT) / 12 PM (EDT). What an honor.
I welcome you all to join me for my first ever LIVE Facebook chat. It's one hour live for me to answer all your questions. I would love to hear from you to say thank you for your support.
Join the LIVE Chat here -> Holtorf Medical Group Live Facebook Chat with Dana Trentini (aka Hypothyroid Mom)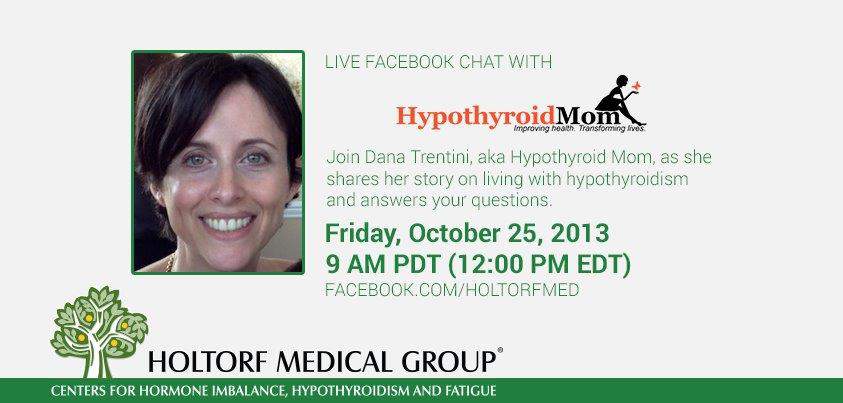 Hypothyroid Mom's 1st Birthday GIVEAWAY
In order to win the consult with Dr. Kent Holtorf you need to be Fans of both the Hypothyroid Mom and Holtorf Medical Group Facebook pages. If you are not already, you can easily become Fans when you enter the giveaway.
Enter for your chance to win by completing this form below. The giveaway will end on Tuesday, October 29 at 12PM EST. The winner will be contacted by email and listed here in this post.
Hypothyroid Mom Changing Lives!