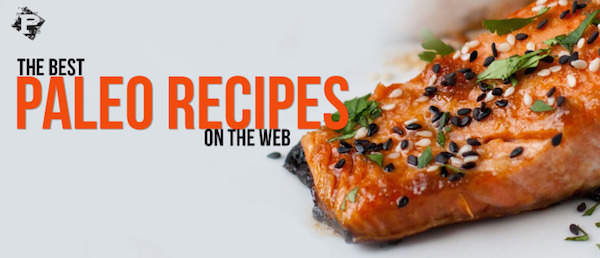 I've heard from so many fans on the Hypothyroid Mom Facebook page raving about Paleo changing their lives. I'm not a great cook so the idea of making these dietary changes was honestly very unsettling. What I've discovered very clearly since starting Hypothyroid Mom is that there isn't one thing right for every person. We're all so individual. Just the same I figured it would be worth a try.
I didn't plan in advance what foods I would eat in place of my favorite foods. I started buying and eating packaged foods in the gluten-free aisle and I really didn't feel good. I'm not a very good cook to be honest so I had no idea what recipes to try and how to make use of all the fresh foods available in the grocery store. I was stressed by the withdrawal symptoms and the lack of food to eat. My first attempt I just couldn't do it.
I decided to try it again but this time I was prepared and I've taken it slowly. I've found fabulous Paleo websites including Paleo Magazine filled with delicious recipes and that has made all the difference.
Written by Paleo Magazine
When you go Paleo, it can be easy to get stuck in the same eating rut, day after day, which is a fairly reliable way to burn out on it. At Paleo Magazine, we want to help you keep your Paleo lifestyle fresh, fun, and delicious, so we rounded up some of our favorite paleo recipes from blogs around the web. We can't wait for you to try them, and we'd love to hear about what you're cooking!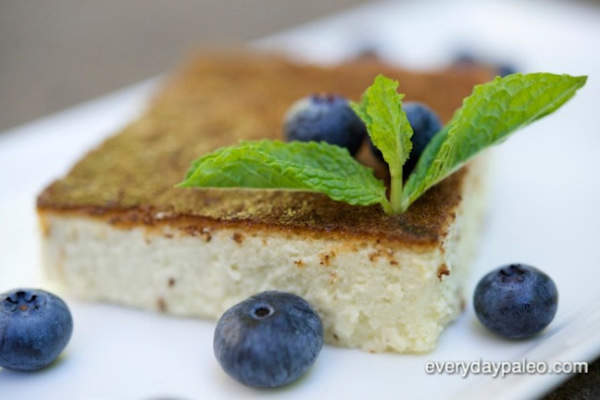 Jaden's Flan
website Everyday Paleo
book Everyday Paleo
Flan is typically made with non-paleo ingredients like white sugar and sweetened-condensed milk, but here, Everyday Paleo presents a recipe using wholesome coconut milk and eggs. The coconut adds such a lovely, welcome flavor–we think it's better than traditional flan!
---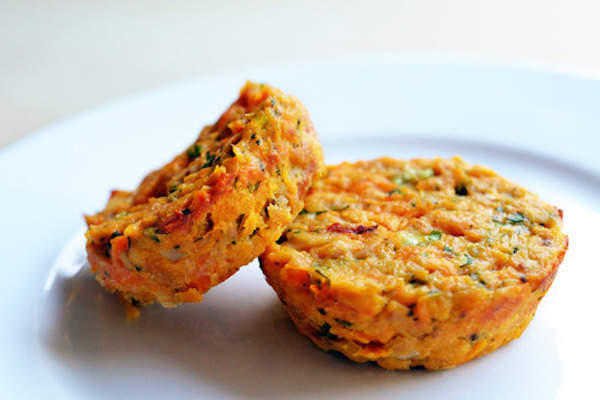 Spicy Tuna Cakes
website Nom Nom Paleo
book Nom Nom Paleo: Food For Humans
These easy, protein-rich tuna cakes are made from easy-to-find canned albacore tuna and paleo favorite, sweet potatoes! They bake up nice and crispy in nonstick muffin tins, making them easy to make in large batches. We love to make a big batch on a Sunday night and then eat these all week, ensuring we always have wholesome, high-quality, protein-rich snacks on hand.
---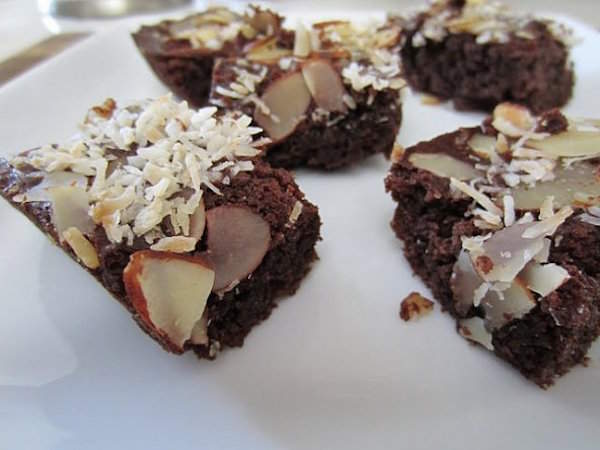 Coconut Chocolate Cake
website Civilized Caveman
book The Paleo Kitchen: Finding Primal Joy in Modern Cooking
When we committed to a Paleo diet, we figured cake was pretty much out for us. But this rich, chocolatey almond flour cake from Civilized Caveman showed us that we really can have our cake and eat it too. We love this served with a scoop of paleo coconut milk ice cream on the side.
---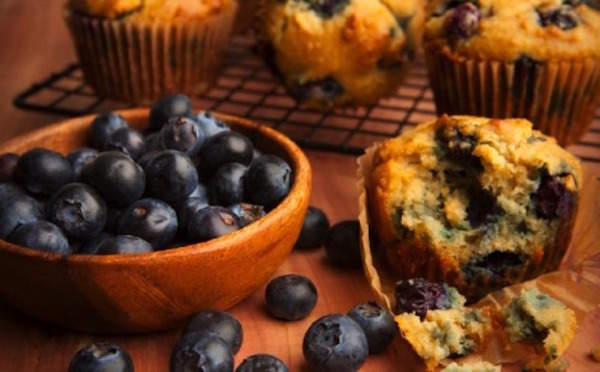 Blueberry Muffins
website Paleo Comfort Foods
book Quick & Easy Paleo Comfort Foods: 100+ Delicious Gluten-Free Recipes
Once again, it's almond flour for the win! These moist, tender muffins have all the benefits of healthy, low-sugar blueberries and fiber-rich almond flour, and their muffin form makes them easy to eat on the go. Oh, and, served with some lightly salted grass-fed butter, they are just about the most perfect afternoon snack on earth.
---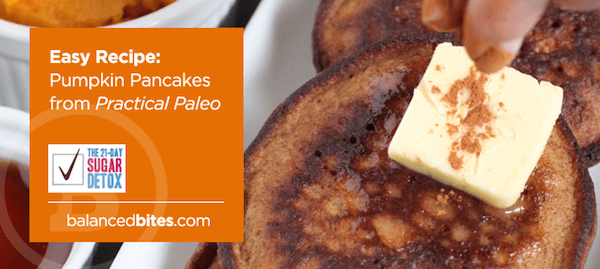 Pumpkin Pancakes
website Diane Sanfilippo's Balanced Bites
book Practical Paleo
These moist pumpkin pancakes taste like fall on a plate, but since pumpkin puree is available canned or boxed year-round, they can be yours any time. We love them with a small amount of fresh grass-fed butter and real maple syrup, as an occasional treat, but they're delicious with a light drizzle of coconut oil and a dash of salt as well. Oh, and they freeze like a dream, so make a big batch in advance, wrap tightly in foil or plastic wrap, and have pumpkin pancakes on hand for anytime the craving hits (and believe us, it will hit).
---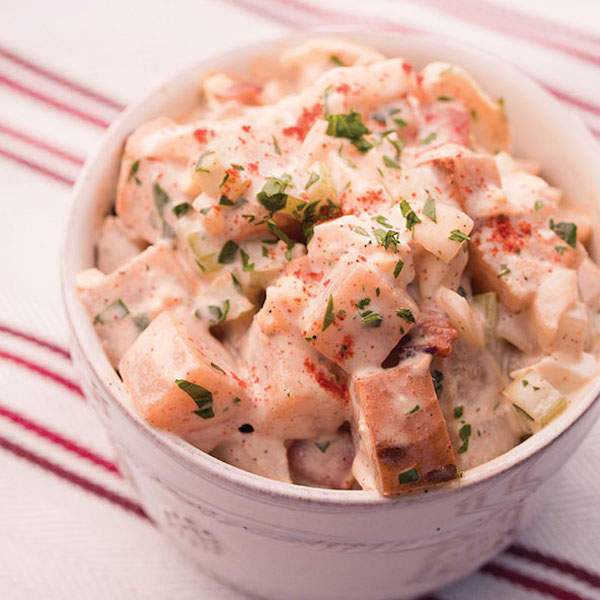 Classic Paleo Potato Salad
website The Clothes Make The Girl
book Well Fed: Paleo Recipes for People Who Love to Eat
We highly doubt your non-paleo friends will be able to tell the difference between this potato salad and conventional potato salad. But even if they do, they'll be too distracted by the delicious bacon in this one to care. We've also tried this one with sweet potatoes, and we highly recommend it.
---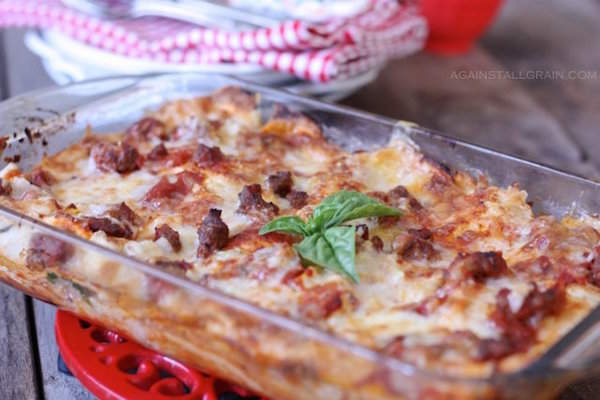 Grain-Free Lasagna
website Against All Grain
book Against All Grain: Delectable Paleo Recipes to Eat Well & Feel Great
Once you have all your ingredients assembled, this lasagne comes together quickly – and is a pretty amazing foil for the traditional kind. This recipe calls for making coconut flour crepes in advance, and using them as the tortillas. This takes a little time, but remember, it's all in pursuit of rich, lasagna goodness. It's important to note that this one contains cheese, so you'll want to skip it if you can't eat dairy.
---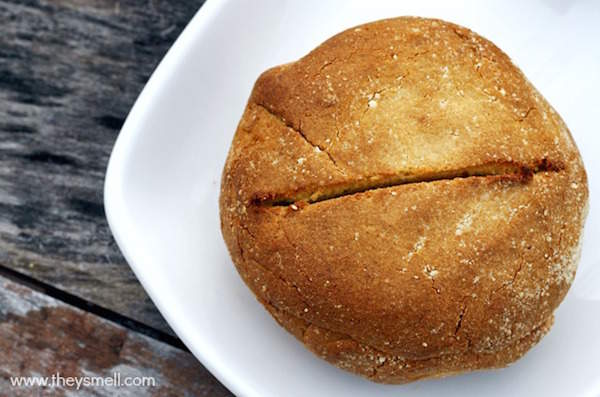 Rustic Grain-Free Paleo Bread
website What's That Smell?
We get it. Sometimes, you just want a nice slice of bread. A sandwich, perhaps? Or just a piece of toast with butter. Thanks to this life-changing recipe from What's That Smell, you can have it both ways—and with no weird flours or gums. Just your run of the mill Paleo staples, coconut and almond flours.
---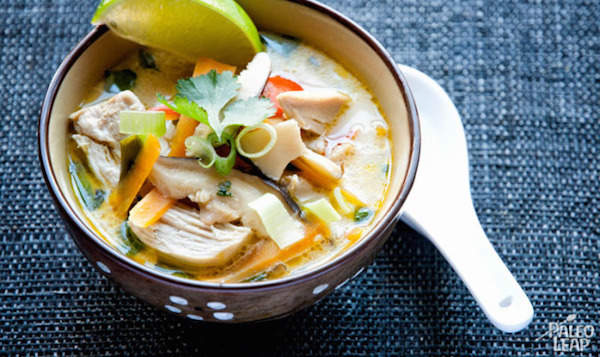 Thai Coconut Soup
website Paleo Leap
Coconut milk brings glorious richness to this soup, while somehow also keeping it light. It's brimming with flavor and high quality protein, thanks to the chicken, and is just the thing for a cool summer (or winter, or fall, or spring) evening.
---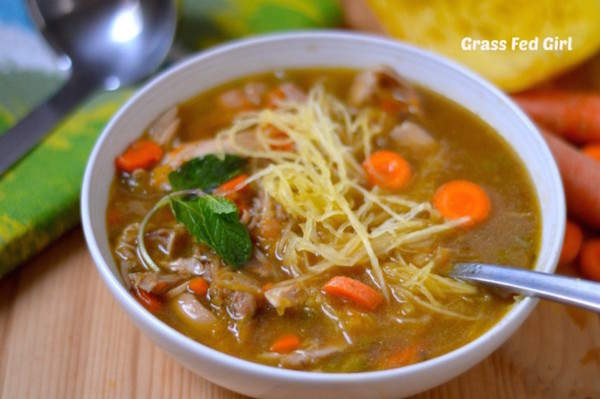 Grain Free Turkey Noodle Soup
website Grass Fed Girl
book Mediterranean Paleo Cooking
Regular noodles get the door-in-the-face treatment here, in favor of nutrient-dense spaghetti squash, bringing this turkey soup to new levels. We've also made it using leftover cooked chicken, with great results.
---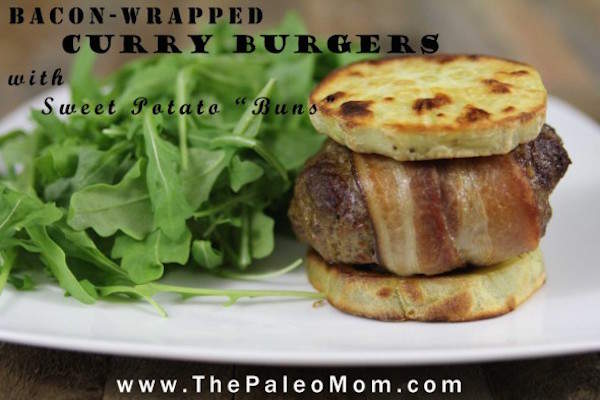 Bacon-Wrapped Curry Burgers with Sweet Potato "Buns"
website The Paleo Mom
book The Paleo Approach: Reverse Autoimmune Disease and Heal Your Body
These crazy-flavorful beef burgers (though the recipes says any ground meat will work—we think pork or chicken would be good too) are made easy to eat thanks to the genius sweet potato "buns" in the recipe. We found these to be so juicy that they hardly needed any condiments, but if you can't not doctor your burger up, a touch of spicy mustard would be delicious here.
---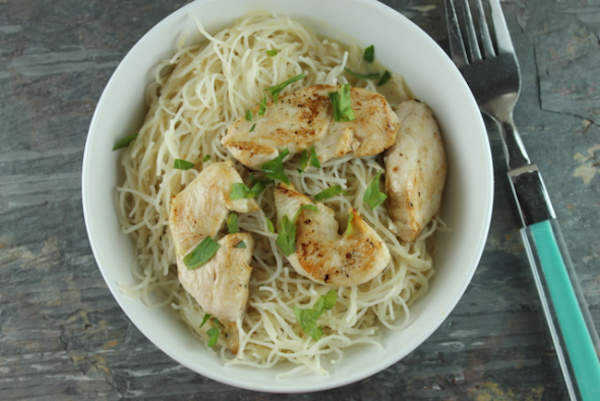 Paleo Chicken Alfredo
website Paleo Plan
This outrageous chicken alfredo recipe absolutely nails the key to good kelp noodles: cooking them for a long long time. Like, way longer than you think you need to. The idea is to cook out their crunch to make them more closely mimic regular noodles. If you can't find kelp noodles, shirataki noodles will work well here. And the creamy cashew-based alfredo sauce? Unbelievably good.
---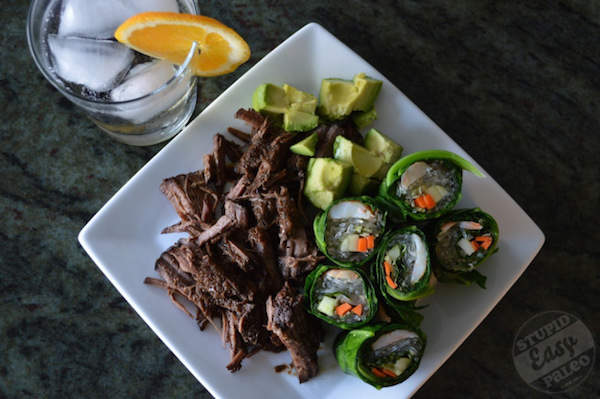 Slow Cooker Mocha-Rubbed Pot Roast
website Stupid Easy Paleo
book The Performance Paleo Cookbook: Recipes for Training Harder, Getting Stronger and Gaining the Competitive Edge
Chocolate and coffee might seem like an odd accompaniment for beef, but just trust us here. The deep, dark flavors in both bring out the rich, umami essence of the beef, yielding a pot roast that will feed you all week. Try the meat wrapped in lettuce cups, as paleo tacos, layered atop a crunchy green salad, or on its own. You won't be able to stop eating (or thinking about) it.
---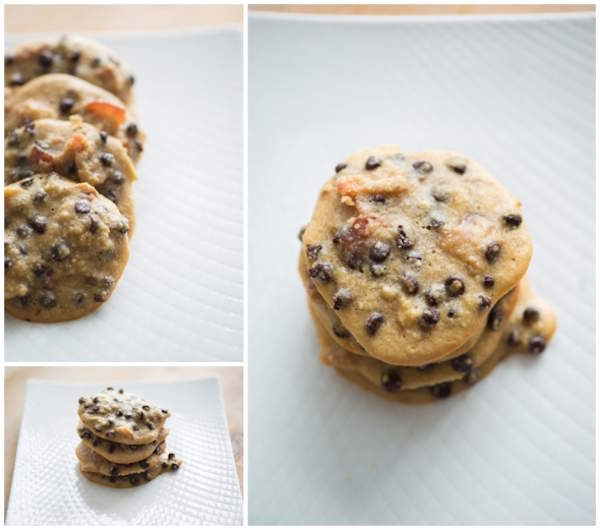 Maple Bacon Chocolate Chip Cookies
website Paleo on a Budget
book Paleo on a Budget: Saving Money, Eating Healthy
It seems fitting that a Paleo chocolate chip cookie recipe would call for bacon, no? This one, made with almond flour, is full of salty-sweet contradiction, and makes an ideal post-workout treat.
---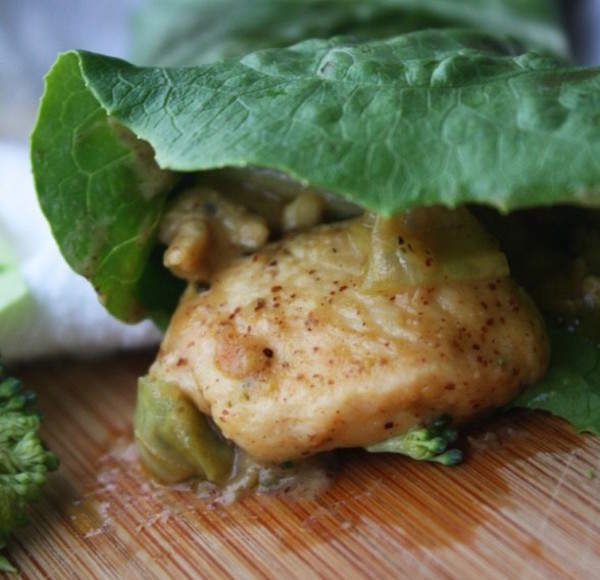 Thai Chicken Lettuce Wraps
website Saving Dinner
book Saving Dinner: The Menus, Recipes, and Shopping Lists to Bring Your Family Back to the Table
Chicken lettuce wraps, a Thai and Chinese classic, are naturally Paleo, provided you temper the amount of sugar in them. This recipe from Saving Dinner, does just that, focusing instead on the bright flavors of coconut aminos and bright, fresh cilantro to carry the flavor of the dish. These make a perfect lunch or dinner, or a fantastic addition to an appetizer buffet.
---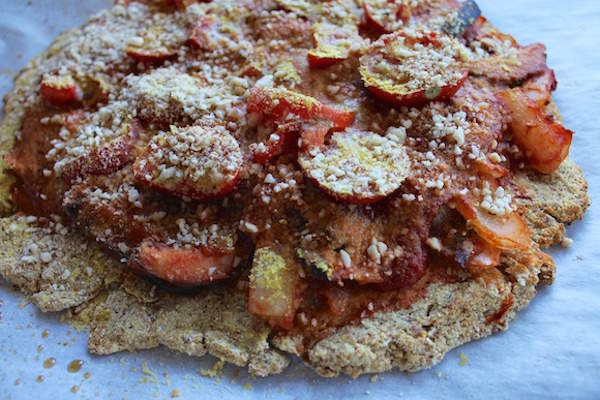 Cauliflower Crust Pizza
website Carrie on Living
Though this crust calls for just a pinch of cornmeal and chickpea flour, we've discovered that you can get away with replacing them with an equal amount of almond or coconut flour. Be sure not to skip the parchment paper step – it's crucial in developing a crisp, non-sticky base for your pizza!
---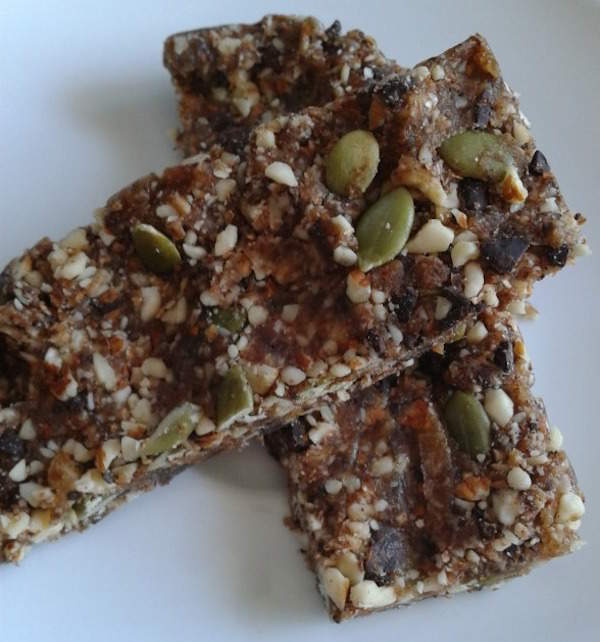 Paleo Energy Bar
website FitViews
Perhaps one of the biggest struggles we hear from readers is that it's a challenge to find grab-n-go paleo snacks or on-the-go breakfasts. These energy bars seek to solve that problem, and they do a pretty darn good job. A food processor makes the job much easier, but a blender or even a mortar and pestle will work. Make an extra-big batch of these and keep them in the refrigerator or freezer so you're prepared with a healthy snack whenever hunger strikes.
---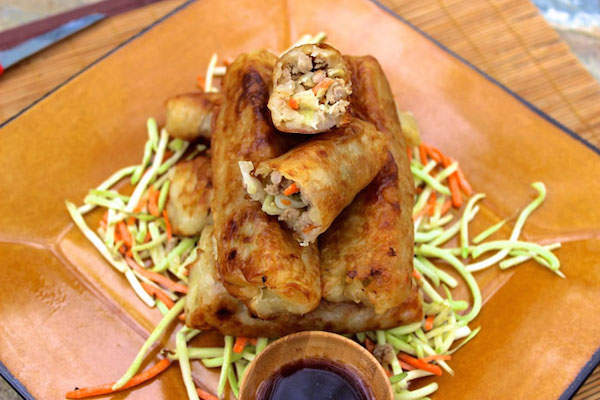 Paleo Egg Rolls
website Delicious Obsessions
We must admit, since going Paleo, we miss Chinese egg rolls horribly! Thanks to this great recipe from Delicious Obsessions, we can have our egg rolls (and eat them, too!). The wrapper is made from paleo yucca root that is boiled and smashed and pressed in a really neat process. The filling in the recipe is a classic pork, but we can't wait to experiment with an all-vegetable filling, or a shrimp-and-pork combination.
---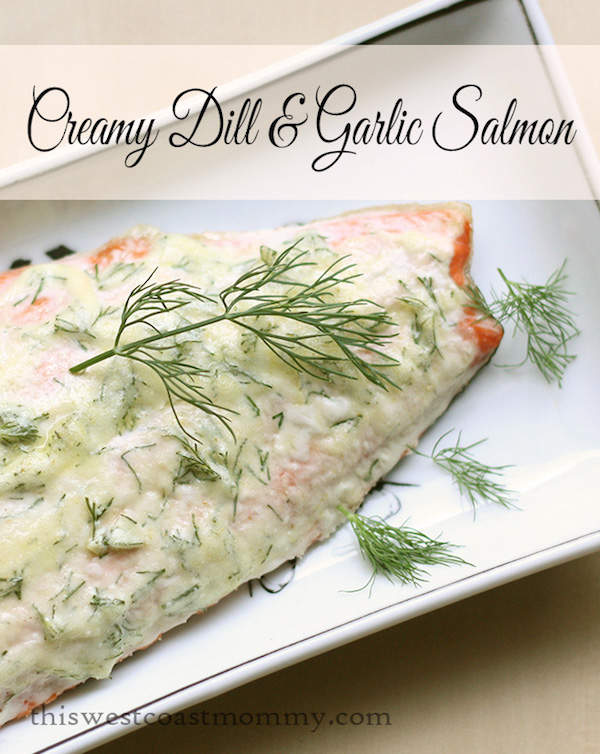 Creamy Dill and Garlic Salmon
website This West Coast Mommy
This Paleo take on a classic recipe calls for homemade olive oil mayonnaise, in place of the usual canola stuff. We like to make a big batch of olive oil mayonnaise to keep on hand anyway, so this was as good and excuse as any to make it. The salmon is ultra-tender, beneath its flavorful sauce, and we served it with a green salad and lemony cauliflower "rice".
---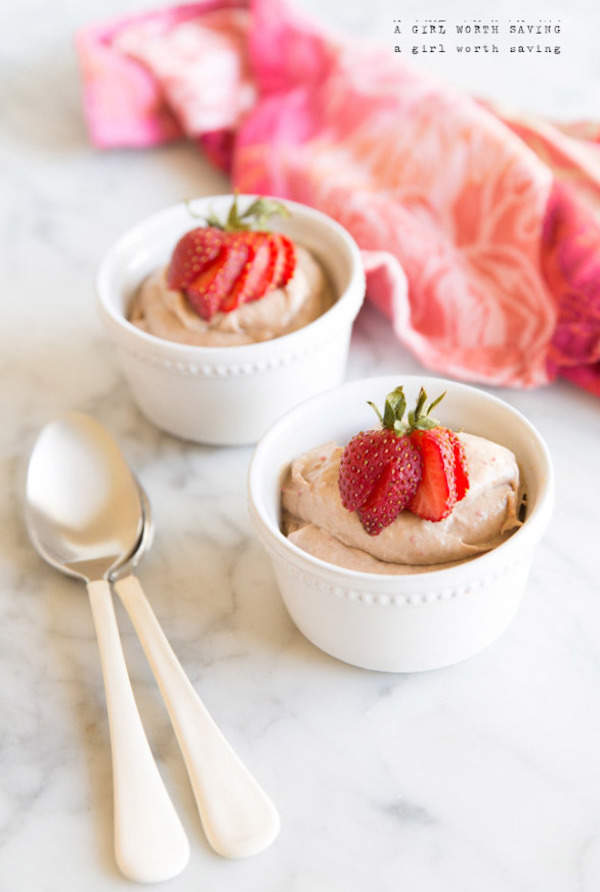 Strawberry Mousse
website A Girl Worth Saving
book Paleo Eats: 111 Comforting Gluten-Free, Grain-Free and Dairy-Free Recipes for the Foodie in You
We bet you'll never guess the secret ingredient that makes this strawberry mousse ultra-creamy and luxurious. Give up? It's avocado. It seems crazy, but blended with sweet banana and dehydrated strawberries, it yields a super rich mousse without tasting like guacamole. Serve this one topped with some whipped coconut milk and a sprig of fresh mint for a classy dessert that even your non-paleo dinner guests will clamor for.
---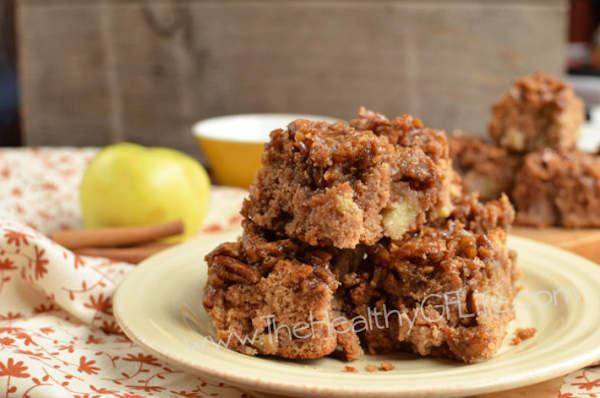 Caramel Apple Pecan Bars
website The Healthy GF Life
book Make-Ahead Paleo: Healthy Gluten-, Grain- & Dairy-Free Recipes Ready When & Where You Are
Looking for the perfect dessert? These gluten-free bars are one of our all time favorite treats. Crafted with maple syrup and chestnut flour for the perfect texture and consistency, these perfectly moist caramel apple flavored bars will leave you licking your fingers and wishing that you had made more.
---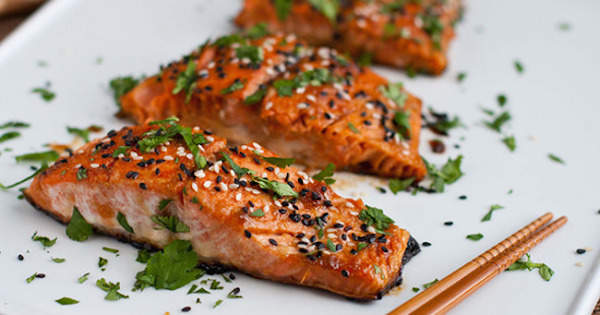 Honey and Wasabi Salmon
website My Living Nutrition
This sweet and spicy Asian style salmon is a quick and easy dish that takes only minutes to make. It can be served with your favorite woked vegetables, or atop a large green salad.
---
Written by Paleo Magazine
Paleo Magazine is a print magazine dedicated to the Paleo lifestyle and Ancestral health.
READ NEXT: 12 SHOCKING SYMPTOMS OF GLUTEN SENSITIVITY